One of the most impressive limestone Cave systems in Northern Thailand
Lod Cave is an impressive natural limestone cave system spanning some 600 meters that sits on protected national park land.
Lod Cave is a significant Archeological site with artifacts dating back to the Stone Age and evidence that it was once inhabited by the Hoabinhian hunting tribe from 9000BC to 5500BC. "Lod" in Thai means to "pass through", with a River flowing through the cave system. As you enter, you journey through three distinct caverns, finally emerging out the opposite end, back into the dense tropical jungle. Stalagtites, stalagmites and impressive formations are seen in every direction and the highlight is in the first cavern where a single limestone column towers over 20 meters high. Partially explored on foot, and partially by bamboo raft, visiting this cave is an easy excursion for the whole family. Hiring a guide is required and definitely necessary.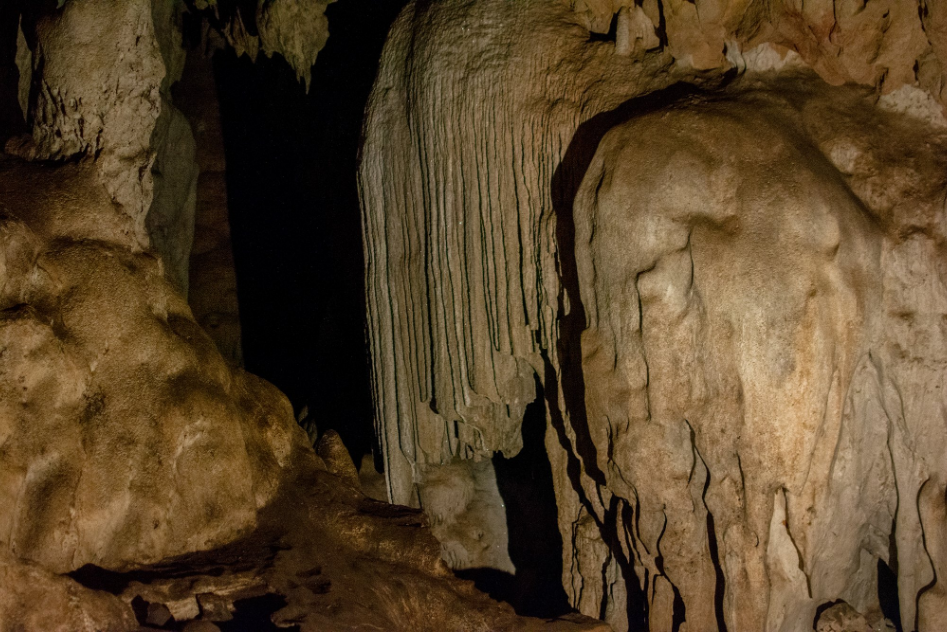 Thailand's longest bamboo bridge, over rice paddies
This charming and rustic bamboo bridge is located approximately 10km outside Mae Hong Son town in an ethnic Shan community, and a must-visit.
In 2012, Local Villagers teamed up to build a bridge that connected the Village with Tham Poo Sa Ma Temple, as an offering to the monks so that they could easliy traverse the flooded rice paddies each morning on their walks to receive alms. Supposedly the longest bamboo bridge in Thailand, "su tong pae" means "successful prayer" in the Shan language and visitors are encouraged to make a wish as they traverse the rickety path. The time to visit is bright and early around 6-6:30am as the monks emerge. and if you would like to make merit, prepare some Food as an offering to place in their begging bowls. If you're not a morning person, Sunset is also pretty spectacular and serene with swarms of dragonflies buzzing about.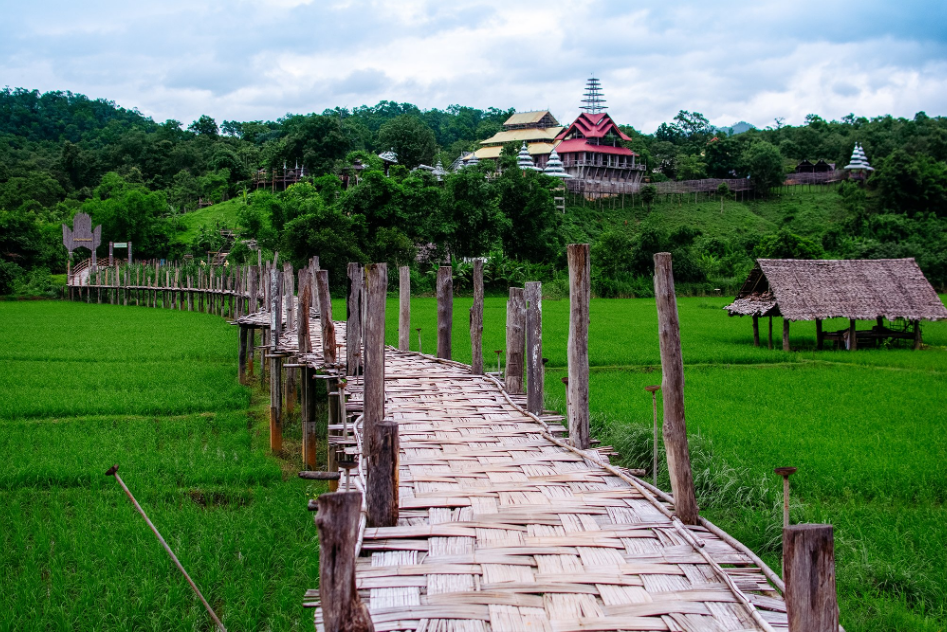 The most popular Sunset spot in Mae Hong Son
enjoy 360 degrees of sweeping picturesque views of the Pai valley at the most popular Sunset spot in Mae Hong Son province.
Take a 5-minute walk through a teak forest path to arrive at the highest viewpoint and marvel at the dramatic red sandstone topography with walkable passageways carved out by ongoing erosion. With drops as high as 50 meters, leave your fear of heights behind and wear your best walking shoes to explore these precarious paths with razor-sharp edges. If you don't feel like risking it on one of the trails, the views can easily be enjoyed from the secure, wide open space where you first arrive. Get your camera ready for the dramatic Sunset, framed by the mountain range to the west of Pai. If crowds aren't your thing, you might consider visiting in the morning to take in the peaceful surroundings.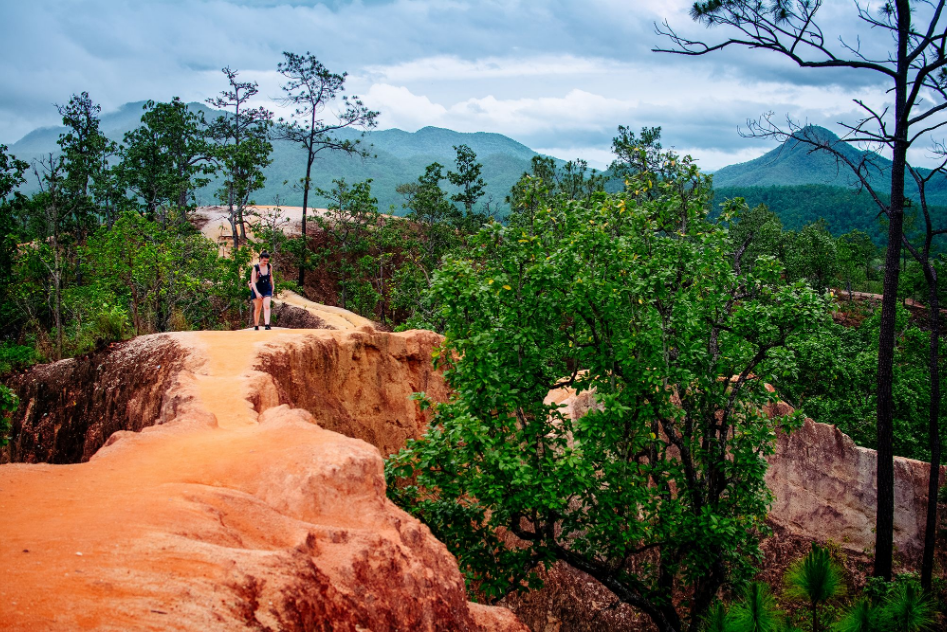 Rustic, clear hot springs nestled in a wildlife sanctuary
Nestled in the Lum Nam Pai Wildlife Sanctuary a short distance from Pai, zip 3km along a windy mountainous road after entering the sanctuary's main checkpoint where you pay a fee to enter the protected area.
When you arrive at the hot springs expect to pay an additional 20 baht, which gives you acess to some rustic bamboo changing rooms and lockers (for an additional fee). The terraced Pools are shaded by the surrounding virgin forest and lined with River rocks, filled with crystal clear, warm waters fed by a natural mineral spring close by. While these springs are no longer a secret and frequented by tourists and Locals alike, their sheer remoteness makes them less frequented than the famous Tha Pai hot springs which are closer to town.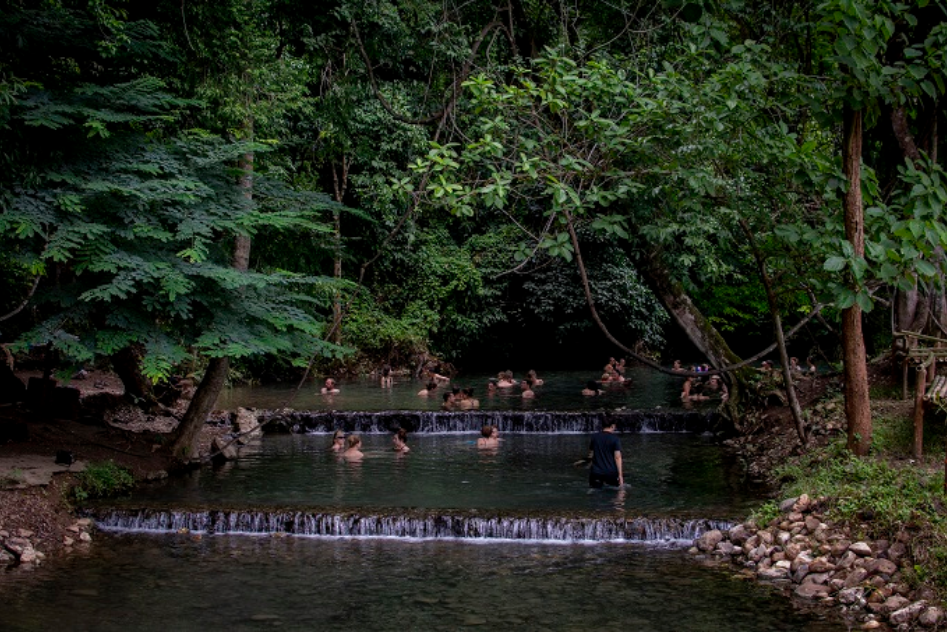 A charming walking street with some of Thailand's the most scrumptious and varied street Food and crafts
Pai walking street is the heart of Pai NIGHTLIFE. The bustling market comes alive every night around 6pm and extends from Chaisongkran Road to Rungsiyanon Road in downtown Pai.
Unique and Local craft shops line the streets while vendors roll in their carts in the early evening, offering anything from crocheted animal hats and elephant pants to some of the most delicious street Food there is. All the standard Thai fare is available but what makes this street food unique is the wide selection of health-concious vegetarian dishes like a Burmese tea leaf salad wrap, potato curry samosas or Organic chocolate energy balls. You can wash it all down with some freshly brewed chai tea, or maybe one of the best mojitos ever at Almost Famous, one of Pai's long-standing watering holes. Stop by Pai Republic if you feel like exploring your crafty side and make yourself a handmade postcard to send back home. Follow the sounds of music to Jazz House or Mojo bar and expect to hear some of Northern Thailand's top musicians. Don't miss Soi One, a chic bar, Restaurant and guest house that's the newest addition to walking street.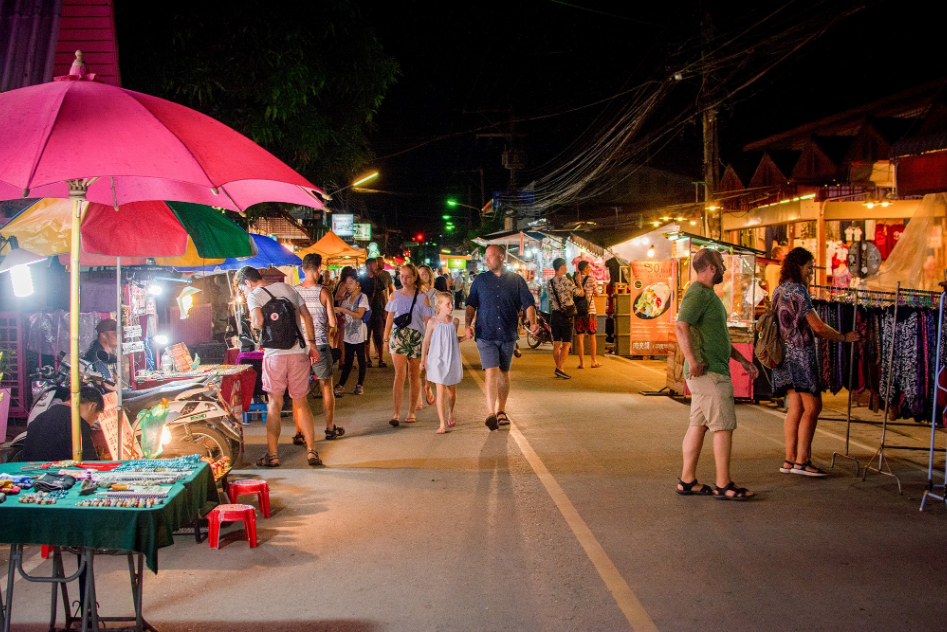 6. The Countryside Resort
Eco-huts surrounded by rice paddies
This rustic resort oozes the feeling of all-things-Pai. The original hotel owner from the Netherlands fell in love with Pai and opened the resort back in 2005. It has now switched hands to a Thai owner and continues to be popular among Dutch visitors, particularly families who often return year-after-year.
Nestled in the hills overlooking the Pai River, it sits in the middle of rice paddies with an exquisite view of Pai's iconic Chedi Phra That Mae Yen - an impressive buddha statue that overlooks the valley below. All 15 rooms are stand-alone bungalows that come in 3 sizes: small, medium and large. Breakfast is included and in high season lunch and Dinner is also offered. Kick back in one of the hammocks alongside the rice paddies or enjoy a Thai massage in one of the gazebos in the lush Gardens. There are plenty of relaxing spots to choose from so bring a good book!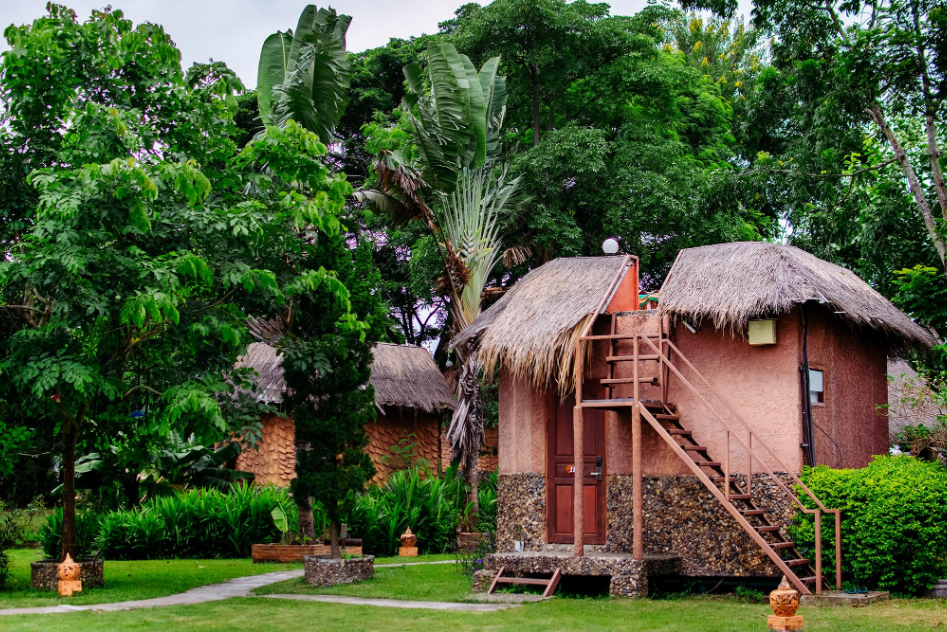 7. Pai Village Boutique Resort & Farm
Luxurious and serene bamboo huts, in the heart of downtown Pai
It's hard to believe that this charming cluster of luxuriously appointed bamboo huts is right in the center of town! Take one step off the property and you're literally on Pai Walking Street.
enjoy one of the serene cottages set in a luscious tropical Garden with the finer touches of a very comfortable bed, a/c, minibar and safe. Don't miss the hotel breakfast with an impressive spread featuring Organic produce and eggs from the hotel's sister Farm across the River (the coconut and mulberry jams are not to be missed!). Also be sure to step across the street to the hotel's juice-bar-meets-bunny-café where you can visit with a selection of exotic bunnies that are shuttled over daily from the farm. The hotel is currently expanding to include a new wing with swimming Pool coming in early 2020.