Stay
Dewa Phuket Resort & Villas
Dewa Phuket Resort & Villas is located on the beautiful Nai Yang beach and offers you an oasis of calm and a private sanctuary. Nai Yang beach is also one of the island's cozier beaches, with stunning scenery away from the crowds. Our gorgeous...
---
Stay
Sri Panwa Phuket Luxury Pool Villa Hotel
Sri panwa, a luxury hotel private pool villa & spa resort in Phuket Thailand. Perched high atop Cape Panwa and commanding breathtaking views of the Southeastern tip of Phuket, occupying the Cape Panwa peninsula in its entirety, the ultimate in...
---
Stay
Baba Beach Club Natai Luxury Pool Villa Hotel by Sri panwa
Baba Beach Club, Natai was envisioned with the intention of fusing together brio and bluster with glamour and grace located just 20 minutes north of Phuket International Airport, managed and developed by internationally acclaimed luxury pool villa...
---
Stay
Maikhao Dream Villa Resort & Spa
Situated at the most expansive beach in Phuket, Maikhao Dream Villa Resort & Spa offers 22 exquisite pool villas that boast a unique blend of Thai-style décor and modern comforts. Elegant and poised, each villa has its own terrace, a sala, a...
---
Stay
Zen Villa Khao Yai
A Japanese-style Resort set in a beautiful garden Where guests can have a comfortable stay in the peaceful atmosphere Located at Thanaratch rd, KM 12. T. Musi the ways to Khao Yai Nation Park nearby Shopping Areas and surrounding with famous...
---
Stay
Avani+ Mai Khao Phuket Suites & Villas
Sunny. Tropical. Pool villa pizzazz. What more could you ask for in one of the finest Phuket resorts? At Avani+ Mai Khao Phuket Suites & Villas, life is all about the details that make your stay great. Chill at the resort pool with a cocktail in...
---
Shop
Samet Ngam OTOP Village
Products from Papyrus or Paper Reed such as Chanthaboon mat, coasters, bags Visit the International Mangrove Forest Botanical Garden, Rama IX History Learning at King Taksin The Great's Dock Museum
---
Stay
อนันตรา ไม้ขาว ภูเก็ต วิลล่าส์
Anantara Mai Khao Phuket Villas lies on the northern tip of the island of Phuket, a long stretch of golden beach fringed by lush national park. Pool villas are clustered around a lagoon in Southern Thai village style, offering private oases at our...
---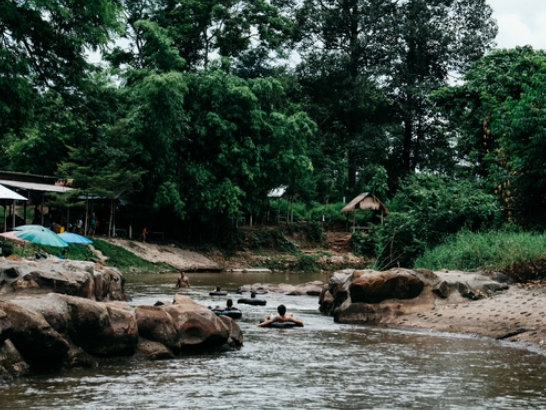 ---