Shop
Heap Brand
E-commerce shop for authentic Thai snack and food subscription box shipped directly from Thailand. We offer unique Thai souvenirs with changing themes monthly. Each box includes 10+ snacks and drink, an exclusive postcard and free shipping to over...
---
Food
Bangkok Halal Kitchens
Premium and unconventional Halal menus!! Delivered to your door, from our halal certified kitchens in Soi Thonglor (Sukhumvit 55).
---
Food
BABAQ
Sri panwa's very own Baba Phuket Restaurant presents a stylish menu of contemporary Thai and International cuisine in a relaxed setting of intricate architectural detail and undisturbed, panoramic ocean views.
---
See & Do
Thai Red Cross Society, Khao Lan
Beside Highway no. 3, the Trat – Khlong Yai route, at KM48, this museum was erected in honour of HRH Queen Sirikit, President of the Thai Red Cross, on her 60th birthday, which she celebrated in 1992. Inside, visitors can view informative displays...
---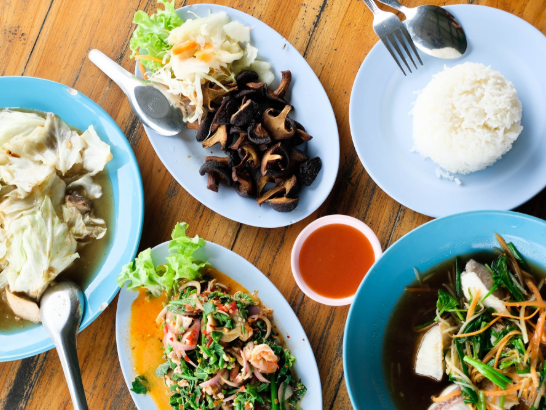 Article
Krua Mong Meng - Phetchabun
Krua Mong Meng provides a combination of authentic Thai-style with a touch of Chinese and Isan (Northeastern region of Thailand) menus
---
Food
Chek Pia
Recommended Menu are: Pork Satay, Chicken Rice, Hot Pot, Spicy Herbal Scallop Stir Fry, Stir Fried Soft Crab in Curry Powder
---
Shop
Mae Kim Buai
Souvenir and pastry center from Chonburi with food center. This rest area is good for shopping before returning home.
---
Food
Farida Halal Food
Recommended menu: Volcano Roti, Cheese Roti, Chicken Curry Roti, Chicken Murtabak, Teh Tarik
---