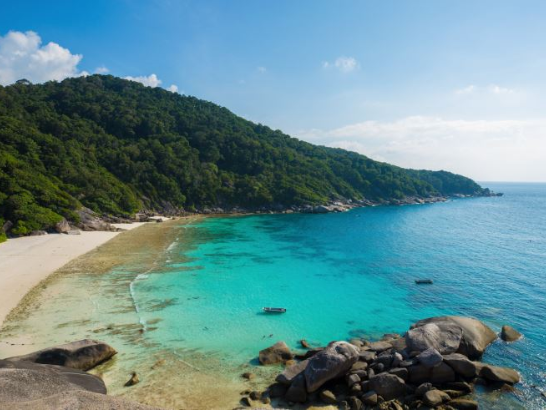 ---
See & Do
Ta Phraya National Park
The Ta Phraya National Park was declared a National Park in 1996. The park covers an area of 371,250 rai (equivalent to 594 sq.km.). The area surrounding the park and the boundary of the park form a straight line connecting Pangsida National Park...
---
See & Do
Sirinat National Park
The park is located approximately 30 kilometers from Phuket City. Occupying an area of 90 square kilometers, the park has a 13-kilometer beach. Formerly known as Nai Yang National Park, it was declared a National Park on 13 July 1981.
---
---
---
See & Do
Tarutao National Park
Tarutao Marine National Park is the first marine national park of Thailand, which is known for its history and beautiful nature. It is in Andaman Sea, about 40 kilometres from downtown Satun.
---
---
See & Do
Salawin National Park
Covering a forested area of 721 square kilometers, the Salawin National Park is on the bank of the Salween or Salawin River on the Thai-Myanma border, about 164 kilometres south of Mae Hong Son. The Salawin River originates from Tibet before...
---
---
See & Do
Dinosaur Footprints Park
Dinosaur footprints were found on sandstond cliff, nearby foothill in national sanctury and Nam Nao National Park. Whereas there were some traces of sharp nails, which were characteristics of carnivorous dinosaurs, mainly walking with two back legs.
---
See & Do
Khun Phawo National Park
A newly opened national park. Located at Baan Nong Luang Moo 3 Sam Meun districit, along the Mae Ramad-Baan Tak Highway. It is around 18 kilometers from Mae Ramad district, covering an area of 380 square kilometers. Formerly known as Mae Kaesa...
---