Food
BABA HOTPOT
BABA HOTPOT Hot pot commonly Chinese fondue varieties of stew, consisting of a simmering metal pot of stock at the center of the dining table. While the hot pot is kept simmering, ingredients are placed into the pot and are cooked at the table....
---
Food
BABA HOT BOX
The BBQ / Grill section has variety of combinations to choose from. Enjoy an a la carte of mouth-watering selections which our chef carefully prepares for your taste buds. Choose your meat & seafood, sauces & sides. The marinade grilled premium...
---
Shop
Charin Nong Mon
Recommended Menu: Deep fried crab ball, Deep fried crab meat, Crab fried rice
---
Food
Terra Cotta
Recommended Dishes - Spicy ryo xiao fish roe - Crispy fried periwinkle in red curry sauce - Chinese kale with crab meat
---
Food
Kannika Baansuan
Recommended Menu are: Crab Soup with Pickled Bamboo Shoots Crab Dip, Hoi Jo (Deep Fried Crab Meat Roll), Stir Fried Clams with Basil
---
Food
Pu Ja Tha Chaleab
Deep Fried Crab Meat (Pu Ja) Pickled Crab in Fish Sauce Kang Som with Giant Catfish Eggs Deep Fried Sea Bass in Fish Sauce Crab Egg Chili Dip
---
Shop
Mo Yo Mae Uan
Mo Yo Mae Uan is the oldest Vietnamese sausage shop in Udon Thani, selling pork sausage in both pork skin and meat types. There are also many pork products for tourists to buy as souvenirs.
---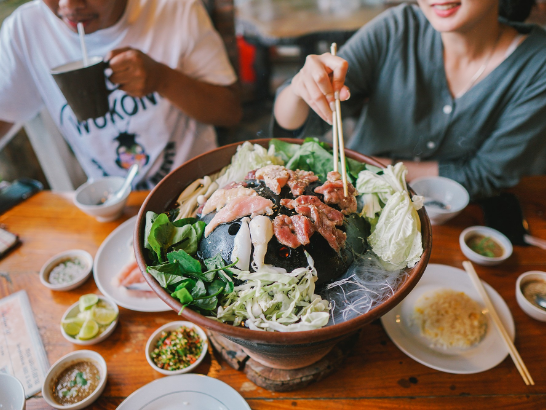 ---