---
See & Do
Wat Rong Khun
Design and build by Mr. Chalermchai Kositpipat in 1997. Sits on the original 1.1 acre then expanded to 4.74 acres. The temple itself is very uniquely design.
---
---
See & Do
Ban Rai Temple (Wat Ban Rai)
This is one of the most famous temples in the province as it is the residence of the revered monk Luang Pho Khun Parisuttho. Many worshippers from all over the country come pay their respect daily. The temple is located in Tambon Kut Phiman, about...
---
See & Do
Wat Amphawan Chetiyaram
Wat Amphawan Chetiyaram is located near King Rama II Memorial Park. This temple belongs to the Bang Chang family. It was constructed by Princess Phrarubsirisopharkmahanaknari, the mother of Queen Amarintharamat. The area behind this temple was the...
---
See & Do
Wat Tham Phutthawat
A big temple sitting on top a mountain. Legend says that Khun Pan (Great Warrior) brought Kuman Thong (an item which said to contain powerful child spirit) along with him. Pu Phra Cave is on Kanchanaburi-Sai Yok Road.
---
---
See & Do
Namtok Than Ngam Forest Park
It is located in Khun Huai Sam Tak forest site, Khun Huai Kong Si, Tambon Nong Sang. It has the total area of 78,125 rai. It has been the forest park since 19 December 2527.
---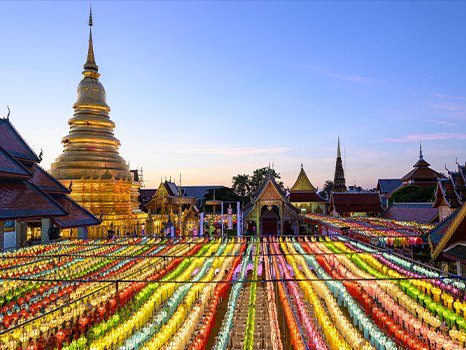 Destination
Lamphun
Lamphun AttractionsWat Phra That Hariphunchai - A principal landmark with golden chedi that houses the relics of Lord Buddha called Phra That Hariphunchai.Phra Nang Chamthewi Statue – The statue is memorial commemorating the...
---
See & Do
Wat To Phae
This temple is located 7 kilometres from Khun Yuam having a large beautiful Burmese style Viharn. According to the legend, it is said that raft assembling people used to gather up in this area prior to making a teak trees raft trip to the...
---