Food
Baan Poo Phen
Recommended Menu are Steamed Blue Crab Prawn Tom Yum with Young Coconut Shoots Stir Fried Cabbage with Fish Sauce Stir Fried Mantis Shrimp with Garlic
---
Spa
Chevala Wellness Center Hua-Hin
CHELAVA Wellness Hua Hin (Chevala Wellness Hua Hin)" Pinned a new luxury landmark for comprehensive rejuvenation of health and beauty. Promotes the industry's first "Customized" personalized wellness program by a team of leading medical...
---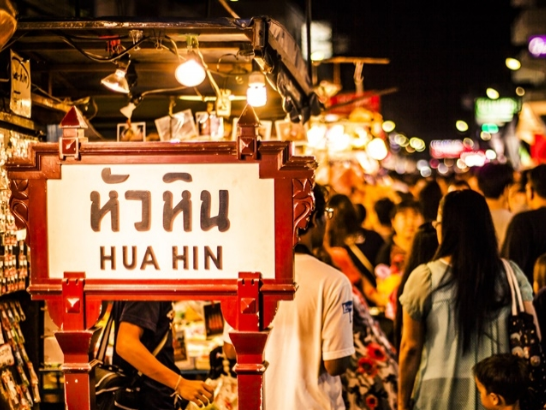 Article
VIBRANT NIGHT IN HUA HIN
The darkness is about to fall in Hua Hin, but the night market glows and turns vibrant. The crowd flocks to the place, roaming for delicacies among th
---
---
---
Food
Sailom Hua Hin Restaurant
Sailom Restaurant Hua Hin is a famous restaurant that selects fresh seafood, which is cooked in a unique flavour. Moreover, eating by the sea at Hua Hin creates an appetising environment.
---
---
Shop
Hua Hin Night Market
The Hua Hin Night Market is one of the important landmarks of Hua Hin. Tourists who come to this city must visit here at night. Food, desserts and souvenirs, will definitely make any shoppers happy.
---
Food
Wilaiwan Hua Hin
Wilaiwan Hua Hin, a lovely European restaurant, located in the heart of Hua Hin. Its distinctiveness is the colour of the shop that is pastel blue creating a dining atmosphere with a variety of Western-style menus in the style of homemade food...
---