See & Do
Phra That Phanom
Phra That Phanom is located 50 kilometers from Nakhon Phanom town on Highway No. 212. It is the most important Buddhist site in the province. A 53-meters tall square-shaped pagoda, it was believed to have been built before the 12th century. The...
---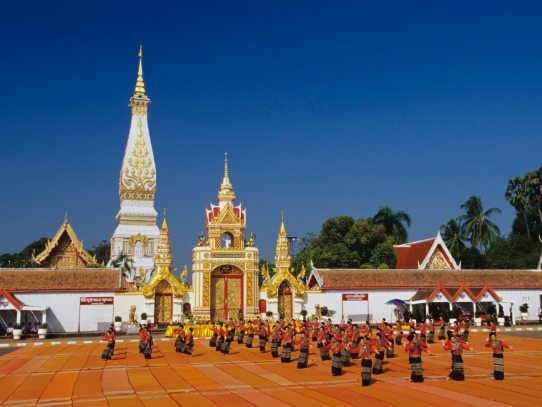 Destination
Nakhon Phanom
Nakhon Phanom, once the centre of the ancient Sri Kotrabun Kingdom, lies along the western bank of the majestic Mekong River, although over the centuries it has moved back and forth across the river. The lovely setting of Nakhon Phanom town is...
---
See & Do
Khlong Phanom National Park
The park is about to be established and is located in Tambon Khlong Sok, Phanom district, with an area of 2,900,000 rai. It is limestone mountains that are complex with the forest full of trees. There are many small streams flowing to combine with...
---
See & Do
Phanom Rung Historical Park
This is a grand and majestic Khmer site over a thousand years old. Built on an extinct volcano, it is originally a Hindu religious site and later became a Buddhist one. During the 15th-18th Buddhist century, several additions were made.
---
See & Do
Phanom Sawai Forest Park
Phanom Sawai Forest Park is 14 kilometres away on the way to Amphoe Prasat and 6 kilometres on a road on the right. The park comprises 3 peaks and a large Buddha image in the meditation posture. The view from the top is quite spectacular.
---
See & Do
Khao Sok National Park
It covers an area of Ban Ta Khun, Phanom and Khiri Rat with 461,712 rai and is declared as a National Park.
---
See & Do
Khao Phanom Bencha National Park
Located 20 kilometers from Krabi along Talat Kao-Ban Huai To Road, the Park covers a total area of 50 square kilometers including some parts of Amphoe Ao Luk, Amphoe Khao Phanom, and Amphoe Mueang.
---