See & Do
Khlong Phanom National Park
This park covers an area of 410.4 square kilometers and features craggy limestone peaks, forests teeming with wildlife and vital marshlands which feed the Tapi river. There are also tourist attractions within the park, the Tham Kaeo and Tham Nam...
---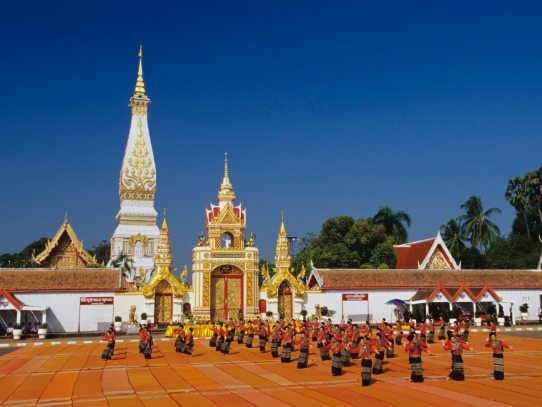 Destination
Nakhon Phanom
Nakhon Phanom, once the centre of the ancient Sri Kotrabun Kingdom, lies along the western bank of the majestic Mekong River, although over the centuries it has moved back and forth across the river. The lovely setting of Nakhon Phanom town is...
---
See & Do
Phra That Phanom
Phra That Phanom is located 50 kilometers from Nakhon Phanom town on Highway No. 212. It is the most important Buddhist site in the province. A 53-meters tall square-shaped pagoda, it was believed to have been built before the 12th century. The...
---
---
Stay
Boondara Boutique Hotel
The new hotel offers 50 rooms and is on the way before entering the city of Nakhon Phanom. Easy to travel There is a spacious and quiet car park.
---
See & Do
Phanom Rung Historical Park
This is a grand and majestic Khmer site over a thousand years old. Built on an extinct volcano, it is originally a Hindu religious site and later became a Buddhist one. During the 15th-18th Buddhist century, several additions were made.
---
---
---