See & Do
Phang-Nga Bay (Ao Phang Nga National Park)
The Phang Nga National Park covers a vast area both onshore and offshore of about 250,000 rais (100,000 acres), covering the areas of Amphoe Muang, Amphoe Takua Thung, and Amphoe Ko Yao. It was declared a national park on 29th April B.E. 2524 (1981).
---
---
---
See & Do
Ton Pariwat Wildlife Sanctuary
This is situated in Tambon Song Phraek, on a route between Phang-nga town and Kapong district. To get there, visitors travel 5 kilometres from Phang-nga town along Highway No.4, then take a right turn at Ban Song Phraek for 10 kilometres. There,...
---
See & Do
Si Phang-nga National Park
Covering the areas of Amphoe Khura Buri and Amphoe Takua Pa and situated 100 kilometres from Phang-nga town, this park was established in honour of His Majesty the King on his 60th birthday anniversary. This forested piece of land is home to a...
---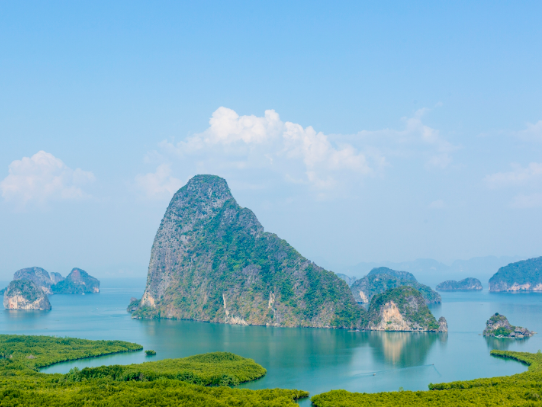 Destination
Phang Nga
Phangnga has geographic features of mountains and forests and is 788 km from Bangkok. Its landmark is Khao Chang which is the big mountain in a shape of crouching elephant – the symbol of Phangnga province. Visitors can go exploring beautiful...
---
Tour agent
Aim Charters
We are delightful to welcome you with our exclusive yacht charter services in Phuket, Krabi, Phang-nga, and Samui, part of the most beautiful destinations in Southern Thailand.
---
See & Do
Wat Suwannakhuha
This temple is located in Mu 2, Tambon Krasom. Take Highway No. 4, (Phang-nga-Ban Khok Kloi route) for 7 kilometres and upon reaching the kilometre 31 marker at Amphoe Takua Thung, there is an asphalt road going to the right to the temple, one...
---
See & Do
Namtok Tao Thong
Situated in Tambon Bo Sen, 19 kilometres from Phang-nga town or 8 kilometres before Thap Put district, this shady waterfall originates from a stream flowing from a dark cave.
---
Stay
Natai Beach Resort & Spa Phang Nga
Natai Beach Resort & Spa is located on the pristine beach of Phang Nga. It offers contemporary Thai-style rooms set amid beautiful landscaped grounds. It features an outdoor pool with a bar and a fitness room and 5-star spa. This tastefully...
---