#Nong Prachak Public Park
See & Do
Nong Prachak Public Park
It is in Udon Thank municipal area. Nong Pra Chak is a big pond existing long before there is Muang Udon Thani. The original name was Nong Na Kluea then changed to ' Nong Prachak'
---
See & Do
Tham Mahoran
It is at Baan Nong Hin, Tambon Nong Hin, in Mahoran temple.
---
See & Do
Wang Sam Mo Forest Park
It is at Tambon Nong Kung Tab Ma, in the area of national forest conservation site ( Ba Yao forest-Hua Na Kum forest-Nongkungtabma forest-na Yoong forest and Nong Ya sai forest). The forest park is 20 km away from Wang Sam Mor district office.
---
See & Do
Wat Chong Kham
This old temple is located near Nong Jong Kam Public Park. It was built in 1827 by the Thai Yai craftsmanship that is both unique and beautiful
---
See & Do
Lampao Dam
It is a soil dam built for obstructing Lam Pao stream and Huay Yang. It connects with Tambon LamPao, Muang Kalasin, Nong Bua, Nong Kung Sru, Wer and Yang Talad. It is on the path no. 209 (Kalasin-Mahasarakam).
---
See & Do
Ko Lao Leang Nong
Climb some cliffs at Ko Lao Leang Nong under close supervision of rock climbing instructors.
---
See & Do
Namtok Than Ngam Forest Park
It is located in Khun Huai Sam Tak forest site, Khun Huai Kong Si, Tambon Nong Sang. It has the total area of 78,125 rai. It has been the forest park since 19 December 2527.
---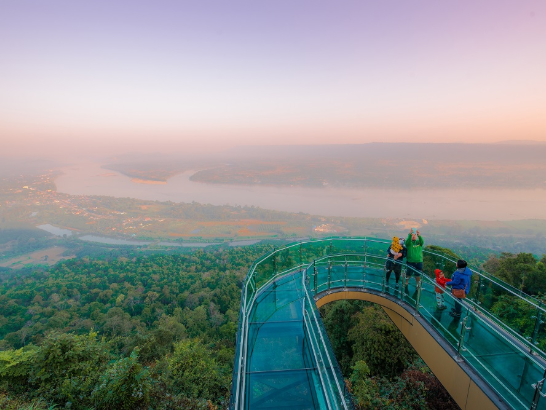 Article
10 THINGS TO DO IN NONG KHAI
Wat Pho Chai is a royal temple enshrining LuangphoPhra Sai, a sacred Buddha image of the city, which is much revered by the NongKhai people.
---
See & Do
Bamboo Garden
It is located at Tambon Nong Hom. The area of about 300 rai gathers bamboo varieties for educational purposes and propagation.
---
See & Do
Phu Ruea National Park
Phu Ruae is a lofty table-top mountain overspread with pine trees. Its distinctive point is the overhanging cliff resembling a giant junk's prow. Phu Ruae National Park covers an area of 75,525 rai (120.84 km2) in Tambon Nong Bua, Amphoe Phu Ruea.
---