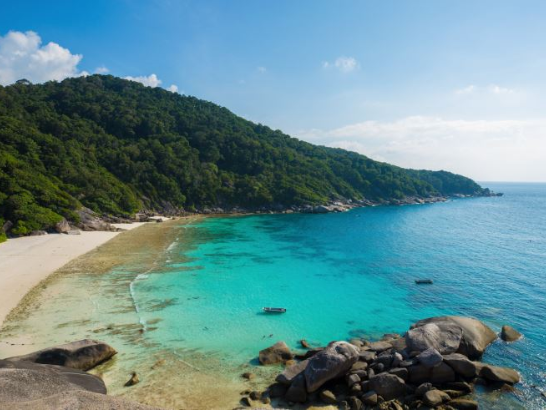 ---
See & Do
Laem Phromthep
Literally translate as Brahmas Cape, Laem Phromthep is perhaps one of Phuket's most important landmarks. There is a saying that you havent been to Phuket unless you visit Laem Phromthep. It is here that visitors soak up the sun and savor the...
---
See & Do
Laem Sing
Located just one kilometer from Surin Beach, Laem Sing is a relatively small quite beach perfect for a break from the crowd. Laem Sing has a white sandy beach that glitters in the sun and is dotted with uniquely shaped rocks.
---
See & Do
Laem Ta Chi (Laem Pho)
This is another white-sand beach extended from Talo-kapo Beach. It has been the accumulation of sand spit into the Gulf of Thailand on the north. At the end of the beach is an open area with wider view, best for sight-seeing. There are two routes...
---
See & Do
Laem Son National Park
Declared a national park in 1983, Laem Son is a coastal park that extends out to include a number of islands.
---
See & Do
Hat Saeng Chan
Situated approximately 7 kilometers from the city, this beach is connected to Laem Charoen beach and is also suitable for swimming. Accommodations and restaurants are available.
---
See & Do
Ko Kradat
It is located on the northeast of Koh Mak. It covers an area of about 1.92 millon square meters. It takes about 2-3 hours from Laem Ngob.
---
See & Do
Laem Tan
Laem Tan is at Bangsaen Beach, on the way to Khao Sammuk. The peak is not much outstretched. There is Sala where you can sit and enjoy Bangsaen Beach.
---
See & Do
The Sanctuary of Truth
It is located Laem Ratchawet on Na Klua Road, North Pattaya. Is a magnificent wooden castle by the sea beautiful with sculptures and carvings that reflect the worldview of wisdom.
---