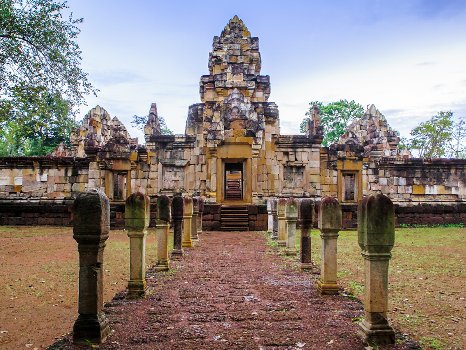 Destination
Sa Kaeo
Sa Kaeo was previously a part of Prachinburi province before it was designated a new province in 1993. Sa Kaeo is situated in Eastern Thailand and borders with Cambodia to the east. Aranyaprathet district in Sa Kaeo serves as an important gateway...
---
See & Do
Hat Muk Kaeo
This area has a quiet environment suitable for resting. Muk Kaeo Beach is long white sand beach starting from Sai Ngen Beach to Sai Kaew Beach. Along the beach, there is line of pine and coconut trees. You can watch the sunset at Muk Kaeo Beach.
---
See & Do
Sa Kaeo
Sra Keaw is located in the middle of Sri Suriyothai or Sra Keaw roundabout on Narai Maharad Road, Amphoe Muang Lop Buri. In the center of pond is giant candle on giant tray decorated with ministries' symbols. It also has bridge connecting 4 sides....
---