Food
BABA HOTPOT
BABA HOTPOT Hot pot commonly Chinese fondue varieties of stew, consisting of a simmering metal pot of stock at the center of the dining table. While the hot pot is kept simmering, ingredients are placed into the pot and are cooked at the table....
---
Food
BABA HOT BOX
The BBQ / Grill section has variety of combinations to choose from. Enjoy an a la carte of mouth-watering selections which our chef carefully prepares for your taste buds. Choose your meat & seafood, sauces & sides. The marinade grilled premium...
---
Food
Chek Pia
Recommended Menu are: Pork Satay, Chicken Rice, Hot Pot, Spicy Herbal Scallop Stir Fry, Stir Fried Soft Crab in Curry Powder
---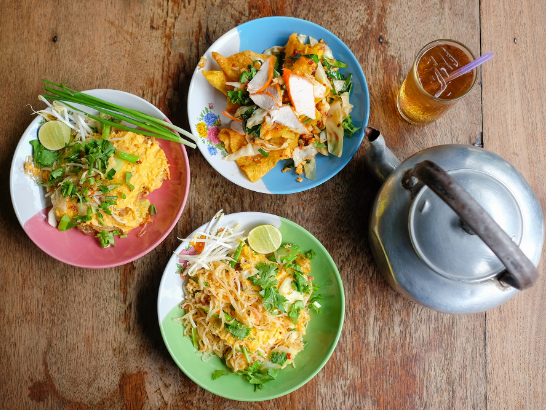 ---
See & Do
Wat Prachot Tikaram
Wat Prachot Tikaram is in Tambon Bang Kra Bue, approximately 5 kilometres from Amphoe Mueng Sing Buri. To get there, take Highway 311 Sing Buri-Chai Nat (old one) for approximately 5 kilometres.
---
Food
Je Sim Noodles Gravy
Recommended menu "Rad Na": Clay Pot Rice Noodles with Gravy Sauce Pad Se-ew wrapped in omelette , Clay Pot Crispy Egg Noodles with Gravy Sauce , Black Pepper Fried Mussels , "Bua Loy": 7 Colors Herbal Rice Balls
---
See & Do
Thaiprachan Hot Spring
(Same as Pongkrating Hot Spring) It is a 65-degree-celcius hot spring located in Bann Ka district. If visitors create soundwaves by handclapping, hot water in the pond will become bubbles in the surface.
---