---
---
Food
Old Time Café
Recommended menu are the Beef Herb, Old Recipe Mama Noodle, Honey Toast, Salmon Salad and BBQ
---
Food
Chanthorn Restaurant
Spicy Mangosteen Salad "Yam Mangkut" Durian Som Tam Pork Curry with Chamuang Leaves Saeng Wa (Broiled Shrimp Salad with Thai Herb Sauce) Clay Pot Lormaju
---
Shop
Herb Oil The Number 108
Herb Oil The Number 108 is a group of villagers that jointly produce herbal oil products. It is an herbal oil that is used for massage to relieve back pain, waist pain, sprains, wrists, ankles, etc.
---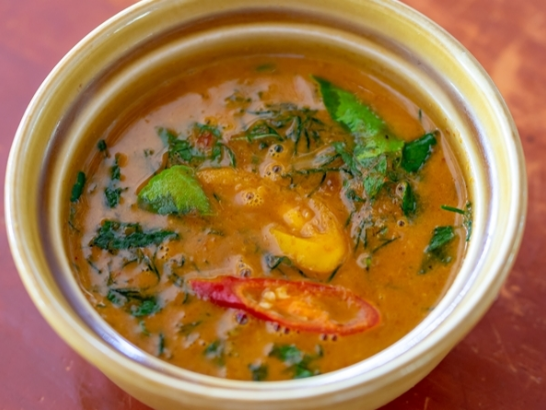 Article
KAENG SOM BAI CHAKHRAM
Kaeng Som is a sour-sweet-slightly spicy soup in orange colour. It is one of popular Thai dishes
---
---
Food
Cafe De Laos
Lao And Northeastern Isan Food Is Different From Thai And This Is A Good Place To Explore Variations Of Recipes You May Already Be Familiar With. Start With A Unique Version Of Som Tam Poo Nim For A Spicy Papaya Salad Using Deep-Fried Softshell...
---