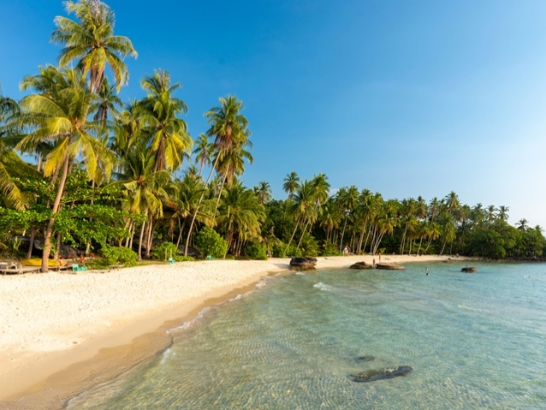 Article
KOH KUT : HIDEOUT HAVEN OF THE EAST
Swimming in the crystal-clear water or sunbathing on a quiet and soft white beaches are among top activities you can do when you visit Koh Kut in Tra
---
See & Do
Phrai Sawan Waterfall
A medium-sized waterfall with 17 sub-levels, Phrai Sawan Waterfall is ideal for relaxation. The fall has rubber boats available to take visitors on a 5-kilometer raft trip around the waterfall. It can be reached by taking the Trang-Phatthalung...
---
See & Do
Namtok Lan Rak (Namtok Tat Hin Kong)
Situated in Phramani Sub-district on the way to Namtok Sarika and Namtok Nang Rong, this is a unique waterfall originating from a small stream which flows through a large rocky formation at the foot of a small hill. The best time to visit the...
---
See & Do
Namtok Phlio National Park
Before reaching the waterfall, there is a natural pool which is home to Puang fish. This fish can only be found in some waterfalls. Moreover, in this waterfall, there are two important archaeological sites.
---
See & Do
Namtok Wang Kaeo
Wang Kaeo Waterfall is a popular tourist attraction of Doi Luang National Park, announced to be national part on April 16 1990. It covers some area of Phayao, Chiangrai and Lampang provinces.
---
See & Do
Namtok Khao Soi Dao
It is located in Khao Soi Dao Wildlife Sanctuary. The waterfall is about 4 kilometers from the office. There are 16 layers of waterfalls, with many butterflies, suitable for butterflies watching and study of plants. The area of Khao Soi Dao...
---