Food
SHI SHI LOUNGE
SHI SHI LOUNGE Nestled in an oasis of calm and luxury with panoramic ocean views at the heart of The Habita, our exclusive Shi Shi Sunset Lounge has transformed into a dedicated wine bar and an unforgettable sunset viewpoint at Sri Panwa.
---
See & Do
Ko Chueak-Ko Waen
Small islands between Ko Muk and Ko Kradan, the islands are blessed with amazingly colorful shallow and deepwater corals that are the habitat of many types of fish. Visitors can take boats from Pak Meng Pier to the islands. Boats leave regularly...
---
See & Do
Phu Sang National Park
Apart from the perfect natural condition, the national park is also a habitat of Pu Lu or Siamese big-headed turtles, a rare and endangered species of turtle. This kind of turtle is small, short, has a long tail and big head. As their head is...
---
See & Do
Wat Phra Si Sanphet
In 1491, Wat Phra Si Sanphet was located inside the compound of the Grand Palace-the foundations of which are still visible-and served as the royal chapel, as Wat Phra Kaeo does in Bangkok. This Wang Lung Palace (Royal Palace) was built by King...
---
See & Do
Khao Pra-Bang Khram Wildlife Sanctuary
Khao Pra-Bang Khram Wildlife Sanctuary is located at Ban Bang Tiao, 18 kilometers from Amphoe Khlong Thom. Major attractions in this Sanctuary include a 2.7-kilometer nature trail through lowland forests, the Emerald Pool and a variety of natural...
---
See & Do
Ko Nok
Small island in Bangpakong is the habitat of a number of birds and other species.
---
See & Do
Ko Yao
The island is located close to Wat Chon Thara Singhe. From Tak Bai District Market intersection, there is a 345-meter long wooden bridge spanning Tak Bai River to Koh Yao. The islands attraction is its eastern seaside section with a white sandy...
---
See & Do
Thale Ban Mo
The area is approximately 2,560,000 square meters. The lagoon is deep and wide. It is habitat of many aquatic species. During February to July, there will be thousands of tiger flocks flying from Siberia to here.
---
---
See & Do
Nakhon Ratchasima Zoo
Covering an area of 545 rai (218 acres), the zoo is one of the most modern in Asia. The enclosures are large and landscaped by section to match the habitat of each animal most of which have come from Africa. The most popular animals are penguins,...
---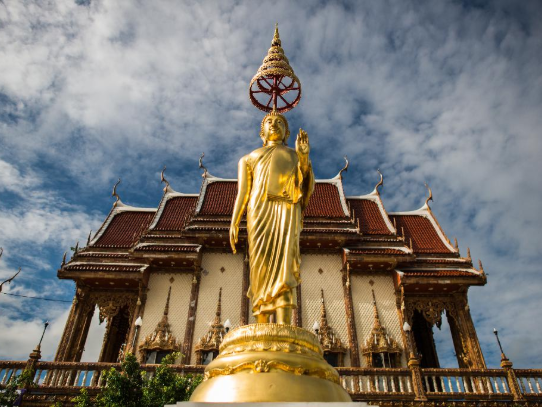 Destination
Nakhon Ratchasima
Nakhon Ratchasima or Korat Thailand is the most prosperous province of the East. Its richness of culture is very interesting since it has its own folk song called 'Pleng Korat.' Nakhon Ratchasima is also important to Thai history. All...
---