Food
BABA NEST
The World's most stylish and exclusive rooftop bar is now open serving Sri panwa's delicious cocktails, alongside the sexiest sunset sessions. Baba Nest's wrap around infinity pool surrounds the rooftop deck overlooking 360° panoramic views of the...
---
Food
SHI SHI LOUNGE
SHI SHI LOUNGE Nestled in an oasis of calm and luxury with panoramic ocean views at the heart of The Habita, our exclusive Shi Shi Sunset Lounge has transformed into a dedicated wine bar and an unforgettable sunset viewpoint at Sri Panwa.
---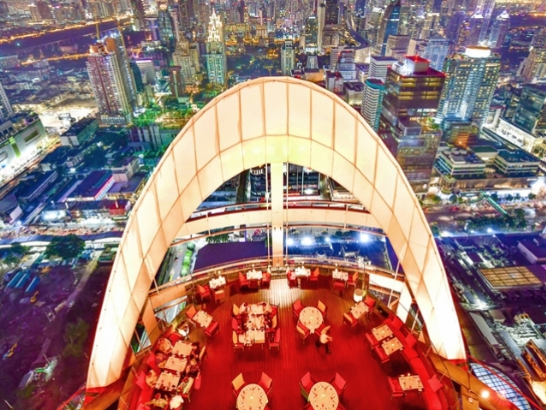 Article
BANGKOK GLITTERING SKYLINE
Yellow and red traffic jam lights, glittering temple rooftops and twinkling neon lights of skyscrapers somehow are an excellent combination of Bangkok
---
Food
Hidden Something: A Rooftop Bar & Bistro
In a seaside province like Trang, enjoying a seafood meal at a beachside restaurant is a must. However, Trang offers another attractive place to hang out in a relaxing atmosphere and enjoy delicious dishes while listening to live music and...
---
Food
BABA88
BABA 88 PUB & NIGHTLIFE Situated on the ground floor of our new entertainment building, Baba 88 will host international DJ's and is always open for stylish partying. Design will be a focus as well as comfort. Our entertainment team is experienced...
---
Food
BABA BEACH BAR
BABA BEACH BAR – BEACH BAR NATAI The real delight at Baba Beach Club is the Baba Beach Bar as it's the epitome of poolside luxury and is the most energizing and inimitable area on the property. There is also the entertainment hub on the property...
---
Food
BABA POOLCLUB
BABA POOLCLUB – INTERNATIONAL CUISINE Is home to many different areas of entertainment and dining. Sprawled across 5,000 square meters, it has a little something for everyone. The indoor/outdoor building features a 25-meter infinity-edge lap pool,...
---
Stay
Baba Beach Club Natai Luxury Pool Villa Hotel by Sri panwa
Baba Beach Club, Natai was envisioned with the intention of fusing together brio and bluster with glamour and grace located just 20 minutes north of Phuket International Airport, managed and developed by internationally acclaimed luxury pool villa...
---
Food
BABA SOUL FOOD
Baba Soul Food serves up a delicious selection of home-cooked Thai food in a cozy, relaxed setting of intricate architectural detail and undisturbed, panoramic ocean views.
---