Food
BABA HOTPOT
BABA HOTPOT Hot pot commonly Chinese fondue varieties of stew, consisting of a simmering metal pot of stock at the center of the dining table. While the hot pot is kept simmering, ingredients are placed into the pot and are cooked at the table....
---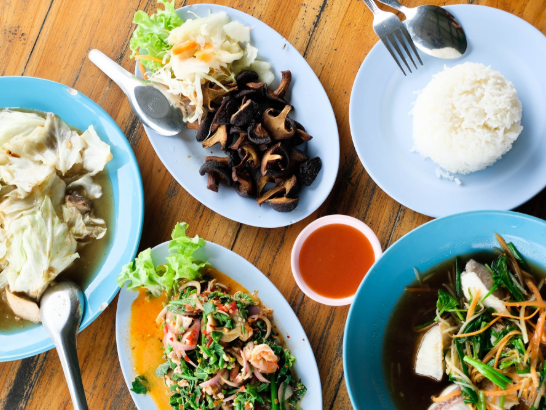 Article
Krua Mong Meng - Phetchabun
Krua Mong Meng provides a combination of authentic Thai-style with a touch of Chinese and Isan (Northeastern region of Thailand) menus
---
Food
Bangkok Halal Kitchens
Premium and unconventional Halal menus!! Delivered to your door, from our halal certified kitchens in Soi Thonglor (Sukhumvit 55).
---
Food
Chek Pia
Recommended Menu are: Pork Satay, Chicken Rice, Hot Pot, Spicy Herbal Scallop Stir Fry, Stir Fried Soft Crab in Curry Powder
---
Shop
Mae Kim Buai
Souvenir and pastry center from Chonburi with food center. This rest area is good for shopping before returning home.
---
Food
BABA CHINO
Baba Chino, serves up loved Chinese dishes with an addition of Sri panwa creativity & flair. The restaurant is open for lunch & dinner, serves traditional dishes with fresh ingredients & exquisite variety of Dim Sum, Crispy Pork, Abalone, Crispy...
---
Shop
Heap Brand
E-commerce shop for authentic Thai snack and food subscription box shipped directly from Thailand. We offer unique Thai souvenirs with changing themes monthly. Each box includes 10+ snacks and drink, an exclusive postcard and free shipping to over...
---
Food
Farida Halal Food
Recommended menu: Volcano Roti, Cheese Roti, Chicken Curry Roti, Chicken Murtabak, Teh Tarik
---