MediaMagination Co Ltd, publisher of Koktail magazine and Thailand's Favourite Restaurants Dining guide, is partnering with siam Paragon to host an exciting culinary EVENT that is set to become the talk of the town. The event, "Thailand's Favourite Restaurants by Koktail presented by Siam Paragon" will be held over three days from 26-28 August 2022 at Parc Paragon, Siam Paragon. The event will partner with Jagota, distributor of trend setting and bespoke Food solutions for professionals; Megatix, Thailand's leading ticketing platform; Freedom Wallet payment application and ONEsiam SuperApp will offer special privileges to EVENT goers.

"Thailand's Favourite Restaurants by Koktail Presented by siam Paragon" is a three-day EVENT that will bring together 25 of the country's leading chefs and well-known Restaurants to present their selection of Gourmet dishes. This Food and drink extravaganza is timely as it coincides with the full re-opening of Thailand's hospitality scene and is expected to draw over 2,500 food lovers over the entire three-day period. The EVENT will also include the first ever Thailand's Favourite Restaurants Chefs & restaurants Awards. This first of its kind event will be curated by MAXIMAGE, Thailand's leading creative hybrid event management company.

Visitors will be able to indulge in specially prepared dishes by some of Thailand's leading chefs and Restaurants such as Aquila, Maison Dunand and Alpea, both by Arnaud Dunand, Loyrom, Tony's, TAAN, 31 Degrees by Kad Kokoa, Restaurant Potong, Brasserie Palmier @ Four Seasons Bangkok, Appia, Fat Lamb by Chef Yakup, R-Haan, The Smokaccia Laboratory, Praya Dining @ Praya Palazzo and SeaFood @ Trisara, both by Montara Hospitality, and Jaras @ InterContinental Phuket, JHOL, Baan Tepa, Mia, CLARA, the Okura Prestige Bangkok hotel, CDGRE by Suhring, Haoma, Phra nakhon @ Capella Bangkok, Rib Room & bar @ The Landmark, Bangkok, and Man Tables.

The series will kick off on the evening of 26 August, by invitation only, with the "Dusk till Dark Industry Awards Presentation Event" where awards will be presented to winning chefs and Restaurants in 20 different categories recognizing Local talent and the latest culinary trends. The EVENT from 6pm to 10 pm brings chefs, restaurateurs and sommeliers together with their friends in the industry.

On 27 August the festival continues, open to the public, with two sessions of non-stop Food and drinks; the first from 11am to 4pm for Dining for the entire family, followed by a second "Dusk to Dark" Party EVENT from 5pm to 9.30 pm. On Sunday 28 August a family Day Brunch session goes from 11am to 4pm, when the whole family can enjoy delicious Sunday Brunch plates together with family-style entertainment throughout the day. Then to the finale "Dusk to Dark" food and drink party from 5pm to 9pm on Sunday evening.
The EVENT will be held at Parc Paragon, siam Paragon. A prepayment fee of Baht 1,500++ per person is on offer for early bird registrants on Megatix from 7-31 July 2022 and thereafter the regular price of Baht 2,000++ will apply. The entry fee allows for guests to sample a range of menus on offer plus drinks and cocktails via a digital pricing system. guests may top up their spending on site if they wish to enjoy more of the Gourmet Food and drinks on offer. Visitors will also have access to special privileges offered by ONEsiam SuperApp.

Mr Nigel Oakins, co-founder of MediaMagination, and "Thailand's Favourite Restaurants by Koktail" Dining guide said, "We are proud that siam Paragon shares our vision to bring Thailand's culinary excellence to the forefront through hosting our first Food festival under the 'Thailand's Favourite Restaurants by Koktail Presented by siam Paragon' while the Dining guide includes leading Restaurants from every region of the country, based on a series of criteria under the supervision of Mr Christopher Watson, a respected food-industry veteran, and his team of food critics. He has lent us his expertise to ensure that the dining guide is a credible manual of global culinary and service standards that will be a perfect dining companion to all food enthusiasts.

Mrs Thanaporn Tantiyanon, Head of siam Paragon Business Unit, Siam Paragon Development Co., Ltd, remarked, "As a 'World Class Food Destination' and uber experience creator, siam Paragon is therefore organizing Thailand's Favourite Restaurants by Koktail Presented by Siam Paragon to offer an outstanding culinary experience to food enthusiasts. It also affirms Thailand's position as a top tourist destination. Food is recognized as a soft power that has helped to put Thailand on the global tourism map, and this EVENT will showcase Thailand's readiness to welcome tourists after the long hiatus from the pandemic. The event is expected to boost the economy and highlight the Restaurant industry, while visitors will have the opportunity to sample delicious offerings from 25 top restaurants in Thailand within one single venue. We also offer exclusive privileges for our ONESIAM SuperApp. New subscribers who download the app and apply for VIZ member at the event will be complemented with a 100 baht top-up for food and Beverage purchases at the event. Existing VIZ members will be offered a free scoop of Haagen-Dazs IceCream at the event."

Mr Gopal Jagota, Business Development Manager at Jagota Brothers Trading Co Ltd, stated, "As one of the top Food distributors in Thailand, we work with many of Thailand's leading chefs and are constantly evolving with new ideas, concepts, events, and solutions that further drive the success of our customers wherever they are and no matter the industry, whether it's modern trade, food service, catering, or other services. That's why we are so excited for this timely collaboration with Thailand's Favourite Restaurants 2022 by Koktail Presented by siam Paragon. We will be showcasing our Evian water and Häagen-Dazs ice-cream made from top quality ingredients for visitors to enjoy and Cool off at the food festival."

Mr Christopher Watson, Project Director of Thailand's Favourite Restaurants by Koktail restaurant guide as well as the Thailand's Favourite restaurants by Koktail Presented by siam Paragon Food festival, commented, "This event, as well as the Restaurant guide, are most timely, with the food and Beverage industry have been recovering from the Covid pandemic. I'm delighted to say that we have the participation of 25 leading chefs—many Restaurants of which have also earned Michelin stars—who will showcase their menus in one single venue, together with a wide selection of wine and other Beverages, in a casual and fun atmosphere. That is definitely a rare opportunity and bonus for food lovers."

Ms Siriprapa Weerachaising, Campaign & Content Operation Lead, TikTok, said, "TikTok is a rising star platform for the Food & Beverages industry. We have a strong food community gathering not only food and cooking lovers, but also creators and Restaurant businesses in Thailand. We plan to support the industry, allowing people to discover new knowledge and must-try Restaurants, and restaurant businesses to reach new customers and audiences. This #TikTokพากนิ collaboration with TFR, will bring fine-Dining experiences to everyone's screen."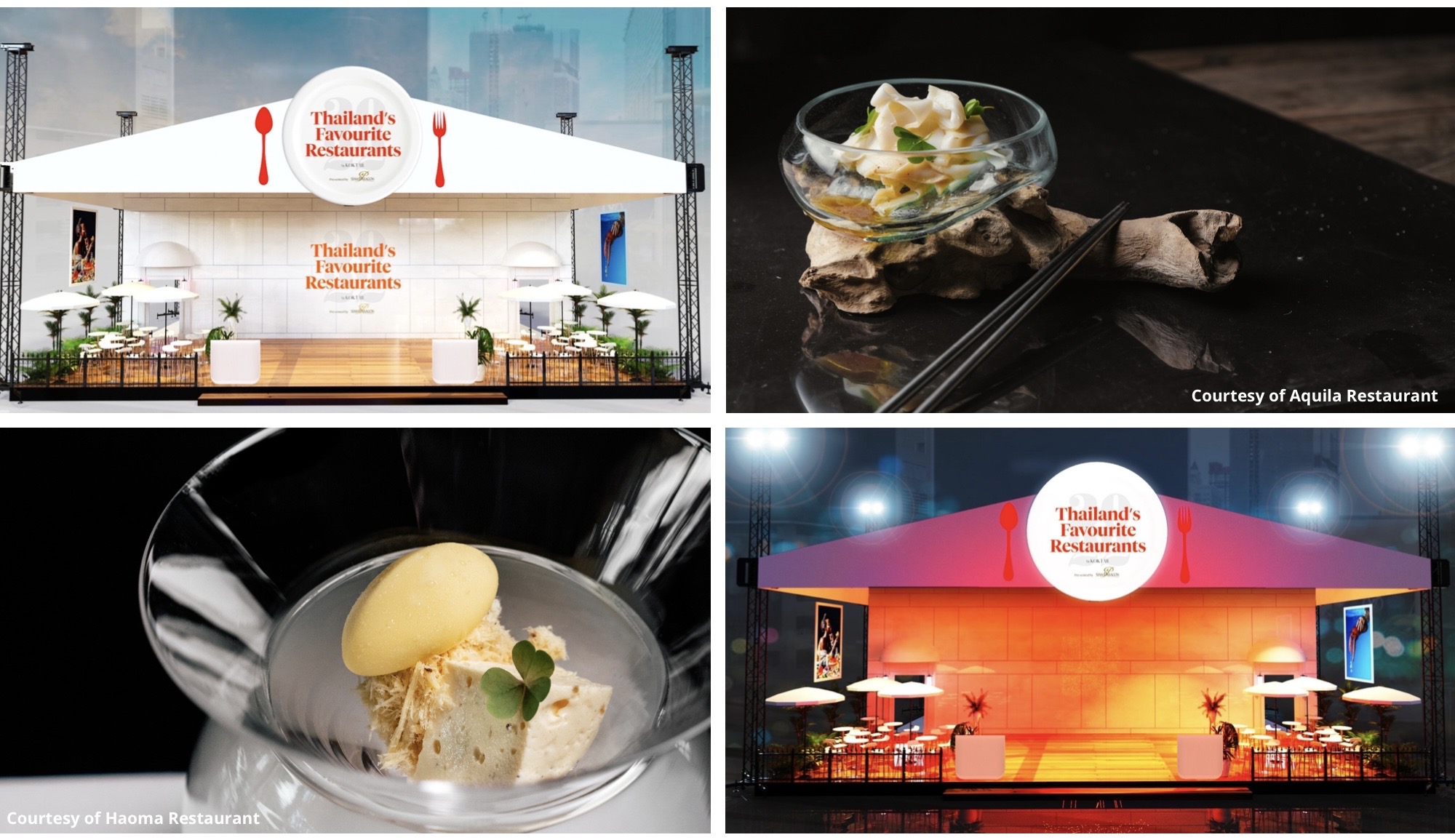 Responsible for curating this memorable EVENT is MAXIMAGE, whose owner Ms Viwan Karnasut, remarked, "This Food festival is an exciting challenge for the MAXIMAGE team, and we are eager to see Thailand getting back on its feet particularly in the food and Beverage industry. Our goal is to make this a fun, friendly and safe experience for festival goers, so they will have a seamless experience where Dining is concerned, from the air-conditioned marquee, the booth layouts and the flow of guests, to the music and entertainment."