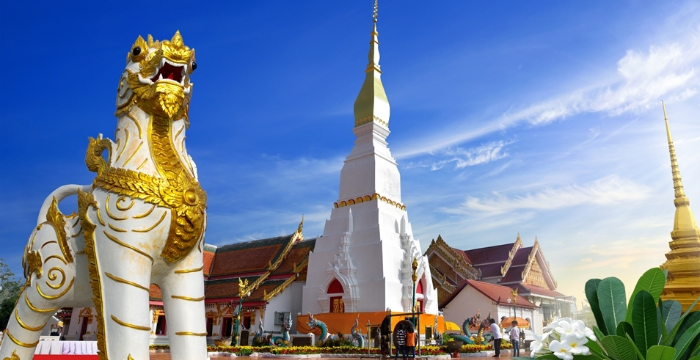 Sakon Nakhon: The low-key Isan destination
In upper Isan, between the famous Nakhon Phanom and bustling Udon Thani, locates the peaceful town of Sakon Nakhon. Virtually, it is not the touristy place housing neither the traveler-oriented hotels nor impressive tourism infrastructure. However, spending a few days here can be as much rewarding if you want to step off typical tourist tracks and get a slice of real Isan.

You can begin the day at Nong Harn, a huge freshwater Lake and a serene place in the town. Occupying nearly 8,000-acre area, the Nong Harn Lake is a significant water source and lifeline of the province.

From October through March, red water lilies spring back to life and turn the lake vibrant with red blossom. By such stunning beauty, the lake serves as a huge recreational area from dawn until noon throughout the month of flowering.

Then pay homage to Sakon Nakhon's Landmark. Situated in the heart of the town is Wat Phra That Choeng Chum, one of the town's landmarks, an 80 feet-high stupa, which has History dating back to the 11th century. It was established right on top of four Buddha footprints.

Next morning, you can spend the whole day exploring Phu Phan Royal Development Study Center Project. Learn about three "Black Magic of Phu Phan" or three kinds of livestock; black chickens, black pigs, and black cows, which play a significant role in improving lives of the Northeastern farmers.

Before leaving, finish up your trip to Sakon Nakhon by learning about the region's indigo Culture at some of the dyeing villages. If you want to see the indigo clothes in a modern look, the Kram Sakon Shop is among the best places you cannot overlook. Nestled in a peaceful Garden, the modest outlet in wooden houses excites all visitors with its fashion items inspired by Sakon Nakhon's indigo art such as local style shirts or contemporary design of bed sheets.

How to get there: Sakon Nakhon is 404 miles northeast of Bangkok via highway 2. For more information about attractions in Sakon Nakhon, call the TAT office in Udon Thani at 042-325-406 to 7.