Sai oua, nam prik num, fried pork rinds, hang lay curry – these specialities are considered some of the most famous northern Thai dishes. For an authentic taste of northern Thailand, there's no better place than the northern province and town of Chiang Rai. Today, we are taking you to the best Restaurants in Chiang Rai.
Deliciousness is waiting…let's take a look!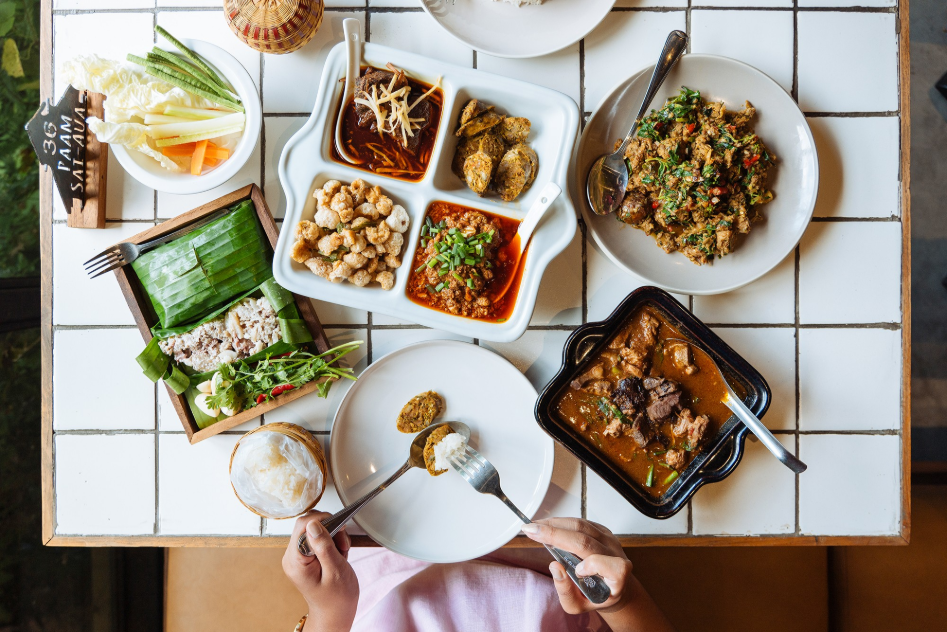 Paam Sai Aua fuses Local northern Thai dishes with international CUISINE. Once you try its creative dishes, it will completely change what you think about traditional northern foods. The Restaurant is easy to find because it is located in downtown Chiang Rai. The eatery's vibe and decoration represent the local Chiang Rai style and architecture complete with using wood joint techniques instead of nails.
recommended dishes
"Lanna Paam"
A mouthwatering appetiser platter that offers a combination of northern foods like fried pork rinds, nam prik ong (a chilli dip made with pork and tomatoes), sai oua (northern sausage) and gaeng hunglay (a rich, pork belly curry).
"Keto Sai Aua"
Sai Aua sausage made with less sugar and fat than usual and no MSG. delicious and healthy.
"Hang Lay CurrySteamed Bun"
The Restaurant's own special recipe
Location : 123/20 San Khok Chang Road Chiang Rai (There is the hotel's Petch Siamsignboard at the entrance of the road,Go straight for 1 kilometre)
Directions : The Restaurant is located on San Khok Chang Road opposite Pro Gym, next to a football field.
Contact
Telephone : 052-020-499
facebook : PAAM SAI AUA
Opening hours : Every day from 8 a.m. - 9.00 p.m. (kitchen closes at 8.30 p.m.)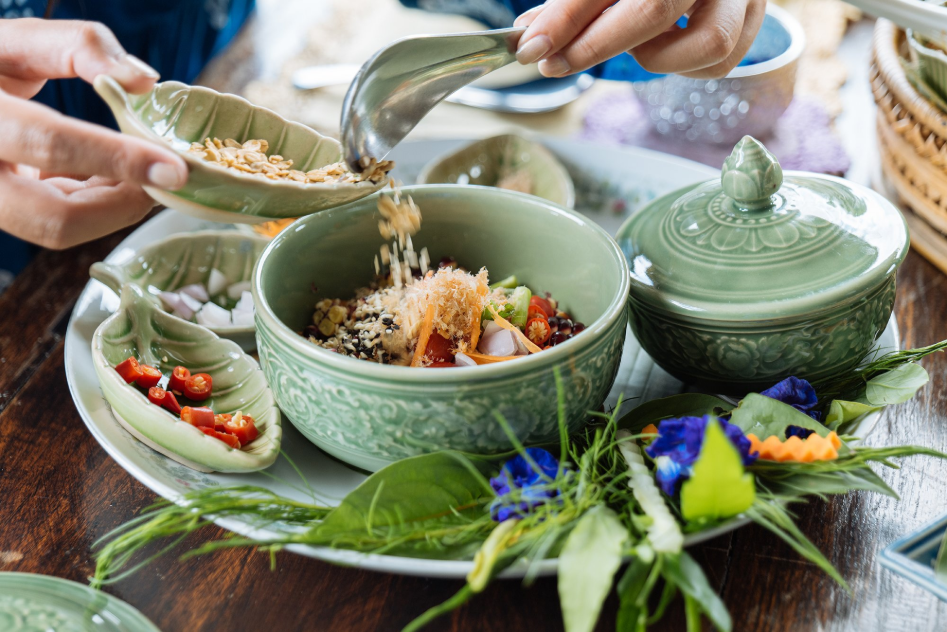 Ma Long Ther is located at the Art Bridge Chiang Rai gallery surrounded shady tree. The Restaurant offers a wide variety of dishes, all beautifully presented to match its charming location.
recommended dishes
"Local Appetisers"
An appetiser platter that brings together several Local northern Thai nibbles including fried pork rinds, sai oua (Herb-filled northern Thai sausage) and naem (fermented pork sausage)
"Fried Rice with Sai Oua"
Fried rice with the tasty northern Thai sausage known as sai oua
"Nam Prik Ong Spaghetti"
Combining the northern Thai nam prik ong chilli dip with Western spaghetti
Location : 551 Ban Du, Muang Chiang Rai, Chiang Rai 57100
Direction : From downtown Chiang Rai, take Phahonyothin Road straight to Mae Fah Luang international Airport. Before the entrance of the airport, you will see Ma Long Ther Restaurant located within Art Bridge Chiang Rai.
Contact
Telephone : 095-229-5359
Opening hours : Every day from 10 a.m. – 8 p.m.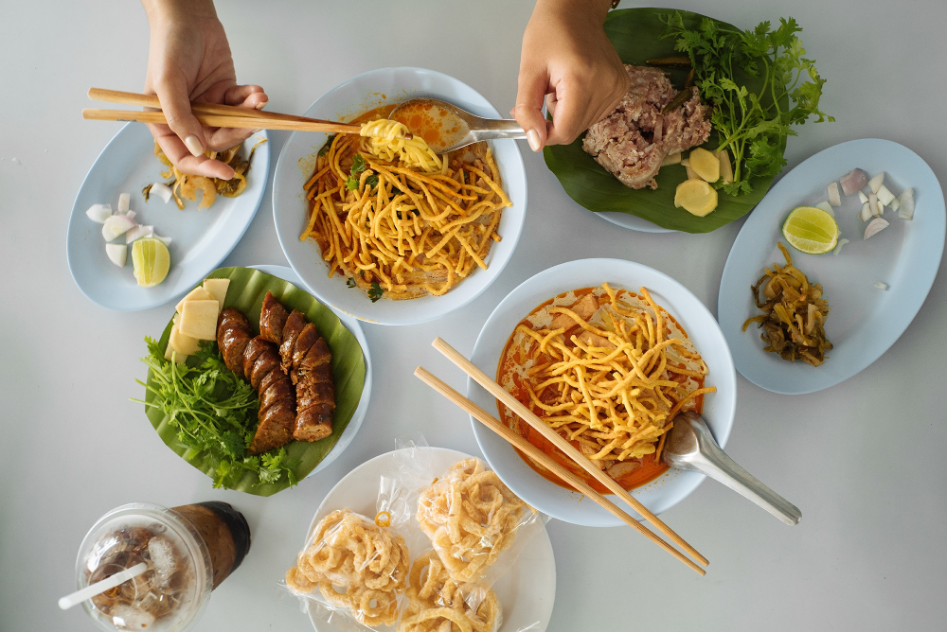 Kao Soi Por Jai is one of the oldest Restaurants in Chiang Rai serving the traditional northern Thai dishes of kao soi and nam ngiao. This place has been open for over 30 years with its signature recipes passed down through the generations, keeping the original flavours alive. The highlight of this Restaurant is that coconut milk and meat are separated served. For those who love the taste of kao soi and like to slurp up every last drop, you will not be disappointed. The soup is flavourful and not too oily. We can guarantee that it is delicious! Additionally, the shop also serves nam ngiao with a unique clear soup, instead of the usual red-hued brother made with red cotton tree Flowers and fermented soybean. You can choose to have it with or without the soup as you like.
recommended menu
"Chicken Kao Soi"
The classic dish of northern Thailand, full-flavoured and scented with coconut milk
"Noodles with Nam Ngiao soup"
Nam Ngiao, a northern type of curry, is often served with rice vermicelli but can be eaten with other noodles as well like in this unique dish
Location : 1023/3 Chet Yot Road, Wiang, Muang Chiang Rai, Chiang Rai 57000
Direction : From downtown Chiang Rai, find the clock tower and drive along Chet Yot Road about 150 metres. The Restaurant is on the right-hand side.
Contact
Telephone : 053-712-935
facebook : https://www.facebook.com/pages/ร้านพอใจ-ข้าวซอยไก่-เจ็ดยอด-Chiang-Rai/
Opening hours : Every day from 8 a.m – 4 p.m.
After trying out these three Restaurants, it's time for dessert! Head to this small stall for a popular Local treat…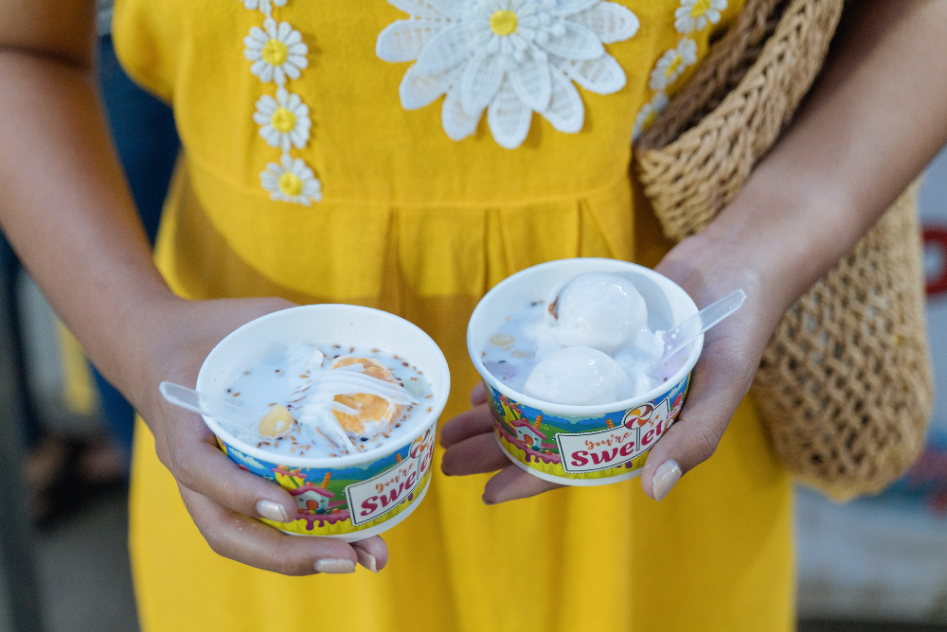 Bua Loy Meu Teu is a very famous dessert street stall in Chiang Rai. Bua loy is a traditional Thai dessert of sweetened hot coconut cream with rice balls. The rice balls are particularly soft and sticky and come in many different colours. This shop became well known by tourists and Local people because of its name Bua Loy Meu Teu and because it does not provide tables or chairs for customers. Meu teu translates to "carry by hand" in English and here you can only take the sweet treat to go. The highlight is bua loy severs in Coconut sheel, which is a burnt coconut shell giving off a fragrant scent. The bua loy is then topped with roasted white sesame to make it even more fragrant. If you want to taste this delicious bua loy, we suggest you come early before it runs out…because everyone else wants to try it too!
recommended dishes
"Bua Loy with young coconut"
Smooth tapioca balls swimming in fresh coconut milk topped with pieces of young coconut and roasted white sesame. Served in a burnt coconut shell.
"Bua Loy with coconut ice cream"
Bua Loy served with coconut ice cream instead of the usual coconut milk. So refreshing!
Location : At the front of Chiang Rai Night Bazaar Tambol Wiang, Amphur Muang 57000
Direction : From downtown Chiang Rai, take No.1 road to No.1232 road for 220 metres. Then take the right lane onto Phahonyothin Road, follow it for 950 metres and turn left. Go straight about 220 metres. The stall is in front of Chiang Rai Night Bazaar.
Contact
Telephone : 085-032-3249
Opening hours : Every day from 6 p.m. to 8.30 p.m.
Full yet? If you ever go to Chiang Rai, do not miss the chance to try these delicious Local Restaurants. We guarantee that you will love the taste – and the price!