nakhon Nayok, one of the renowned tourist destinations only a few hours from Bangkok, bears not only rich spots where you can enjoy the picturesque nature of the mountains and waterfalls, but here is also a home for Food lovers where you can find tons of inexpensive options to fulfil your appetite. Here are some of the spots to start with.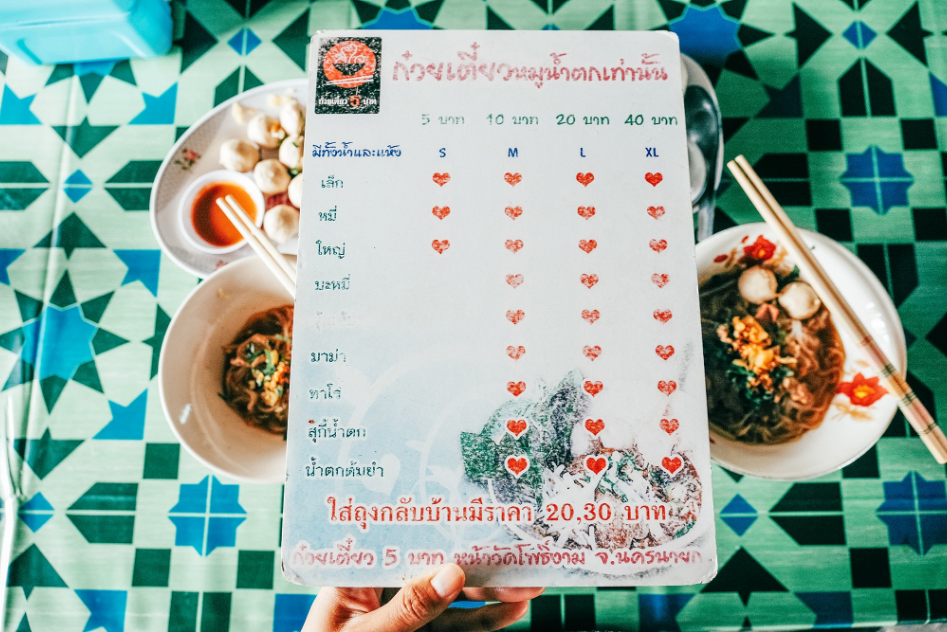 Starting at only 5 Baht, this wallet-friendly street Food heaven opens from 09.00 - 15.00 Hrs. 5 Baht Noodle House stands at the front of Wat Po Ngam and opposite the Teng Terd Terng Market. Despite having few fancy decorations, the owner of this street food shop still offers visitors with funny vibe thanks to several humorous quotes to brighten the moody day. A meal here starts at 5 Baht up to 40 Baht depending on the size of the bowl - S, M, L, and XL - along with an option for the place's second-best signature, which is the freshly-made Khanom Tuai, steamed coconut rice custard widely recommended by the Locals for its fragrant coconut milk and mild taste costs.
2. Kai Yang Song Sao (Two Ladies' Grilled Chicken Restaurant)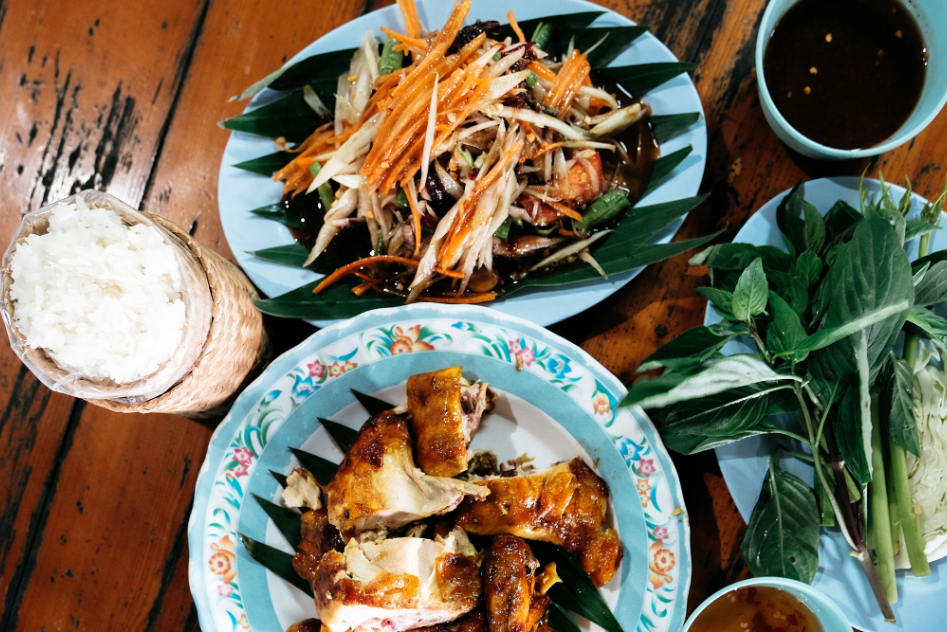 If you crave for something spicy, don't leave nakhon Nayok without paying a visit here. Kai Yang Song Sao is a high-ceiling Restaurant with an airy interior structure located at the front of the Khun Dan Prakan Chon Dam where most visitors would normally stop by for a meal. In spite of its grand setting which can serve up to 2,000 seats, the preparation time for each menu takes only a moment. Most of the options served here consist of Thai and Isan (Northeastern Thailand) Food; of all the menus, we recommend you to try the Restaurant's signature dishes; a palate-burning Somtam together with the renowned grilled chicken - a combination of juicy meat marinated in Thai spices andcrunchy chicken skin, which will add more texture to your taste.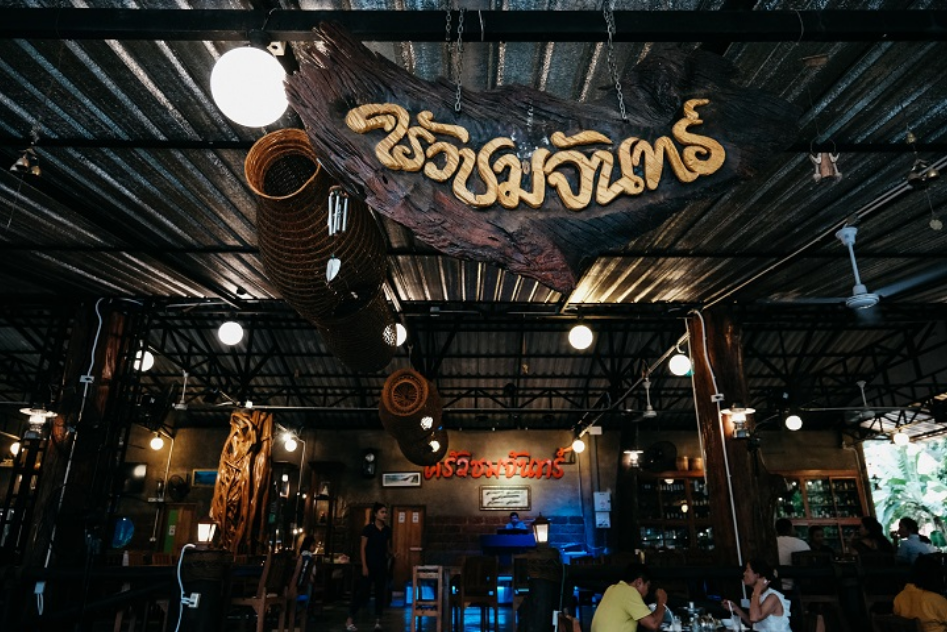 Located on the route to the Khun Dan Prakan Chon Dam (before Wang Ta Krai waterfall), Khrua Chom Jan opens every day from 11.30 - 23.00 Hrs. For the best Dining experience, it's so much fancier to visit the Restaurant at night, as there will be a live band for travellers to enjoy. Apart from the variety of menus starting at only 100 Baht, we recommend you to try the place's specialties; such as, fried vegetables and chili Paste paired with freshly-boiled vegetables. Either you are a real big eater or just simply feel weary after a full day of splashing at the nearby waterfall, feel free to stop by to replenish your energy with a big platter of Local CUISINE.
4. Kala Lung Pao Boat Noodles (Uncle Pao Boat Noodles in Coconut Shell)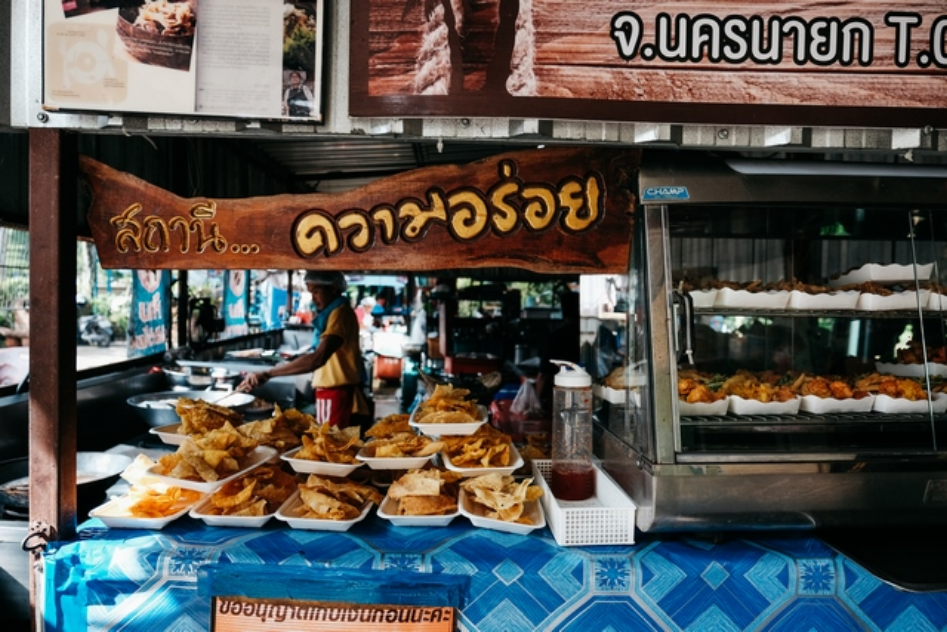 With a simply naturalistic interior design as its signature, Kala Lung Pao Boat Noodles sit only a few kilometres from the Khun Dan Prakan Chon Dam. Normally, Uncle Pao would start his business from 09.00 - 15.00 Hrs. while closing on every Monday. Two Instagram-friendly features that need to be mentioned here are a the special seating where you can ease your legs out over a pond full of glaringly colourful carp with Boat noodles served in a distinguish bowl made from a coconut shell making this street Food staple visually tastier than ever.
5. Daeng Kaeng Pa (Daeng Jungle Curry)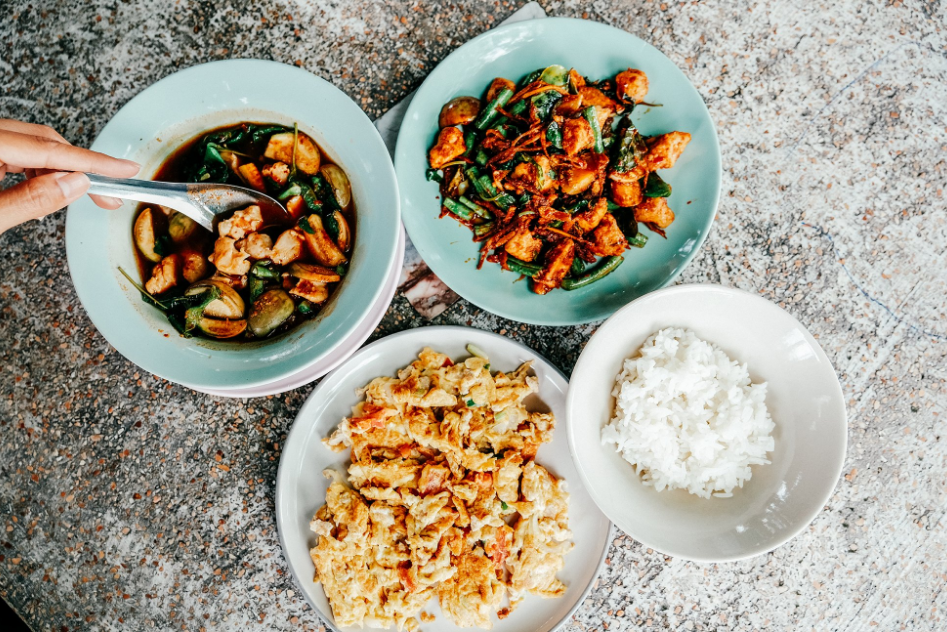 Daeng Kaeng Pa is the best option for those who are into something burningly spicy with a menu starting at only 50 Baht. One can't help but fall in love with the place's homely atmosphere and Cool breeze from the nearby River. This curry house, opening every day starting from 08.00 -16.00 Hrs, is situated in Soi Panich Charoen 1, nakhon Nayok. Don't miss the chance to try Ground Fish Curry, as it's deemed as Daeng Kaeng Pa's signature.
6. Teng Terd Terng Market - Night Vintage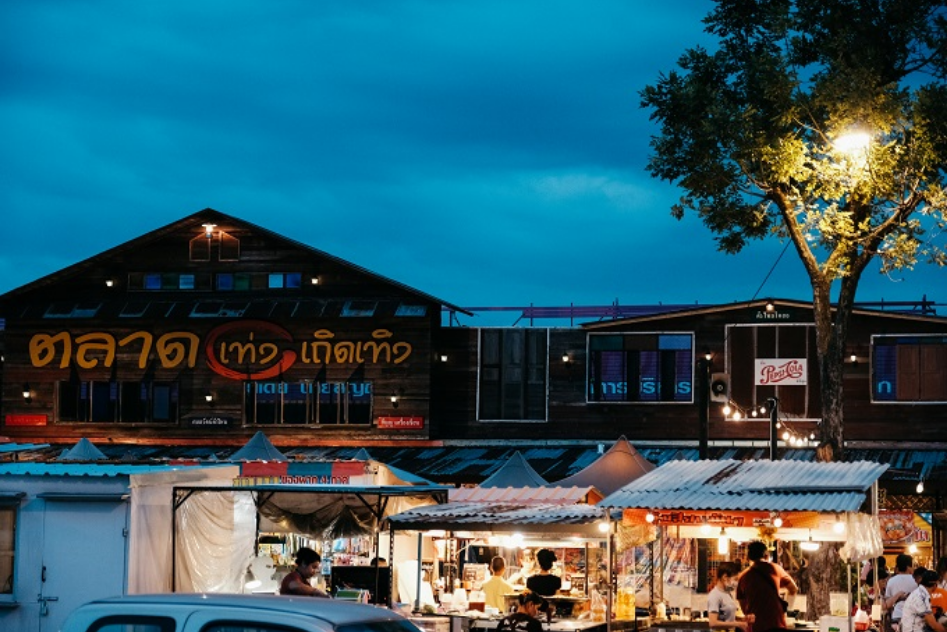 This night bazaar is topped first in the list of all visitors, as it is full of hawker stalls and Restaurants where you can pick something to eat while walking around or just simply have a seat and eat with your friends. On Friday, Teng Terd Terng Market will start to see people after 17.00 Hrs. up to 21.30 Hrs. while Sunday and public holidays the closing time will be extended to 22.30 Hrs.