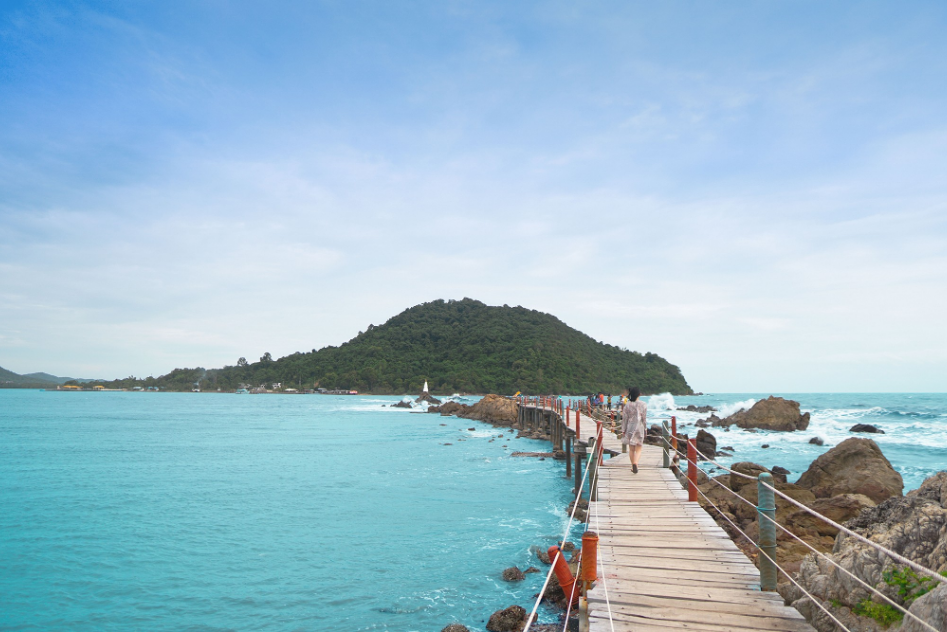 We bet you'll be surprised to know that in Chanthaburi, the gem of the East of Thailand, there's more to explore than beautiful Beaches. Let's take a road Trip to the four must-visit places of this well-known Eastern province, where you can enjoy exploring the vivid lifestyle of the community along Chanthaburi Riverbank and be surrounded by wonderful and captivating natural attractions.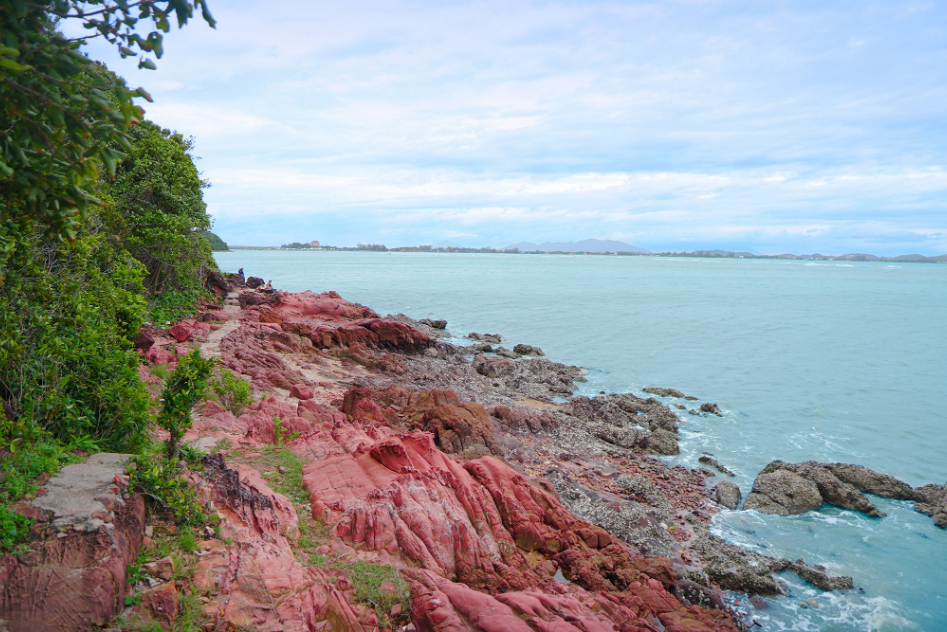 Pink Stone, located at the Kung Krabaen Wildlife Reserve, Tha Mai District, is a vast terrace of pink arkosic sandstone. You'll be amazed by how the shade of pink changes from reddish pink to purplish brown under the dazzling sunlight.
A 1-km-long nature trail along the rocky coast will lead you to the Pink Stone terrace where you can save these fascinating sights in your camera. It's best visited during the ebb tide because you'll be able to see pink rocks along the Beach which you can take a break and, of course, take some photos, too. At the end of the trail, there's a viewpoint where you can see other astonishingly beautiful natural sights; such as, ko Nom Sao and Laem Sing Beach, waiting for you to explore.
Opening time: Daily, 8:00 a.m. - 5:00 p.m.
2.The Chantaboon Waterfront Community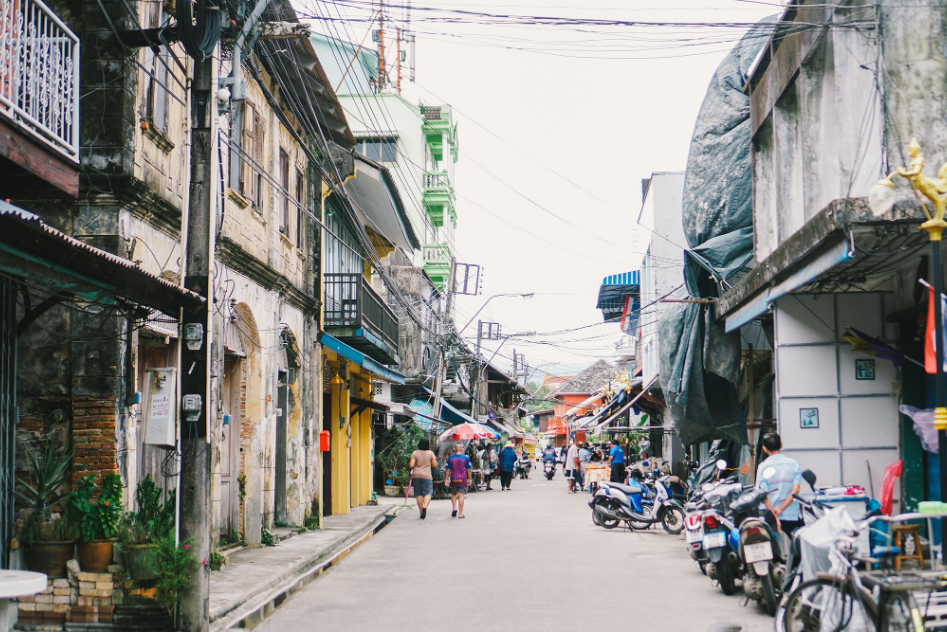 The Chantaboon Waterfront community is an old town sitting on the bank of the Chanthaburi River. Founded by Chinese and Vietnamese refugees around 300 years ago, now it has become one of the most popular places for visitors to Chanthaburi.
In Chantaboon, you'll find ancient buildings a kilometre-long filled with Local shops. Most of them are open on weekends and public holidays. In these cherished Historical sites, there are also restaurants, Traditional snack stalls, stylish coffee shops, Souvenir shops and beautifully preserved hotels, which will give you a classic but friendly vibe. You'll love being taken back in time, walking around this old little town and indulging yourself in an idyllic atmosphere with the unique charm that makes Chantaboon one of the most famous tourist attractions of Chanthaburi.
Opening time: Saturdays and Sundays, 10:00 a.m. - 4:00 p.m.
3.Khanom Plaek Community at Khlong Nong Bua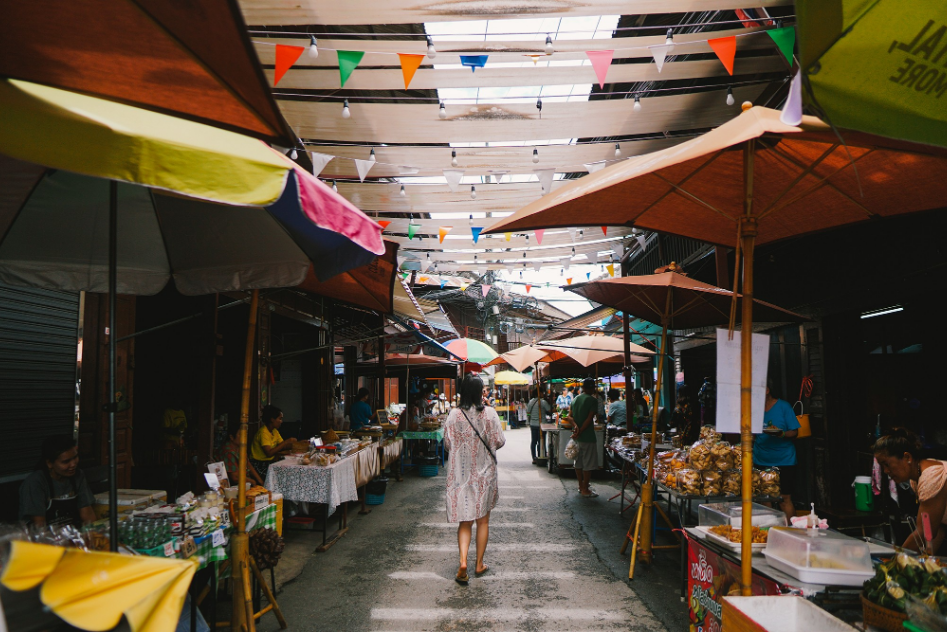 Located on the bank of Khlong Nong Bua, this 200-year-old Khanom Plaek (Unusual Snacks) community is a timeless charming place that will captivate your heart with the classic and simple lifestyle of its people. This place is famous for its home-made unusual Local Thai snacks and desserts that you won't find anywhere else in Thailand; such as, Khanom Kuai Ling (monkey's penis), Khanom Tit Kho (sticks in your throat), and Khanom Hua Lan (bald or hairless). See, they're definitely not the usual Thai dessert names you're familiar with. Although the names may not sound right, they taste just right because of natural sugarcane that the people here have always been using to make their desserts.
Apart from snacks, this Village also offers fresh seafood and seasonal fruits at reasonable prices. Come fill your day with this pleasant and sweet-scented ambience. Explore the Traditional lifestyle of this Canal-side community where you will be sweetly welcomed.
Opening time: Saturdays and Sundays, 9:00 a.m. - 5:00 p.m.
4.Chedi Ban Hua Laem Viewpoint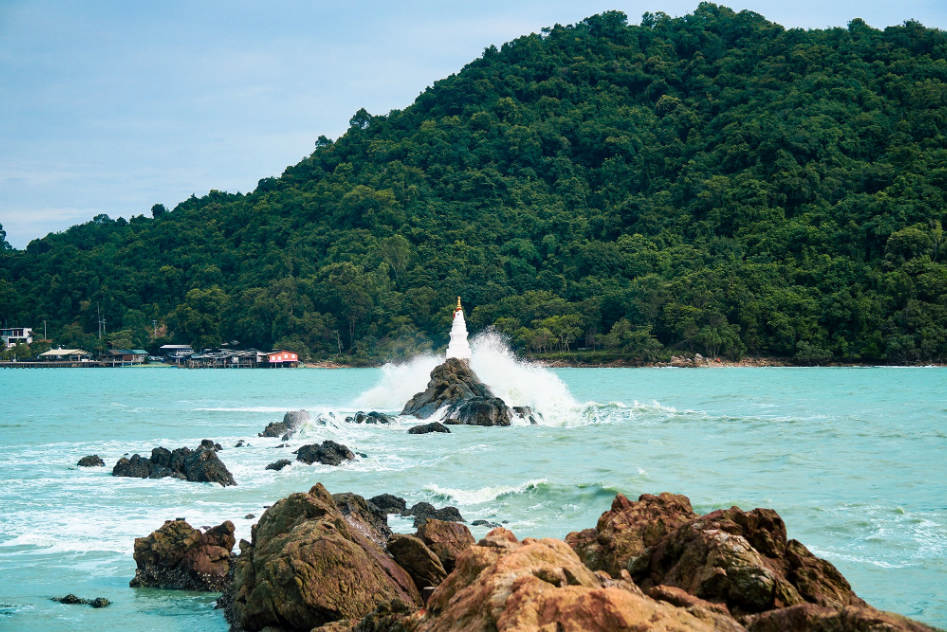 If you're looking for a place where you can feel the Cool sea breeze while watching a breathtaking view of the sunrise and Sunset, Chedi Ban Hua Laem viewpoint is definitely the place. Ban Hua Laem is a historic Fishing Village located at Sanam Chai Sub-district, Na Yai Am District, Chanthaburi. Around 200 years ago, this white Chedi or pagoda was built on a rock in the middle of the sea by Local fishermen to be their spiritual anchor. There is also a 50-metre-long wooden bridge, which will take you to the Chedi to pay respect. Ban Hua Laem is another place where you can embrace both the beautiful natural sights and treasured Tradition of the people here. You'll be surprised how romantic this place can be!
Opening time: Daily, 5:00 a.m. - 8:00 p.m.