Speaking about Food, Chanthaburi is one of the best in Thailand. Your meals here will be filled with fresh Seafood, sweet seasonal fruits and other tempting Local dishes. Let's explore them together!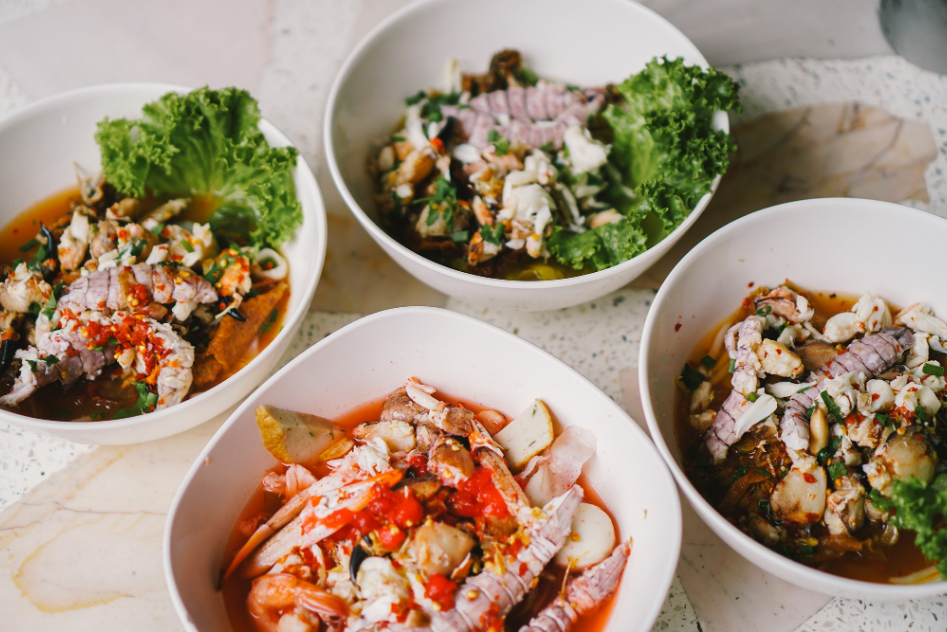 Let's begin with Jae Pen Yentafo, a noodle Restaurant that tells a story of Chanthaburi's famous seaFood, cooked with legendary delicious taste, served in a bowl of Yentafo noodles. Jae Pen's Yentafo is popular not only among tourists but also among Local people. Because this store offers a full range of crabs and mantis with option of dry or with a tasty and savory soup. Good food comes with a good price, you can Order a bowl of Yentafo fulled of Seafood with a price started at only 100 baht.recommended Menu: Yentafo or Pink Seafood Noodles, Crab, Mantis shrimp. Opening daily 10:00 AM-4:00 PM
2. Mae Aroon Sri Restaurant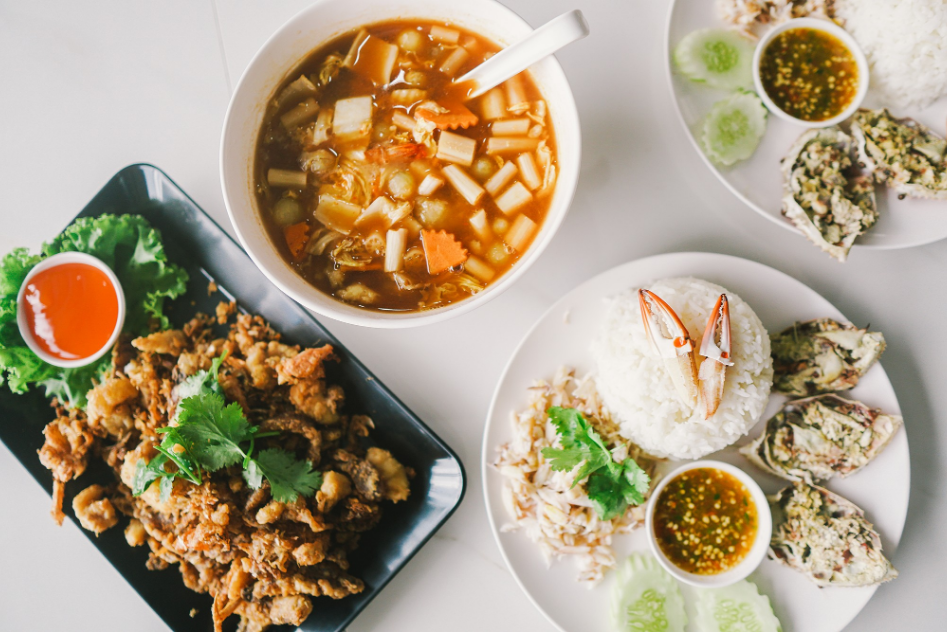 If you want to enjoy fresh seaFood and mountain view at the same time, Mae Aroon Sri Restaurant is where you are looking for. Come taste its tempting recommended dish: Stir-fried crab meat with ricein comfortable ambience of this medium-size and budget-friendly Restaurant. The restaurant is easy to find and their food is easy to fall in love with.recommended Menu: Stir-fried Crab Meat with Rice. Opening Time: Daily, 08:30 AM-8:00 PM
3. Genghiskhan BBQ & Grill Restaurant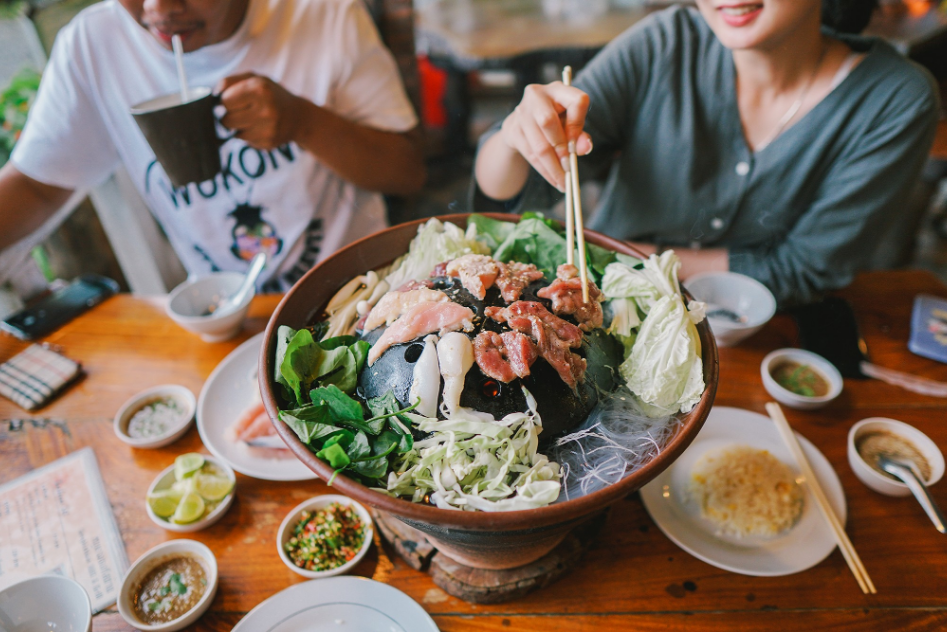 Genghiskhan BBQ & Grillis a small but comfy Restaurant. The place may look simple but the taste is definitely not.Its famous grilled pork smells heavenly because of natural charcoal grilled pan. You can enjoy not only pork but also best quality seaFood and fresh vegetable. The grilled pork best suits with salted fried rice and the Restaurant's typical savory sauce topped with sesame. With the budget-friendly price, this place is highly recommended! Recommended Menu: Grilled Pork with Salted Fried Rice. Opening Time: Daily (Closed on the 3rd Monday of every month), 12:00 PM-9:30 PM
4. Chan Pochana Restaurant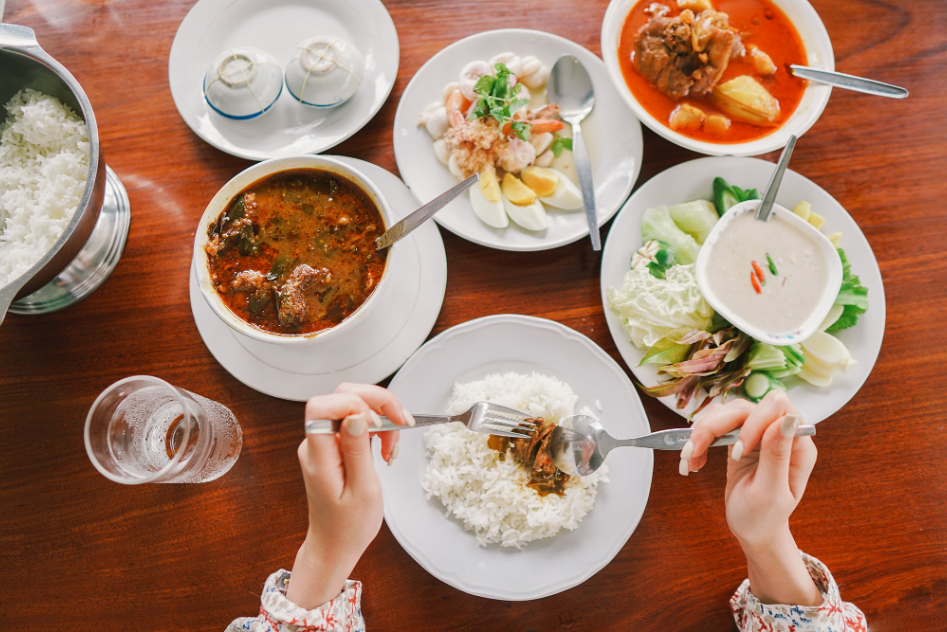 You cannot leave Chanthaburi without Dining at this place. Chan Pochana Restaurant offers dishes with authentic and unique flavor of Chanthaburi. Their specialties are Pork Stew with Cha Muang Leaves, Stir Fried Rice Noodle with Crab meat, Durian Thai salad (Som Tam),Katurai Chilli soup,Mangosteen Spicy salad, Massaman Curry with Durian and Coconut Milk Ice Cream with Malva Nut Jelly. You will be amazed how appetizing these Local dishes are!recommended Menu: Pork Stew with Cha Muang Leaves, Stir Fried Rice Noodle with Crab Meat. Opening Time: Daily, 10:00 AM-10:00 PM
5. Yai Li's Khanom Kuay Ling (Khanom Plaek Community at Klong Nong Bua Canalside)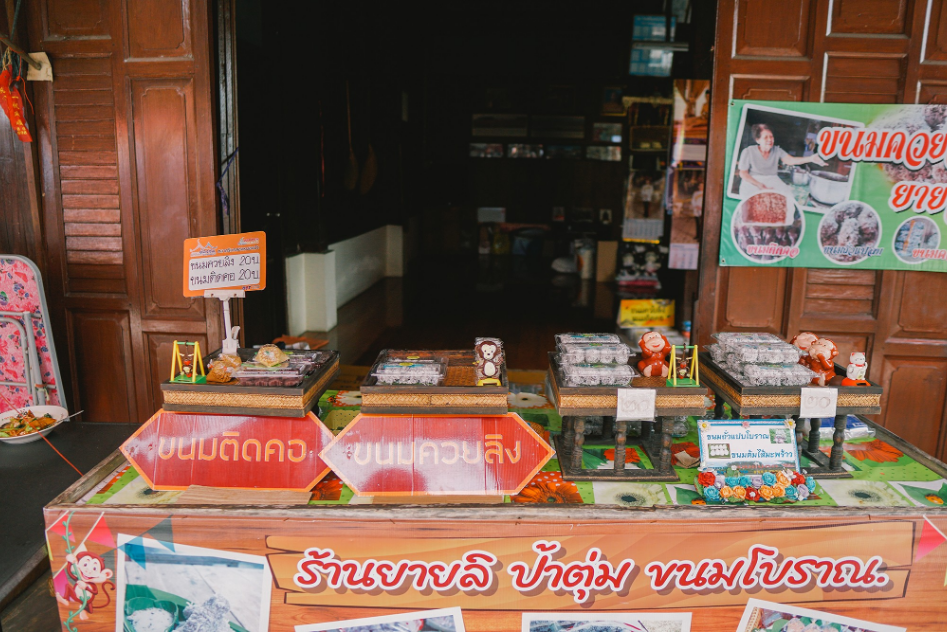 When it comes to Local dessert, we recommend Khanom Kuay Ling (Kuay Ling means a monkey's penis). The name sounds bizarre but you can be sure that the taste is not. This home-made dessert is made from Yai Li's recipe of glutinous rice with coconut and sugar cane. This unique recipe has been popular for ten generations and can be found only at Khanom Plaek (meaning unusual snacks) community at Klong Nong Bua Canalside.recommended Menu: Khanom Kuay Ling
Opening time: Saturdays and Sundays, 09:00 AM-5:00 PM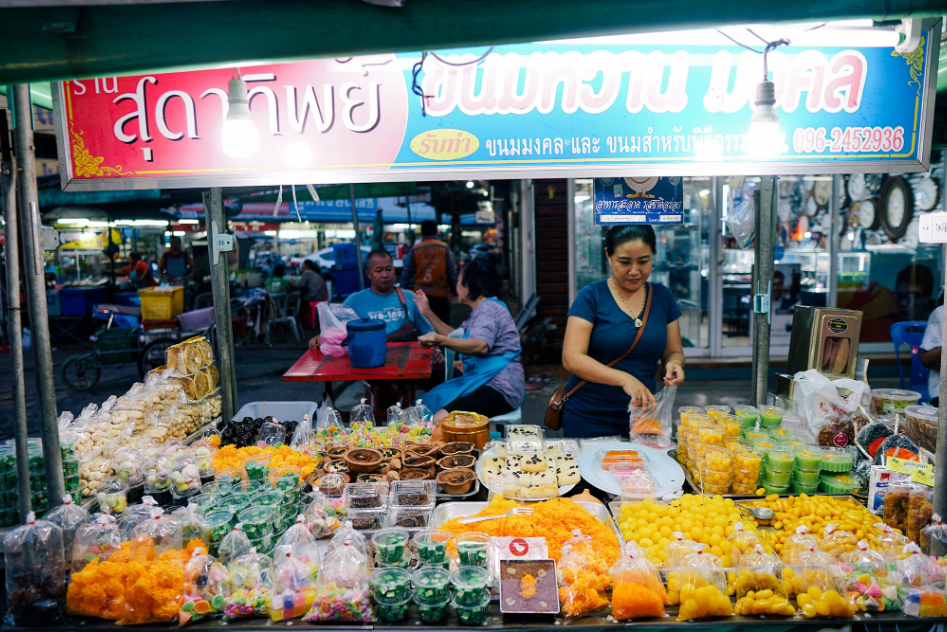 Our journey ends at Namphu (or Fountain) night market. It can be easily noticed by a big fountain in the middle of the roundabout. This place starts off with fresh market in the morning and turns into a lively night market after Sunset. You will enjoy Shopping among Local people and tourists bustling around as there are so many shops and various kinds of tasty Food and snacks.recommended Menu: Grilled Squid at Thongchai's, Chanthaburian Noodles, Fried Rice with Thai Seafood Sauce. Opening time: Saturdays and Sundays, 5:00 PM-9:00 PM
When you come to Chanthaburi, don't miss any dish! With delicious meat dish and pleasing dessert combined, Chanthaburi's Local Food has become one of the most popular in Thailand -- the heavenly taste that you must try!