Bangkok, 30 January, 2020 – The Tourism Authority of Thailand (TAT) would like to provide information on the preventive actions taken by Thai airlines to prevent passengers and employees from being exposed to the 2019 novel coronavirus (2019-nCoV), especially on flights from China.

Thai Airways international (THAI) and Thai Smile Airways have set up a crisis management operations centre on the implementation of preventive measures. Steps taken include passenger screening and ground service measures, inflight service measures, aircraft preparation and disinfection measures, aircraft interior cleaning measures, employee preventive and precautionary measures, cargo and commercial mail Transportation measures, and meal preparation measures.

Bangkok Airways' preventive actions include performing primary screening of passengers for signs of related respiratory symptoms, intensifying hygienic measures aboard the aircraft, and providing protective face masks to crew members and ground service staff to wear when on duty. Health surveillance and hygienic measures are also in place at its Samui Airport. Hygienic measures have been stepped up at its other two airports in Sukhothai and Trat.

Nok Air is also stepping up preventive action, including daily disinfecting and cleaning the aircraft on all flights. Its crew members are to wear protective face masks and monitor passengers for related respiratory symptoms.

Several airlines have also announced fee waiver policies for flight changes and cancellations, credit accounts and refunds on reserved tickets for flights to Wuhan and high-risk destinations. Please contact the respective airline that you have reserved flight tickets to Wuhan or high-risk cities during the current time for specific terms and conditions.

TAT would like to reiterate that Thailand continues to implement an intensive and unremitting screening and surveillance for the 2019-nCoV at the international points of entry, especially at Suvarnabhumi and Don Mueang international Airports. The screening covers passengers and air crew on all China flights.

Major tourist attractions, Shopping malls, hotels, public Transport and public areas have also stepped up hygiene measures, including extra cleaning and disinfection as well as providing hand sanitisers.

The Department of Disease Control, Ministry of Public Health is advising the following guidelines to reduce your risk of coronavirus infection: clean hands with soaps and water or alcohol-based hand rub, cover the nose and mouth when coughing and sneezing with tissue or a flexed elbow, avoid close contact with anyone with cold or flu-like symptoms, cook meat and eggs thoroughly, and no unprotected contact with live wild or Farm animals. These are in fact everyday habits that can help prevent the spread of several viruses.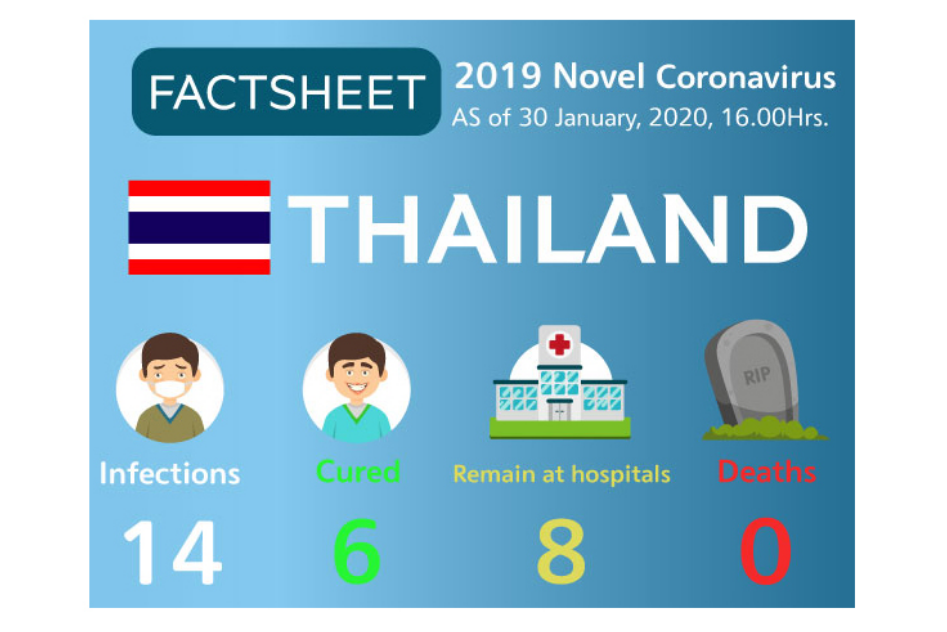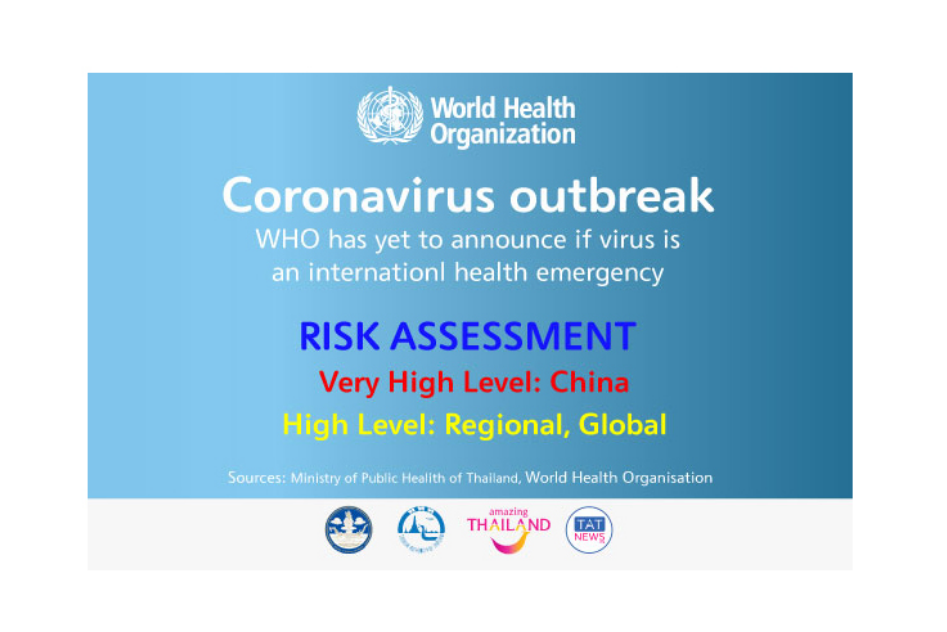 For additional questions, please call the Department of Disease Control Hotline 1422 or the Tourist Police Hotline 1155.