Wondering what to see and where to visit in nakhon Sawan? These four popular places and events in Nakhon Sawan are always a hit with visitors.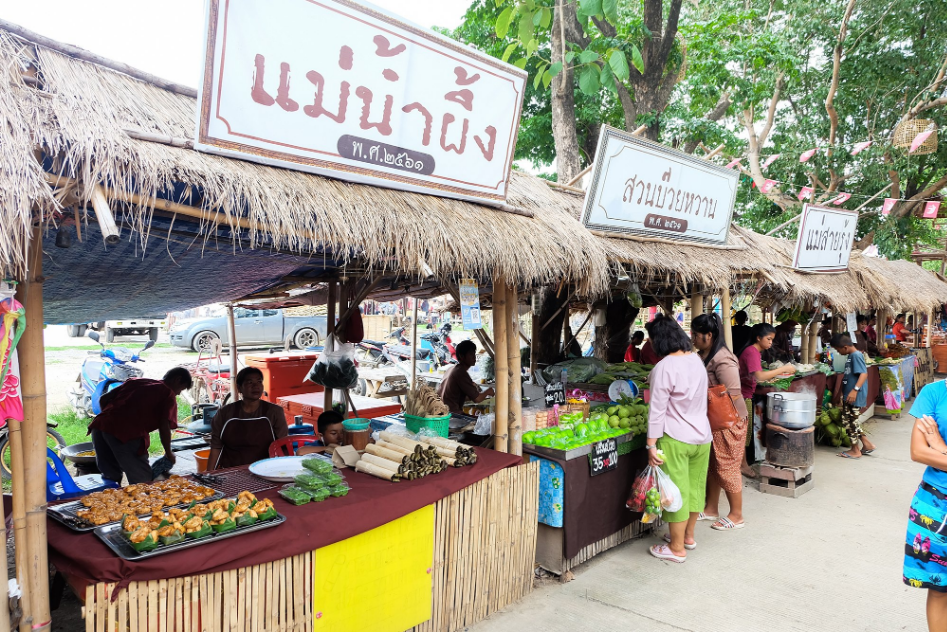 Saying "jao ka" is an incredibly polite way to end sentences when speaking Thai, more so than the typical "ka." At Jao Ka Market, vendors in Local attire end every sentence with "jao ka," thus adding to the market's characteristic charm and further setting it apart from other markets. Not only can visitors find Food and souvenirs here, the market also offers History and Culture lessons that visitors will soak up just by enjoying the atmosphere.
How to get there : From Amphoe Muang, take Highway No. 1182 heading towards Amphoe Banphot Phisai. Take the exit when approaching Wat Khao Din Tai. The market is near the Ping River, in front of Wat Khao Din Tai.
General info
Hours : Every Sunday 14.00 - 20.00 Hrs.
When to visit : All year round
Entrance fee : None
Address : Khao Din, Amphoe Kao Liao, nakhon Sawan
Contact
Tel. : 081-972-9779
facebook : https://www.facebook.com/jaoka2017/
Leave Jao Ka Market – complete with a full belly and smile – to seek blessings at Ganesha Park.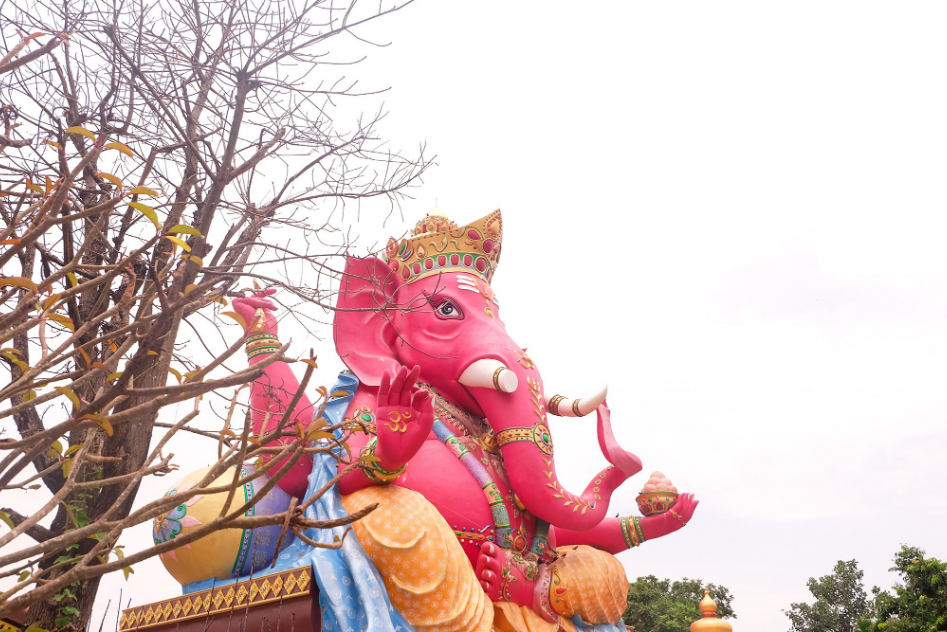 Ganesha is widely revered as the God of Success and has cultivated a large following in Thailand. At Ganesha Park, you will find the largest Ganesha idol in the country's central region, as well as other sacred images for the worshippers to pay homage. Other highlight is rental indian costume for another level of experience.
How to get there : From Amphoe Muang, take Highway No. 1 and continue on, passing Khai JirapraWat Hospital. Turn right at Jiraprawat intersection and continue until the Baan Nong Kaeng Pattana intersection, then turn left and continue until an intersection. Keep eye on Baan Aree Restaurant. Turn left to enter the Park.
General info
Hours : Everyday 08.00 - 18.00 Hrs.
When to visit : All year round
Entrance fee : None
Address : 9/3 M.1 Klang Dad, Amphoe Muang, nakhon Sawan
Contact
Tel. : 084-886-9393
facebook : https://www.facebook.com/pages/category/Landmark---Historical-Place/พระพิฆเนศใหญ่ที่สุดในภาคกลาง
After being blessed by the region's largest Ganesha idol, follow the historical route King Rama V took through Nakhon Swan, which is celebrated every August.
3. Celebration of Rama V's 1904 disguised trip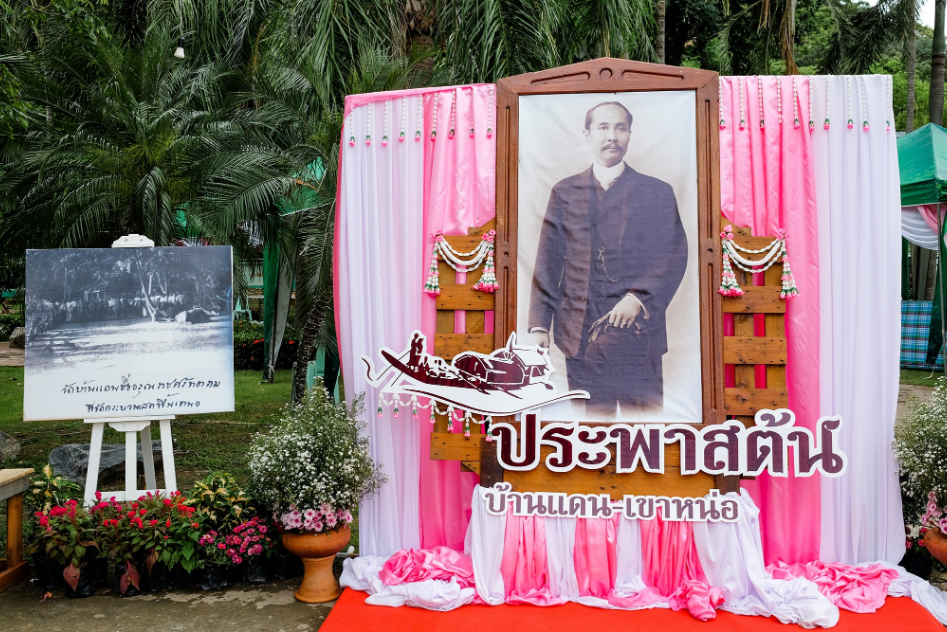 In 1904, King Chulalongkorn (also known as King Rama V) made an informal Trip to nakhon Sawan and the province has marked the anniversary of the trip ever since. Every August, each district that the king visited holds a celebration with different activities and highlights, such as opening ceremonies, pageants, Food festivals and cooking contests, folk Performances, and more! If you're headed to Nakhon Sawan in August, make sure to contact to see what activities are planned!
11/08/2019 - 12/08/2019
1. PubliCity
2.King Rama V worship ceremony
3. Decoration of 7 royal visit spots in Wat Phra Prang Lueng to attract visitors
4.Duplication of the royal barge procession in Chao Phraya River, in front of Wat Phra Prang Lueng
5. Helmsman and Lady-in-waiting pageants
6. Stage play about Rama V's royal duties
7. Ancient Thai CUISINE to welcome guests in the opening ceremony
8.Demonstration of "Yiab Cha" traditional medical practice
9. Tha Nam Oi Muang Hak food festival
10. Som Tam dance competition
Location : Wat Phra Prang Lueng, Tha Nam Oi, Amphoe Phayuhakhiri, Nakhon Sawan
17/08/2019 - 18/08/2019
1. Follow H.M. Rama V's trip in Nakhon Sawan Ror Sor 125 (AD1904) exhibition
2. King Rama V worship ceremony at Wat Baan Daen
3. Visit "Sra Sadet" pond where King Rama V once bathed in
4. travel photography competition
5. Rama V's favourite menu cooking competition
6."Panthurat" beauty pageant
7. Folk performance
Location : Office of Baan Daen municipality, Amphoe Banphot Phisai, Nakhon Sawan
On 28/08/2019 - 01/09/2019 there will be events at Wat Khao Din Tai
General info
Entrance fee : None
Contact
Tel. : 081-979-9779 , 056-279-321 , 056-267-374 connect 115
Last but not least is a stop at Nakhon Sawan's sleek and stylish Landmark, Pasan, located right at the beginning of the Chao Phraya River.
4. Pasan : the birth of Chao Phraya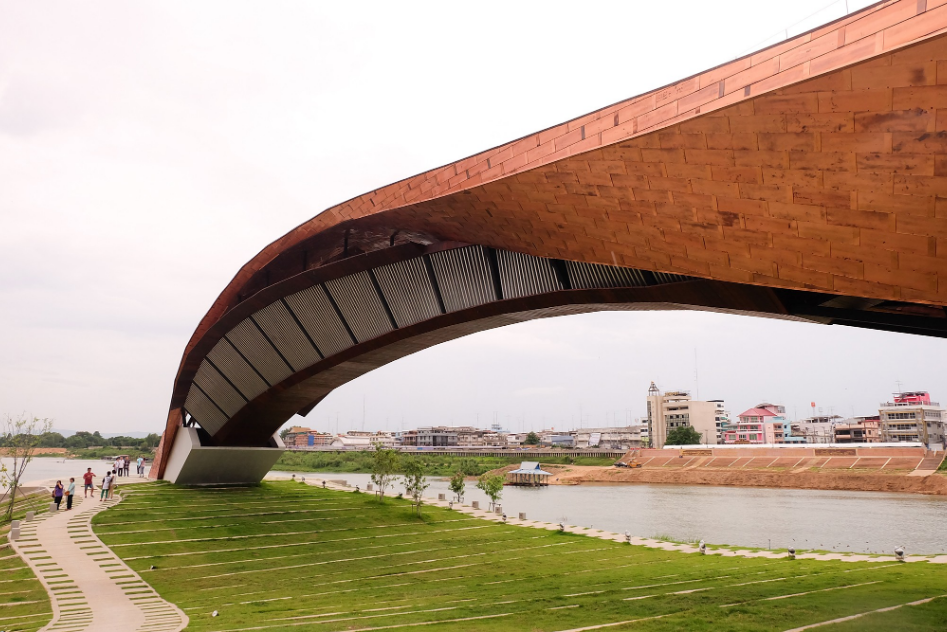 Designed to symbolise how four of the country's greatest Rivers – the Ping, Wang, Yom, and Nan – merge into one – the mighty River of Kings, or Chao Phraya River – Pasan's attractive architecture, with flowing lines and a viewing platform, is simply remarkable. "Pasan" comes from the Thai word meaning "to merge," which is the perfect term for this meeting place where both rivers and people can converge. Though beautiful any time of day, Pasan is particularly pretty in the evening and the best spot in nakhon Sawan to watch the Sunset.
How to get there :
By car : From Amphoe Muang, cross the Nimmanoradee Bridge and turn right. Keep going until a junction, then turn right into the entrance of Pasan.
By Boat : Take a ferry from the upriver pier on Rim Khuean Rd., Amphoe Muang. The fee is 30 baht/person.
General info
Hours : 06.00-20.00 Hrs. Everyday
When to visit : All year round
Entrance fee : None
Address : Koh Mayom Island, Pak Nam Pho, Amphoe Muang, Nakhon Sawan 60000
With its mix of cultural, Historical, and edible experiences on offer, Nakhon Sawan lives up to its lofty name. As the name Sawan (meaning "heaven") suggests, this province is just heavenly!