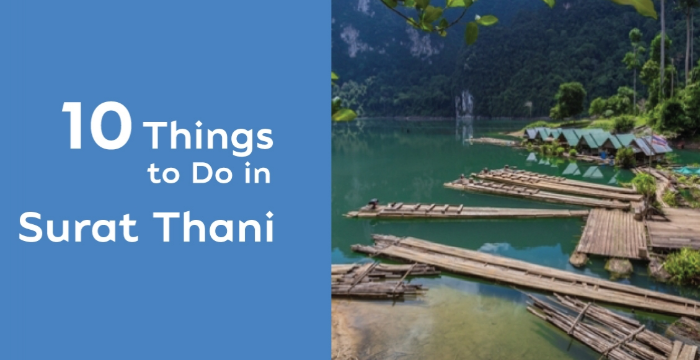 1. Rajjaprabha Dam (เขื่อนรัชชประภา)
Formerly named Chiao Lan, Rajjaprabha Damis situated in Tambon Khao Phang, Amphoe Ban Ta Khun, Surat Thani. The Damwas officially opened on 30 September, 1987, together with the hydropower plant, which was inaugurated by King Rama IX, who granted the name "Rajjaprabha" meaning the "Light of the Kingdom" in conjunction with the purpose of generating electricity.
With breathtaking scenery inside the reservoir or so called Chiao Lan Lake comprising a range of undulating limestone mountains emerging from the emerald sea and indigo blue sky withthe mist occasionally drifting along the mountaintops, the Dam can offer a wide range of activities within the lake; such as, sightseeing by boat, staying overnight on rafts, kayaking, spotting animals, etc. It can be said that this dam has become a once-in-a-lifetime destination for tourists and the number one attraction on mainland Surat Thani province.
For accommodation at the Electricity Generating Authority of Thailand (EGAT), please contact Tel. 0 7731 0780, the Chiao Lan Municipality Pier at Tel. 08 3300 1730, and the Tourism Association of Chiao Lan Lake at Tel. 08 9724 1475.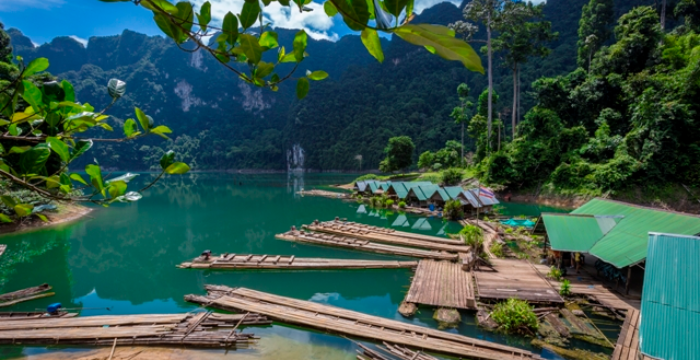 2. Khao Sok National Park (อุทยานแห่งชาติเขาสก)
Is one of the most abundant tropical rainforests in Thailand. The Park hasa diversity of ecosystems and wildlife varieties, especially, conserved wild animals; such as, marbled cat, Malayan tapir, Fea's muntjac, serow, as well as rare and nearly extinct birds like Hooded Pitta, and Malayan Banded Pitta. It is also a habitat of endemic rare plants; such as, White elephant palm, Maxburretiafurtadoana, and Rafflesiakerrii – a parasite plant of which its flower has a large diameter of about 70-80 centimeters.
The Park is a center of tourism connectivity between the Gulf of Thailand and Andaman Sea and a destination for trekkers around the world. Many of them fall in love with this forest and keep coming back. Besides trekking, there are other exciting activities to do; such as, canal tubing in Khlong Sok, kayaking, and elephant riding. One of the fascinating pointshereis a tree housebuilt for accommodation that is available in many places. Allof them are located amidst the rainforest.
For more inquiries, please contact the Khao Sok National Park's headquarters, Tambon Khlong Sok, AmphoePhanom, Surat Thani, Tel. 0 7739 5139, and 0 7739 5154 – 5, Facebook: KhaosokNP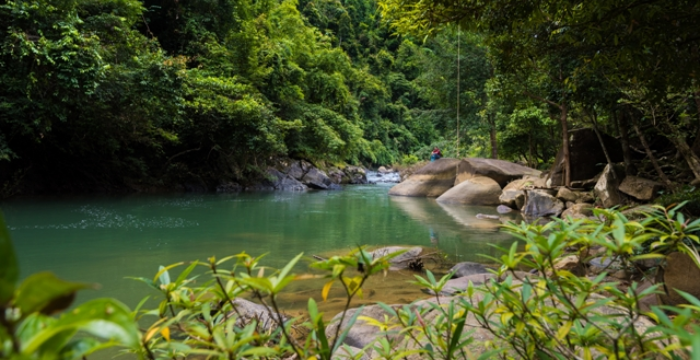 3. Khao Na NiLuang Dhamma Park (อุทยานธรรมเขานาในหลวง)
Khao Na Nailuang Dhamma Park, located in Tambon Thon Yuan, AmphoePhanom, Surat Thani, was founded by a monk, PhraAchanPhrai. He and the villagers joined forces to build the stupa on the top of limestone terrain engulfed by pleasant nature. In the morning, the sea of mist will appear around the area that gives a feeling like watching the stupa floating in the sky. The local people who have free time will volunteer to help build the stupas with the goal to have seven stupas in total of which each stupa will have a different name and architectural style. To learn more information, please call Tel. 09 5017 8259, 06 2873 7135.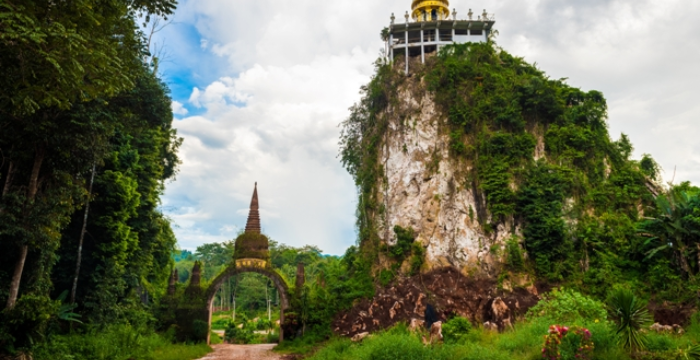 4. Khlong Nam Sai Ban Nam Rat, Amphoe Khiri Rat Nikhom (คลองน้ำใส บ้านน้ำราด อําเภอคีรีรัฐนิคม)
"Khlong Nam Sai" was named after its physical feature as the canal's water is so clear that people can see the ground and fish. This canal is a natural pure watershed that runs down for the livelihood of the people in the communities in Amphoe Khiri Rat Nikhom.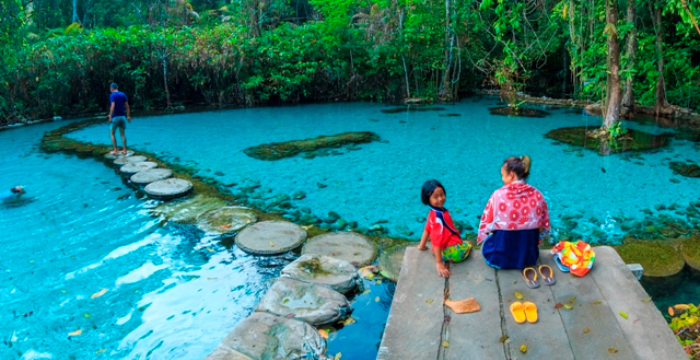 "The Ban Ko RaetCommunity",locatedon a tiny island at Mu 3, Tambon Don Sak, Amphoe Don Sak, Surat Thani, is approximately 500 meters from the coast. Thecommunity is a Thai-Hainanese fishermen's village who have settled here for almost 200 years. It offers a sightseeing tour around various islands and watching dolphins. Currently, there are seven homestays available for tourists who want to stay overnightand experience life in the community. Tourists can explore around the island with the walkways and see numerous islands including Ko Samui, Ko NokPhao, Ko Phaluai, Ko Lak, and Chedi Wat Khao SuwanPradit (Wat Pholuang Choi). Moreover, it is a stunning viewpoint to watch the sun and the moon rises and sets.
6. Si Surat Buddha's Footprint (Wat PhraPhutthabat Si Surat) (รอยพระพุทธบาทศรีสุราษฎร์)
Situated at Mu 7, TambonTha U-thae, AmphoeKanchanadit, Surat Thani, the Buddha's Footprint was discovered at Wat Khao To, which was later renamed Wat PhraPhutthabat Si Surat. It was registered by the Fine Arts Department on 17 August, 1976, as a genuine Buddha's footprint, which was the second discovery in Thailand that has the same pattern as the one found in Saraburi province. Today, it has been beautifully covered with a Mondop and includes 347 concrete staircases to go up for worshipping. The Buddha's Footprint measures 47 cm. wide, 145 cm. long and 80 cm. deep.
7.Phrathat Si Surat (พระธาตุศรีสุราษฎร์)
Built in 1957 on the top of KhaoThaPhet, 6 kilometers southwards from downtown, Phrathat Si Surat is the first sacred place of the district which features a tall shape like a big candle or the Pillar of Ashoka decorated with stucco designs.This stupa is considered to be the outstanding adaptedSrivijaya architecture. On 27 March, 1959, during the visit to Surat Thani, King Rama IX and Queen Sirikit paid homage to the stupa and planted Phayom (Shorearoxburghii) trees for auspiciousness. Later in 1984, HRH. Princess Sirindhorn came to visit and performed a ceremony of installing the Buddha's relics and planted Khiam or Cotylelobiumlanceolatum, the provincial tree of Surat Thani. Hence, Khao ThaPhet is a historical and auspicious place for the local people. For this reason, the HaePhaHomPhrathat Si Surat LaeThammachat Khao ThaPhetFair is annually held during 26-27 March to honour King Rama IX and express the loyalty as well as to give recognition of this sacred place amid the abundant nature. The parade of Phrathat wrapping cloth is to illustrate a beliefin Buddhism,which resembles the robe offerings to the Lord Buddha. For more inquiries, please call Tel. 08 9872 9732, 0 7727 2058.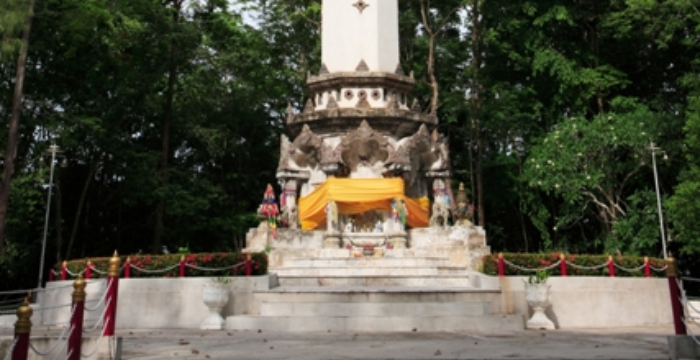 8. LuangphuThuatWat Don Sak (Singkhon) (หลวงปูทวดวัดดอนสัก) (สิงขร)
The statue of LuangphuThuatwas constructed at Wat Don Sak,Amphoe Don Sak, Surat Thani with a measurement of 29.90 meters wide lap span, 32.9 meters high and 10 metershigh base. Inside the statue is divided into many chambers for performing the temple's ceremonies. The construction aims for tourists to pay homage before travelling along various islands in Surat Thani. To date, it is the largest statue of LuangphuThuat that has ever been built.
9. Sinmana Farm (สินมานะฟาร์ม)
Located at Ao Ban Don, AmphoeKanchanadit, it is a famous oyster farm of Surat Thani, which has become so popular that the motto was createdfor Surat Thani's oyster as "Creamy white, big, and clean". Ao Ban Don is abundant in minerals and nutrients. The sea water is suitable for oysters and other shells' living. The oyster farmers will build Khanam or a shelter at the farm's area for taking care of them. From a simple shelter, this led to atourism business and learning center of the way of oyster farming. Visitors can observe and gain knowledge of raising different shells on a newly built shelter in the middle of the sea, which has a capacity of 100 visitors, who will be served with fresh oysters and other seafood while enjoying the atmosphere and having coffee before either leaving the farm orstaying overnight.
To visit theFarm, please make a reservation in advance at Tel.08 1597 5757.
10. Ban Phumriang Community (ชุมชนบ้านพุมเรียง)
Is an old community that has carried the legacy of the Phumriang port and trading center since the prosperityof the Srivijayaera. It is home to Thai-Buddhists and Thai-Muslims who live together in harmony and is also a renowned source of Phumriang silk fabric, hometown of Buddhadasa Bhikkhu, an acclaimed monk, and seafood source. Visitors will learn the martial art, MuayChaiya, observe the blue swimmer crabs' bank, try Khanom Bok, KhaiMok, or visit Ko Set, an island wherethe beacharea of 1,000 rai will emerge once a year, or seek an endemic shellfish, called Sap Khet that tastes so sweet, baby clams and lamp shells. The activities also include catching mullet with a trawl and bringing them back to the village for cooking and eating on the shelter along the sea breeze by Khlong Phumriang.