1. Amphawa Evening Floating Market
Amphawa Evening Floating Market (ตลาดน้ำยามเย็นอัมพวา), Amphoe Amphawa, Samut Songkram, is located by the Canal near Wat Amphawan Chetiyaram. Open on Friday, Saturday, Sunday and public holidays from noon to 9.00 p.m. The Market is well-known among tourists who look for delicious menus.

Khlong Amphawa is crowded with Canal vendors selling Food and beverages; for example, fried mussels (Hoi Thot), noodles, coffee, black coffee, and a variety of sweets. On both sides of the Riverbank are vendors selling products on the cars. The atmosphere is relaxing with music from the community's broadcasting. Visitors can rent a Boat for sightseeing fireflies in the twilight.

The community by Khlong Amphawa received the UNESCO Asia-Pacific Heritage Award for Culture Heritage in the Honorable Mention category in 2008, which was considered to be a successful collaboration between the government and private sectors on the conservation of ancient buildings that has architectural values and beauty, which well reflects the essential Local characteristics.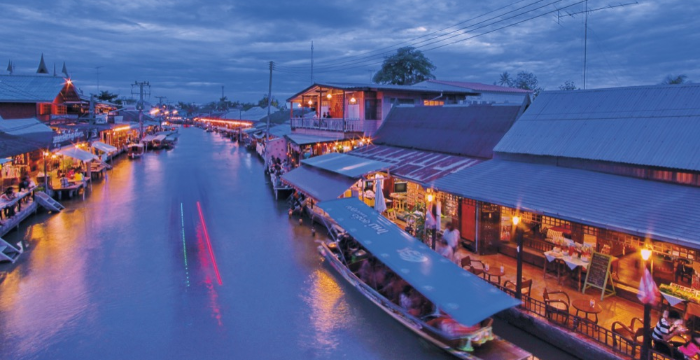 2. Phra Bat Somdet Phra Phutthaloetlanaphalai Memorial Park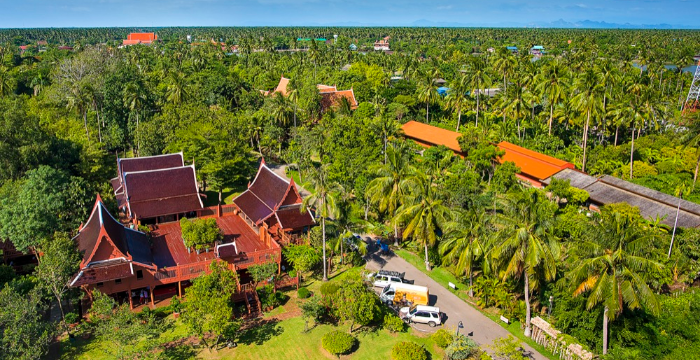 Phra Bat Somdet Phra Phutthaloetlanaphalai Memorial Park (King Rama II Park), Amphoe Amphawa (อุทยานพระบรมราชานุสรณ์ พระบาทสมเด็จพระพุทธเลิศหล้านภาลัย (อุทยาน ร.2) อำเภออัมพวา) is a project in honour of King Rama II for his great works in art and Culture to be preserved as a national heritage. He was in the list of Thai people in UNESCO's Anniversaries of Great Personalities and Historic Events. The attraction site used to be his birthplace as well.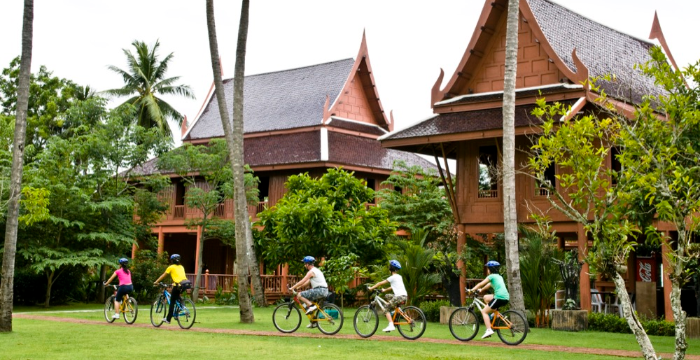 The Park consists of 5 traditional Thai houses, in which 4 of them are the showcase of the early Rattanakosin period Thai way of life museum as follows:
In addition, the Park includes an open theatre and botanical Garden of various plant species from Thai literature that is situated in the replica of the Sanam Chan Hall and sculptures from King Rama II's literature as well as a shop selling Local product items and plant breeds. It is recommended for persons who love the Thai traditional attraction with a shady atmosphere. Open between Monday – Friday during 8.30 a.m. – 5.00 p.m. and on the weekend during 8.30 a.m. – 5.30 p.m.
3. Wat Phet Samut Worawihan (Wat Luangpho Ban Laem)
Wat Phet Samut Worawihan (Wat Luangpho Ban Laem), Amphoe Ban Laem (วัดเพชรสมุทรวรวิหาร (วัดหลวงพ่อบ้านแหลม) อำเภอบ้านแหลม) was formerly named Wat Champasi. In the past, Phetchaburi town was attacked by the enemy; however, troops from Ayutthaya came to help protect this town. As a result, People in Ban Laem of Phetchaburi town fled to settle at Tambon Mae Klong on the north of Wat Champasi. Hence, this Village was called "Ban Laem". Most of the Ban Laem people made a living from fishery; one day, they cast a fishnet in the Mae Klong Bay and found two Buddha images stuck in the net. One of them was a seated Buddha image and was brought to be housed at Wat Ta-khrao, Amphoe Ban Laem, Phetchaburi and the other was a standing Buddha image holding alms and was brought to be installed at Wat Ban Laem. This much revered image was called "Luangpho Ban Laem".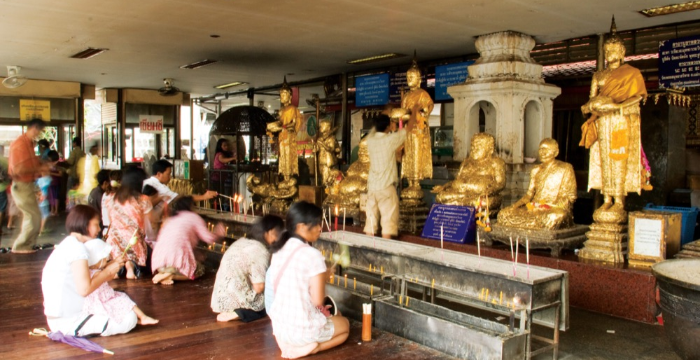 4. Talat Rom Hup (Risky Market)
Talat Rom Hup, Tambon Mae Klong, Amphoe Mueang Samut Songkhram (ตลาดร่มหุบ ตำบลแม่กลอง อำเภอเมืองสมุทรสงคราม), also known as "Risky Market" or Railway Side Market, is situated by the side of the Mae Klong Railway Station and is about 100 metres long. The vendors sell products on the ground close to the railway. When the train comes, they will instantly pull down the umbrella and put their products away. This exciting and strange behaviour has become famous and is the reason it is called Talat Rom Hup (pulling down umbrella market). The market offers vegetables, fruits and fresh seaFood and is popular among the Local people because they are inexpensive and good quality. Open daily between 6.00 a.m. – 6.00 p.m. The train passes the market 8 times per day: 6.20 a.m., 8.30 a.m., 9.00 a.m., 11.10 a.m., 11.30 a.m., 2.30 p.m., 3.30 p.m. and 5.40 p.m. (Outbound and Inbound in chronological order).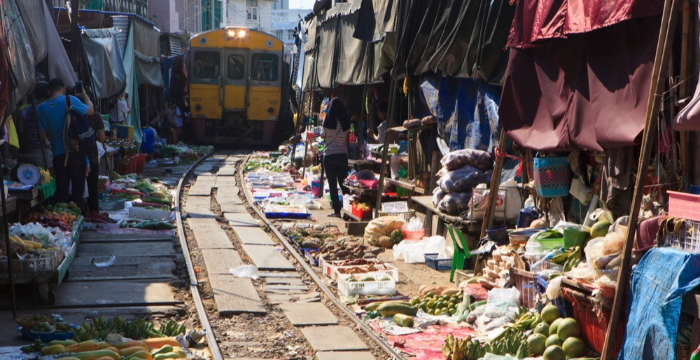 5. The Amphawa-Chaiphatthananurak Conservation Project
The Amphawa-Chaiphatthananurak Conservation Project, Tambon Amphawa, Amphoe Amphawa (โครงการอัมพวาชัยพัฒนานุรักษ์ ตำบลอัมพวา อำเภออัมพวา) located near the Amphawa Floating Market, is a royal initiative project of HRH Princess Sirindhorn with an objective of carrying on Local wisdom and preserving the Amphawa people's way of living. The Amphawa community has a long History relating to Thailand's identity. The Project has been divided into different zones comprising geosocial and the King philosophy's sufficiency economy, agricultural Demonstration Farm for learning; such as, coconut plantation and other plants' Gardens, community shops, Nakhawarang Cultural Playground, which is a multi-purpose area for organising activities and selling souvenirs made by the Amphawa people, coffee shop aged more than 200 years, Local Amphawa museum displaying antique utensils found in Amphoe Amphawa and Chan Chala Coffee and tea House serving beverages and snacks.
In addition, Ban Khru Uea, as part of the project, is an old house displaying the biography and works including personal utensils of Master Uea Sunthornsanan, a renowned Amphawa native singer.
For more information, please visit www.Amphawanurak.com.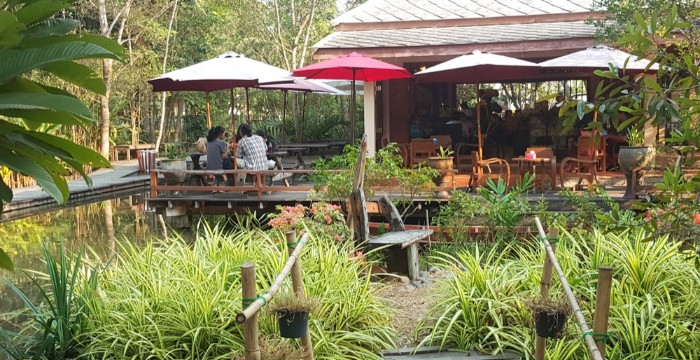 6. Bang Kung Camp/Prok Bodhi Ubosot
Bang Kung Camp/Prok Bodhi Ubosot, Tambon Bang Kung, Amphoe Bang Khon Thi (ค่ายบางกุ้ง/โบสถ์ปรกโพธิ์ ตำบลบางกุ้ง อำเภอบางคนที ) was a former camp of the Royal Thai Navy in the incident of the Second Fall of Ayutthaya in 1767. The Camp's area features an ubosot or ordination hall built since the Ayutthaya era Locally called "Bot Luangpho Dam". The ubosot is uniquely covered with four kinds of trees: Pho (Bodhi), Sai (Banyan), Krai, and Krang, so called by the community as "Bot Prok Pho". Not so far away is a site of King Taksin the Great's Monument.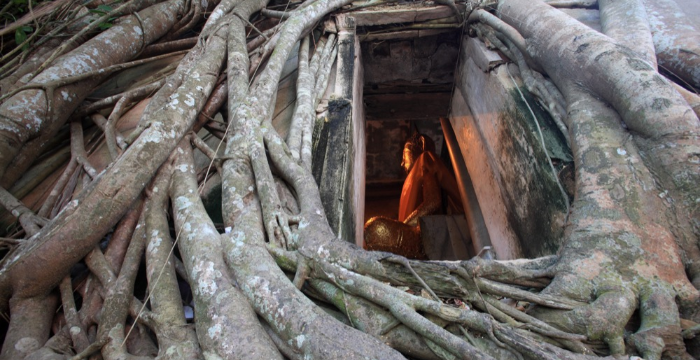 7. Don Hoi Lot
Don Hoi Lot (ดอนหอยหลอด) is a sandbar at the Mae Klong Estuary derived from the deposit of loam. It is a habitat of various kinds of shellfish; such as, razor shell, baby clam, ridged Venus clam, lamp shell, and blood clam. Since razor shells are mostly found in this area, the place is called Don Hoi Lot (razor shell sandbar). Visitors can rent a Boat to catch razor shells, which is usually done when the tide recedes, by using a small stick dipping lime and pierce into a hole where they live. The shell will be affected by the lime and come out. During March-May is the best time to visit since the period of the tide's recession will be longer and the sandbar can be seen. Boat rental is available at Sala A-phon close to the Krom Luang chumphon Khet Udomsak Shrine.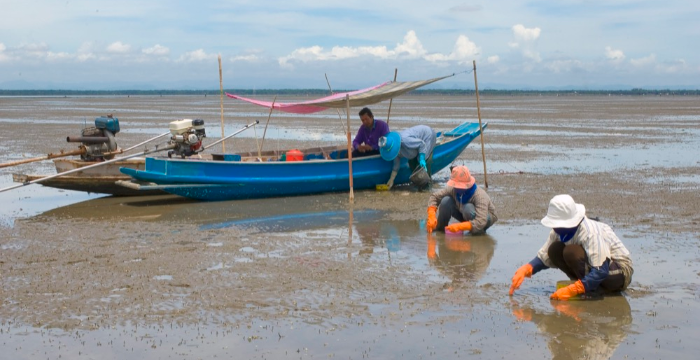 8. Ban Bang Phlap Community
Ban Bang Phlap community (ชุมชนบ้านบางพลับ) Tambon Bang Phrom, Amphoe Bang Khon Thi, is an agro Tourism community that won many tourism awards. It offers many learning bases: biking and sightseeing orchards, visiting Ban Phaya So, observing how to make palm sugar, fruit charcoals, fruit preserves, etc.
9. Bang Noi Market
Bang Noi Market, Tambon Kradangnga, Amphoe Bang Khon Thi (ตลาดน้ำบางน้อย ตำบลกระดังงา อำเภอบางคนที), is located in Pak Khlong Bang Noi community or Bang Noi Nok. Forty years ago, this area used to be an important River trading zone of the Mae Klong River. Today, the Floating Market is open on Saturday and Sunday from 8.00 a.m. to 5.00 p.m. The Market offers agricultural products from orchardists including famous Food and desserts of Samut Songkhram province like Khlong Khlon shrimp Paste, Manao Dong, and Teochew styled Roti by Je Renu, the only remaining shop in the Bang Noi Floating Market. Visitors can enjoy walking along the Canal bank to feel the nostalgic atmosphere of the wooden houses and stores lining along Khlong Bang Noi.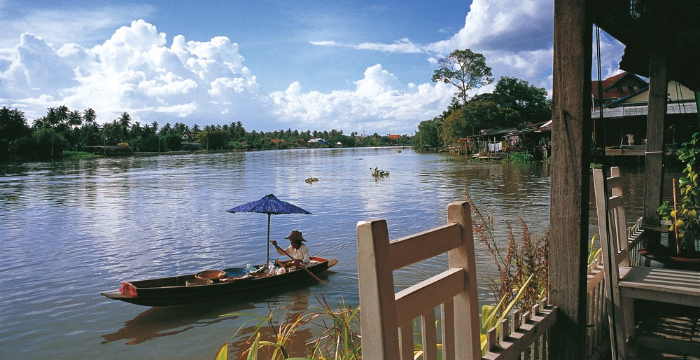 10. Tha Kha Floating Market
Tha Kha Floating Market, Tambon Tha Kha, Amphoe Amphawa (ตลาดน้ำท่าคา ตำบลท่าคา อำเภออัมพวา ) is the only market that retains the original lifestyle of the Locals who sell vegetables and fruits from the orchards; such as, chilli, onions, garlic, palm sugar, guava, coconut, rose apples, and pomelo only on the 2nd, 7th, and 12th days of the waxing moon or waning moon (on every fifth day), and on the weekend during 8.00 a.m. – noon and on public holidays during 6.00 a.m. – 2.00 p.m. Tourists can rent a paddle Boat to observe the Village and orchards in the area. For further details, please contact the Tha Kha Sub-district Administrative Organisation, Tel. 0 3475 3728.