1. Bang Pu seaside (สถานตากอากาศบางปู)
Bang Pu seaside is one of the beautiful bird watching and Sunset viewpoints. During October to May, migratory seagulls usually escape the winter in Siberia to inhabit this area. It also offers a rest area and delicious Food at Sala Suk Chai as well as a ballRoom dancing activity every Saturday from 5.00 to 8.00 p.m. with a 90 Baht fee each. For more details, please call Tel. 0 2323 9911 and 0 2323 1213.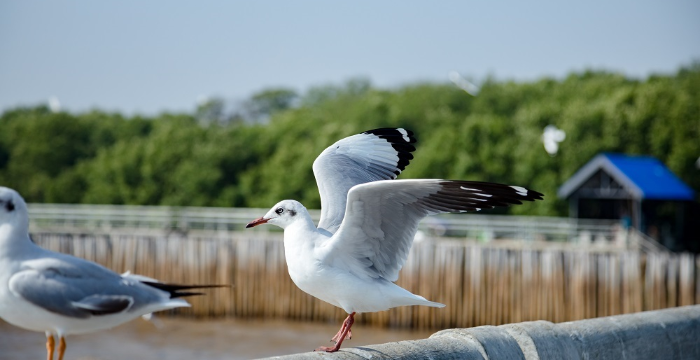 2. Bang Nam Phueng Floating Market (Kung Bang Ka-chao) (ตลาดน้ำบางน้ำผึ้ง)
The charms of this market are the lifestyle of the Villagers by the Canal, well-known community products and Food; for example, making herbal incense, Hoi Thot Khanom Krok (fried mussel pancake), Ma Ho (old-styled Thai sweet), Nam Dok Mai breed mangos, etc. Tourists can rent a kayak at 100 Baht for a day or rent a bicycle at 50 Baht per day to sight see the community's way of life and green zone of Bangkok's people where was named as the Best Urban oasis of Asia from Time Magazine in 2006. The Floating Market is held only on Saturday, Sunday and public holidays from 8.00 a.m. to 4.00 p.m. For further information, please contact the Bang Nam Phueng Sub district Administrative Organisation at Tel. 0 2461 3254.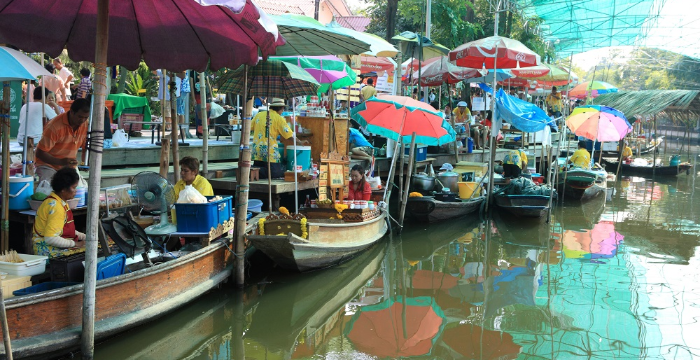 1. Ban Thup Hom community Enterprise. Visitors are invited to join Workshop varieties of making herbal scent incense, a 5-star-OTOP product as a great mosquito repellent, which is made from homegrown herbs; such as, turmeric, kaffir lime, cinnamon, etc, and learn the Local wisdom of making tie-dyed Cloth in various patterns; for example, large snail, Lai Kanok, and Hai Lam square. Apart from gaining new experience, visitors can bring the knowledge to further develop to make a living as another income source. Open on Saturday, Sunday and public holidays from 9.00 a.m. to 3.00 p.m. On regular days, it is open for tourist Groups who should make a reservation at least 3 days in advance at Tel. 0 2815 0729 and 08 6569 1650.
2. Massage for Health community Enterprise (Phunsuk grain hot compress) is open for visitors to learn how to make their own grain hot compress and offers a massage teaching course to the public. Open daily between 9.00 a.m. – 5.00 p.m. On Saturday and Sunday, the service is available at Bang Nam Phueng Floating Market during 8.00 a.m. – 4.00 p.m. For Groups, please notify in advance at Tel. 08 4009 2266.
3. Si nakhon Khuean Khan Park and botanical Garden is a green zone that has been designated by the government as the "Lung of Bangkok". The Park features a long wooden bridge for people to enjoy walking in a shady area including a 7-metre-high view tower to observe the panoramic landscape. Visitors can rent a bike to ride around the park. Open between 5.00 a.m. to 7.00 p.m. For further inquiries, please call Tel. 0 2461 0972.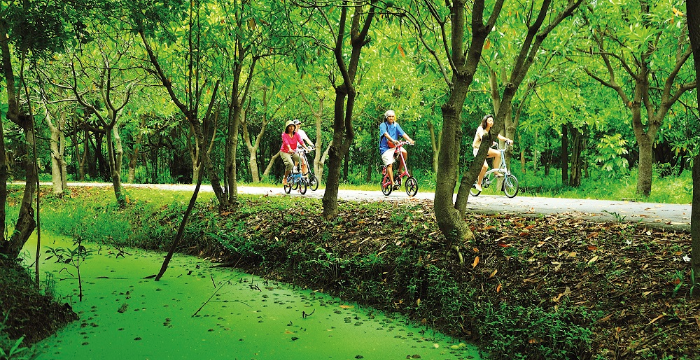 3. Ancient City (เมืองโบราณ)
Ancient City is located 8 kilometres from the downtown area is an attraction that collects 116 replicated important places in the country. Built around the end of 1963, the Ancient City covers an area of approximately 600 rai. The highlights of Monument replicas include Sanphet Prasat Palace, Phra Wihan mountain, Phanom Rung Sanctuary, Wihan Wat Mahathat in Sukhothai province, Phra Phutthabat in Saraburi province, Phra Borommathat in nakhon Si Thammarat, Phra Borommathat Chaiya, Phrathat Phanom, etc. These Monuments were built with the same size or smaller size than the genuine ones. Some of them were constructed with newly creative knowledge in elegant designs; such as, Mondop of Bodhisattva Avalokitesvara, Sala Khong Beng (Zhuge Liang – in Chinese), and Kuan Kasian Samut.

This site is also a centre of Local art and Culture to be preserved as time passes by and offers the old-styled market providing Food, noodles and beverages. It is ideal for people who are interested in Thailand's History. The Ancient City is open daily between 9.00 a.m. to 7.00 p.m. Admission fees: 700 Baht for adults and 350 Baht for children (inclusive of tram ride and bike ride) Tram ride schedule: 10.00 a.m. – noon, 1.00 – 3.00 p.m., 3.00 – 5.00 p.m., and 5.00 – 7.00 p.m. on Monday to Saturday, and available all day on Sunday. Personal vehicle fee: 400 Baht per car (dRiver excluded) A buggy is also available in various sizes (150 Baht for 2-person seats, 300 Baht for 4-person seats, and 450 Baht for 6-person seats; all rates are applied per hour). For further inquiries, please contact the Ancient City, Tambon Bang Pu, Km. 33, Tel. 0 2323 4094-9, or www.ancientcityGroup.net.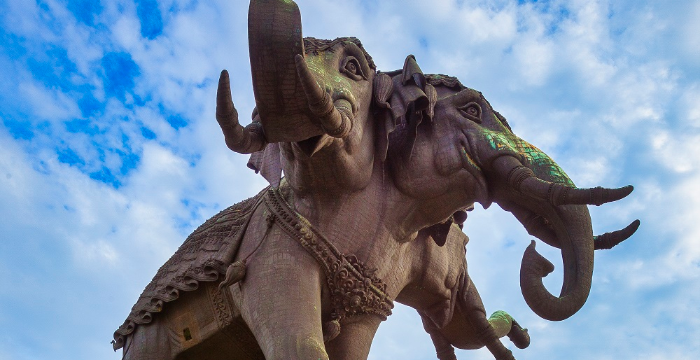 5. Sian Lo Tai Thian Kong Shrine (เสียนหลอไต้เทียนกง) or the Thamma Katanyu
Foundation Shrine is open from 8.00 a.m. to 8.00 p.m. Please call Tel. 0 2323 3120-4 for more details
6. Wat Bang Phli Yai Nai (วัดบางพลีใหญ่ใน)
Wat Bang Phli Yai Nai is situated by Khlong Samrong, Tambon Bang Phli Yai. Over 200 years ago, the River current carried the Buddha image in the subduing Mara posture with beautiful characteristics of the Sukhothai art along from Ayutthaya City to Khlong Samrong. When the Local people found it, they took the image from the water to be enshrined at the old Temple by the Canalside named Wat Phlapphla Chaichana Songkhram and called the image as "Luangpho To". Since then, it became the auspicious Buddha image of Wat Bang Phli Yai. With the reputation of Luangpho To's supernatural power, crowds of people come to pay respect. In addition, they ask for good fortune with Phra Sang Katchai (Katyayana), a figure of the Lord Buddha's disciple made of large carved Bullet wood installed at the front of the wihan. The Temple accommodates visitors with hi-tech restRooms and a mini Garden in a shady atmosphere. On the 14th day of the waxing moon of the 11th lunar month (October), the Rap Bua Festival (receiving lotus), a long inherited Tradition of the Bang Phli community is held annually. People in the community will take a replica of Luangpho To onto a beautifully adorned Boat and have a procession along the River for the public to make a wish and throw water lilies into the boat as offerings, which is known as "Rap Bua Festival". The Temple is open daily between 8.00 a.m. – 5.00 p.m. For more information, please call Tel. 08 1925 2844, 0 2337 3729 or check at www.watbangpleeyainai.org.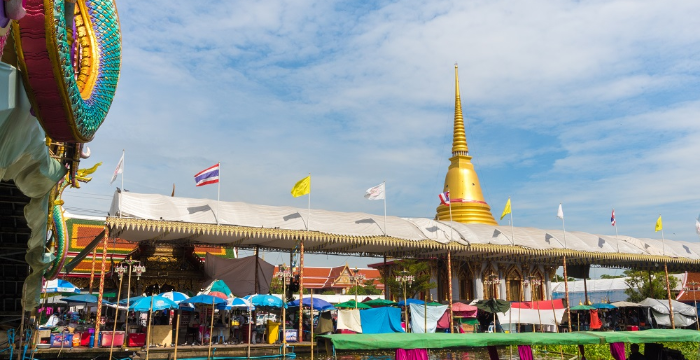 7. Wat Bang Phli Yai Klang (วัดบางพลีใหญ่กลาง)
Wat Bang Phli Yai Klang is a Temple enshrining Somdet Phra Sakkayamuni Si Sumet Borphit, a reclining Buddha image that is 53 metres long. The interior of the image is divided into 4 storeys: The 1st storey is a Dhamma practice Room, 2nd storey is installed the statues of 500 arhats or arahants and paintings of hell and heaven chambers, 3rd storey consists of murals of many sacred Buddha images, and the 4th storey is enshrined the Buddha relics, which Phra Achan Chamnong brought from Colombo, Sri Lanka in 1987. This level comprises the Buddha image's heart room in which people come to cover it with gold leaves for auspiciousness. To pay homage to the heart of the reclining Buddha, you have to pay 5 Baht each. The interior section is open daily between 9.00 a.m. – 3.00 p.m. Other sections are open daily between 8.00 a.m. – 5.00 p.m. Tel. 0 2751 0523 and 0 2751 0607 or visit www.watbangphliyaiklang.org.
8. Ban Sakhla-Tie-dyeing Cloth from the nipa palm fruit-Ban Khun Samut Chin (บ้านสาขลา – ผ้ามัดย้อมสีจากลูกจาก - บ้านขุนสมุทรจีน)
Interesting attraction sites include:
To get there: Take a long-tailed Boat from the Pa li Pier. Operating time: from 6.00 a.m. to 5.00 p.m. Tel. 08 5020 0024, 08 6567 5296, and 09 6192 2901.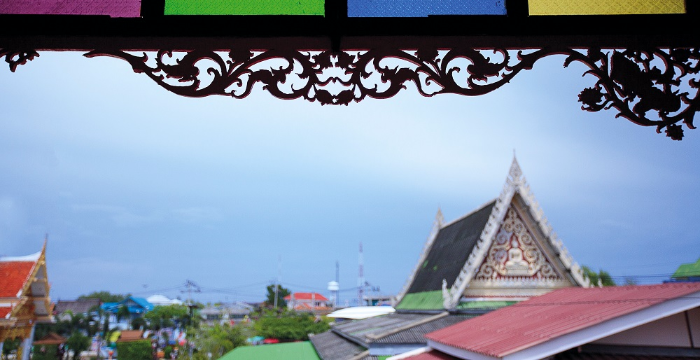 9. Phra Chunlachomklao Fort ( ป้อมพระจุลจอมเกล้า)
Open daily from 8.00 a.m. to 6.00 p.m./ Phra Samut Chedi (องค์พระสมุทรเจดีย์) Open daily from 7.00 a.m. to 7.00 p.m./ Phi Suea Samut Fort (ป้อมผีเสื้อสมุทร) Open daily from 8.00 a.m. to 7.30 p.m. Tel. 0 2425 8419. Contact Chief Petty Officer Third Class Methi SisaWat (Person in charge) Tel. 08 1199 3000.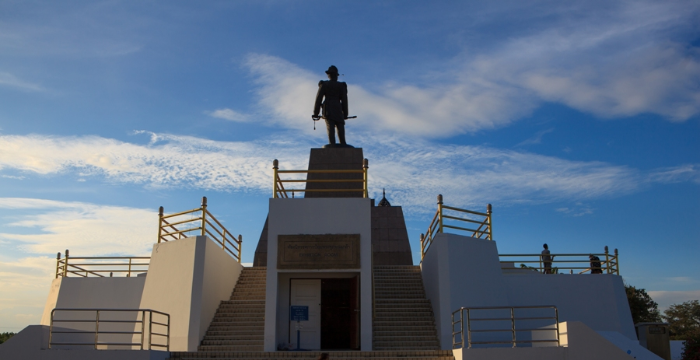 10. 100-year Khlong Suan Market, Samut Prakan side (ตลาดคลองสวน 100 ปี ฝั่งสมุทรปราการ)
Open daily during 8.00 a.m. – 5.00 p.m. Tel. 08 7820 7888.