1. Laem Phromthep and viewpoints (แหลมพรหมเทพ และจุดชมวิว)
Laem Phromthep (แหลมพรหมเทพ), Locally dubbed "Laem Chao", is located on the southernmost point of the Island. With its breathtaking scenery and beautiful Sunset spot, the cape is one of the most favorite locations for photography among tourists in Phuket. From the edge of the cliff, a line of palm trees inclines downward to the cape's end, which features rocky reefs where the Island, ko Kaeo Phitsadan, appears at the front. It is also a site of the Laem Phromthep Kanchanaphisek Lighthouse, built on the occasion of the Golden Jubilee of King Rama IX's accession to the throne. The light from the lighthouse can be seen as far as 39 kilometers. Inside the lighthouse is showcased the exhibition about the lighthouse's construction, keeping standard time, and the calculation and display of the times of the sunrise and Sunset. From the top of the lighthouse, visitors can view endless spectacular scenery.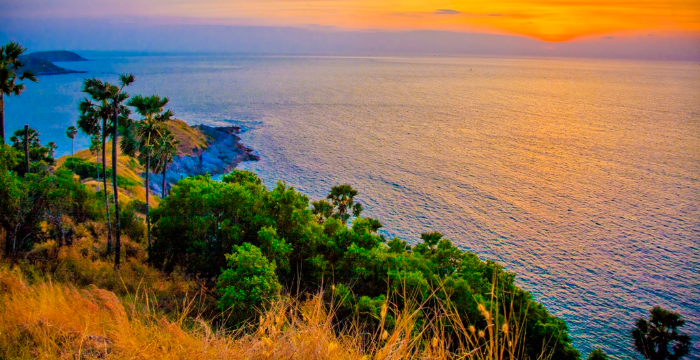 2. Old Phuket Town (ย่านเมืองเก่าภูเก็ต)
Strolling around town is one of the favorite activities for tourists to explore the History of Phuket that comprisesa diversity of ethnicities and religions; such as, Chinese, indian, European, and Muslim, who came to reside and made a living as merchants. They constructed houses in a row-house pattern, so-called Sino-Portuguese, along both sides of the streets. At present, some buildings have been preserved as museums; for example, the Phuket Thai Hua Museum and Peranakan Nithat Museum, while other buildings have been adapted to be restaurants, stylish coffee shops or Accommodation.
It is recommended for tourists to explore the lifestyle of the Local people and baba-Nyonyadressing Culture, taste the Local Food, as well as take pictures with more than 20 kinds of Street Art. Every Sunday, a market fair called "Lat Yai" is held for visitors to enjoy and try Local foods as well.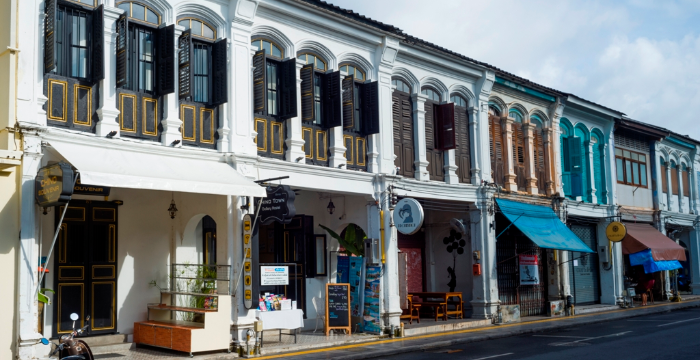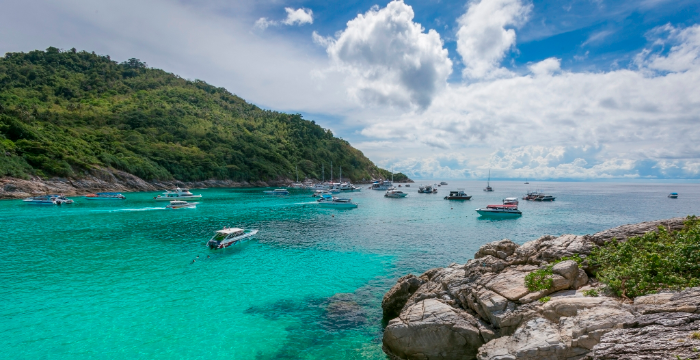 Located in southern Phuket, ko Racha is composed of two Islands: Ko Racha Noi and Ko Racha Yai. Ko Racha Yai covers a white sandy Beach shoreline with crystal water. It is known as a paradise for tourists, especially,for those who are fond of diving. Equipped with full facilities, this Island is ideal for staying over amidst the nature. Ko Racha Noi is a popular diving spot, which is suitable for professional divers only. Divers will also have a chance to meet Manta ray or great white shark here.
ko Mai Thon (เกาะไม้ท่อน), a small Island located in the southeast of Phuket, is rich with nature and features beautiful Beaches. It is therefore, one of the destinations for tourists who have limited time since it does not take long to Travel by a speedboat from a deep water port to get to this stunning Island.
4. Wat Chalong (Wat Chai Tharam) (วัดฉลอง) (วัดไชยธาราม)
Wat Chalong (Wat Chai Tharam) is a Historical Temple that is a center of the powerful faith of the Phuket people carrying the important History of the legendary, Luangpho Chaem of Wat Chalong, a monk who mastered in Vipassana orinsightful meditation, magical power, and Traditional medicine. During the time of the Ang Yi (Chinese Secret Society) rebellion, he gave Phra Prachiat, a good luck charm to those people who fought and defeated them. Luangpho Chaem was granted a title from King Rama V the Great as Phrakhru Wisutthi Wongsachan Yanmuni, holding an ecclesiastical rank of Sangkhapamok, a monk dean of Mueang Phuket. It is believed that his sacred objects are famous for providing charm, protection from danger, and good fortune.
Location: Chao Fa Road, TambonChalong, Amphoe Mueang, Phuket province.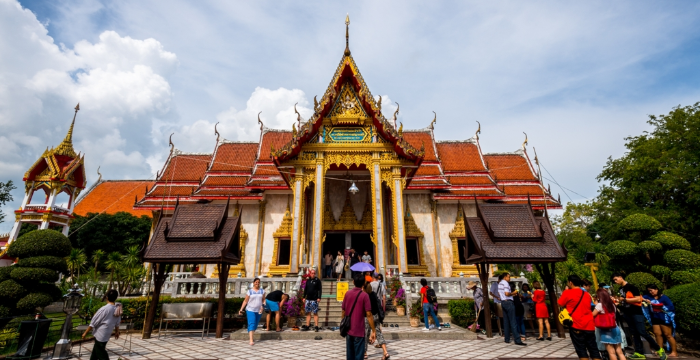 The Beach features a wide curvy bay enhanced by clear indigo sea and beautiful white Beach that is suitable for any kind of marine-based sports.It is also internationally well-known and a center of tourists around the world. Patong Beach is almost like a small developed town that is equipped with hospitals, large department stores, a wide range of Accommodation, and restaurants, which offer from seaFood, Thai to international food. To get there: the Beach is 15 kilometers from Phuket town. Take Highway No. 4019 or Wichit Songkhram Road for about 9 kilometers, then turn left along the Highway (following the signpost of Hat Patong) for about 6 kilometers. The road is quite meandering and sloping.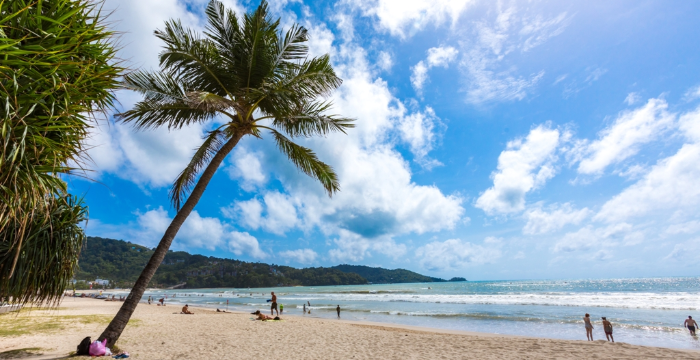 6. Hat Nai Yang (หาดในยาง)
Located in the Sirinath national park, the Beach comprises a pleasant pine Garden, which is ideal for relaxing and swimming. It also encompasses large coral reefs, a habitat of a variety of marine life species, particularly, sea turtles that will lay their eggs during November to February. However,recently, the sea turtle population has been drastically decreased.
To get there: Go out of Phuket town and follow Thep Kasat Tri Road. After passing Thalang town, turn left at the intersection that has traffic lights (with the signpost to Hat Nai Yang). After that,follow the signpost to the entrance of the national park and Hat Na iYai will be on the left-hand side.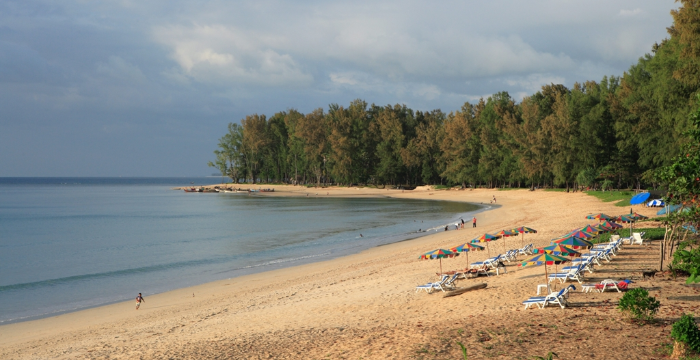 7. Hat surin (หาดสุรินทร์)
A peaceful Beach at the foothill is dotted with a line of pine trees which is located on the right on the north side of the beach. It used to be a golf course in the reign of King Rama VII. The beach is very steep. In the monsoon season, there are strong waves and storms, so it is not recommended for swimming.
To get there: the Beach is about 24 kilometers from Phuket town. Follow Thep Kasat Tri Road to the Monument of Thao Thep Kasat Tri and Thao Si Sunthon, then turn left for about 12 kilometers.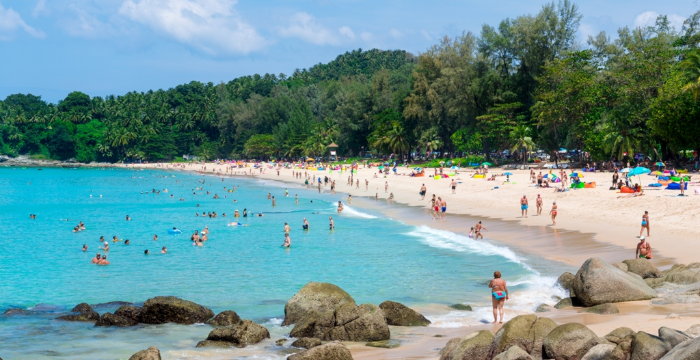 8. Hat Laem Sing (หาดแหลมสิงห์)
Hat Laem Sing is a tiny and tranquil Beach covered by clean sand with beautiful rock reefs and shady trees that is suitable for swimming and relaxing.
The Beach is only 1 kilometer from Hat surin towards the south. From Hat Surin, drive along the road leading to Hat Kamala, there will be a small signpost on the right hand to Hat Laem Sing.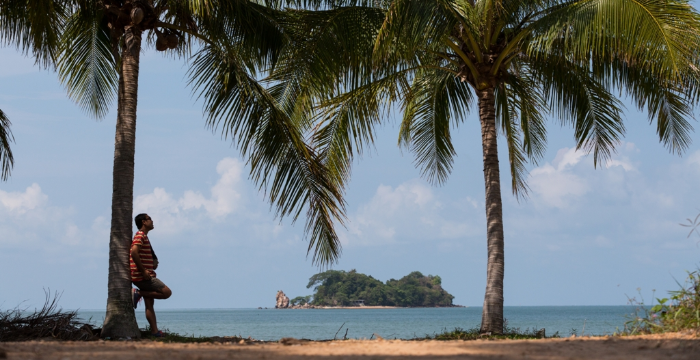 9. Traditional Festivals(งานประเพณี)
Chinese New Year-The Old Phuket Festival (งานตรุษจีนย้อนอดีตเมืองภูเก็ต) is annually held after the Chinese New Year Festival with the aim of showing the Local life and Culture of Phuket as well as publicizing for tourists to experience the attractions in Old Phuket Town. During the Festival, prominent roads in old Phuket town including Thalang, Krabi, Dibuk, Phang-nga, Thep Kasat Tri, and Phuket will turn into walking streets. Spectacular parades of Local Culture, dressing in Traditional costumes in the baba-Nyonya style, Local Food demonstrations and food stalls, ancient recreation and other interesting activities will be offered to the public. The last day of the Festival will be organised on the God Worshipping Day, which is an ancient Tradition of Phuket.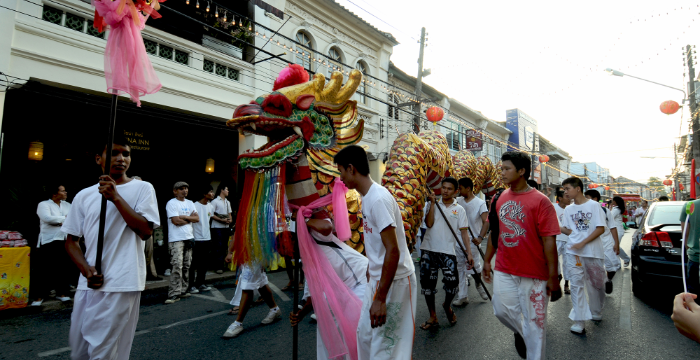 10. Phuket Fantasea (การแสดงภูเก็ตแฟนตาซี)
Located at Hat Kamala, the show is one of the famous attractions in Phuket and the world's first Thai cultural theme park. The show's highlight is the Performance called the "Amazing Kamala", which is a combination between Thai arts and Culture and cutting-edge special effects of light and sound including over 10 Thai elephants and other animals on the stage of the grand theatre. The services also include Dinner in an international Buffet style. Souvenir shops are available. Open daily except Thursday from 5.30-11.30 p.m. For more information, please call Tel. 0 7638 5000.