1. Wat ThaLuang (วัดท่าหลวง)
Is a must-visit and an important Temple of Phichit province enshrining Luangpho Phet, an exquisite Buddha image. Tourists can come to pay respect to the image in the ubosot, which is open daily from 9.00 a.m.-4.00 p.m. The Luangpho Phet Respect-paying and Phichit Celebration Fair, held in January, features a Luangho Phet worshipping ceremony, folk cultural performances, entertainment, Red Cross fair, floral exhibition, Local sports competition, Luangpho Phet's miracle light and sound show, lotus floats or Bua Phutthabucha parade and an illuminated Boat procession.
Interested persons can enquire for more information at the Office of Buddhism, Phichit province at Tel. 0 5661 4977, and theDivision of Education, Phichit Town Municipality at Tel. 0 5661 3096.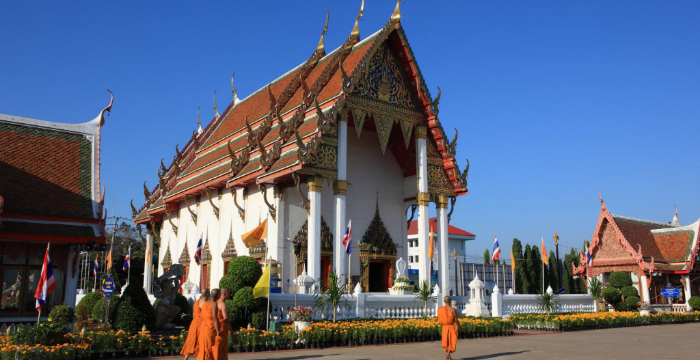 2. Visit Yan Kao Wang Krot (เที่ยวย่านเก่าวังกรด)
The old Wang Krot Market is located in the area of the Yan Kao Wang Krotcommunity by the Nan Riverside, Tambon Wang Krot, Amphoe Mueang, Phichit, 6 kilometres from the downtown area. This old community is open as a community market on every Friday-Saturday from 8.30 a.m. to 3.00 p.m. while the old market is daily open from 8.00 a.m. to 3.00 p.m. For a couple who are interested in celebrating Valentine's Day, they are invited to attend the ToemRak Wan Wan Yan Kao Wang Krot Fair(งานเติมรักวันวานย่านเก่าวังกรด), which Takes place on 14th Februaryduring the Valentine's Day Festival. For more information, please contact the Public Relations Department, Phichit province, Tel. 0 5661 1611.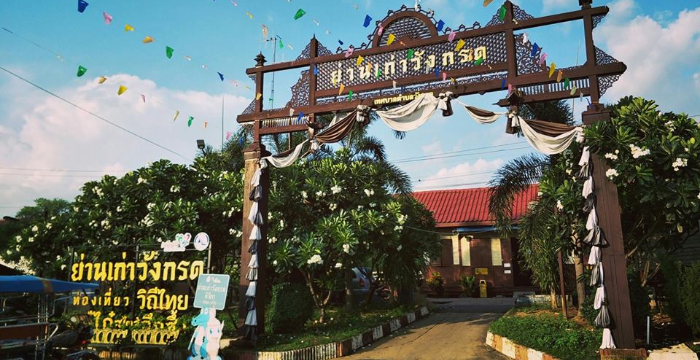 3. Wat Pho Prathap Chang, Amphoe Pho Prathap Chang (วัดโพธิ์ประทับช้าง อำเภอโพธิ์ประทับช้าง)
This over 300-year-old Temple was registered as an ancient Monument by the Department of Fine Arts. It was built in the reign of Somdet Phra Suriyentharathipbodi or known as Phra Phutthachao Suea, whose former name was Khun Luang Sorasak of Ayutthaya, as a memorial for his birthplace. The temple is quite large with a tower gate surrounded bytwo-layered walls, which is the art of the Ayutthaya period. The temple's ubosot houses the principal Buddha image called Luangpho To.From March to April, visitors are invited to come to the Sweet Pomelo and Best Products Fairof Amphoe Pho Prathap Chang, annually held at the Office of Pho PrathapChang District. The EVENT offers highlighted products of each sub-district for the public to purchase. It features the following activities:
Luangpho To worshipping ceremony.
PhrachaoSuea worshipping ceremony.
beauty fighting cock contest.
Thai boxing.
The Legend of PhrachaoSuealight and sound show.
Entertaining; such as, Li-ke, movies, and folk dance.
For further details, please contact the Office of Pho Prathap Chang District, at Tel. 0 5668 9021.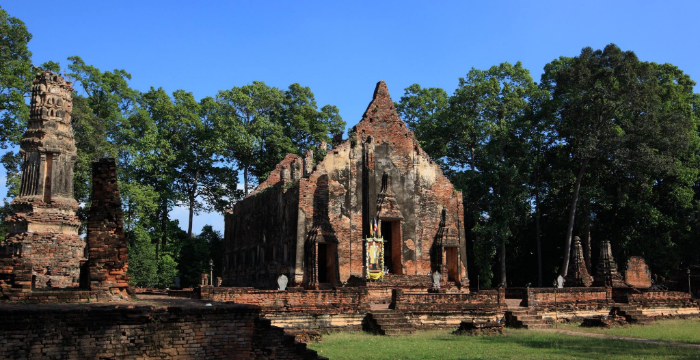 4. Mango and Marian plum Festival (ประเพณีมะม่วงดัง มะปรางเด่น)
Isannually held between March and Aprilat the Office of Culture, Phichitprovince. The Festival includes
the following activities:
<li>agricultural producefair.
The contest of a variety of floats from many sub-districts.
Stage performances, the orchard girl beauty pageant and Thai folk song contest.
For more information, please contact the Office of Culture, Phichit province, Tel. 5661 2675-6 ext.102, 103.
5. Luangpho Ngoen Wat Bang Khlan or Wat Hiranyaram (former name - Wat Wang Tako) by the Nan River, Amphoe Pho Thale (หลวงพ่อเงิน วัดบางคลาน หรือ วัดหิรัญญาราม เดิมชื่อ วัดวังตะโก ริมแม่น้ำน่าน อยู่ที่อำเภอโพทะเล)
Luangpho Ngoen was a very famous monk master. His image has been reputed for being the auspicious object of Phichit, especially, for protecting from harm. The votive tabletsof Luangpho Ngoen are in high demand among amulet experts. The interesting attraction in this Temple is the nakhon Chai Bowon museum built in a form of a two-storemondop shape. On the upper floor is enshrined the life-like statue of LuangphoNgoen, a monk master who was much revered by the general public and used to stay at this temple. The lower level showcases artifacts; such as, Buddha images and earthenware. Open daily from 8.00 a.m. to 5.00 p.m.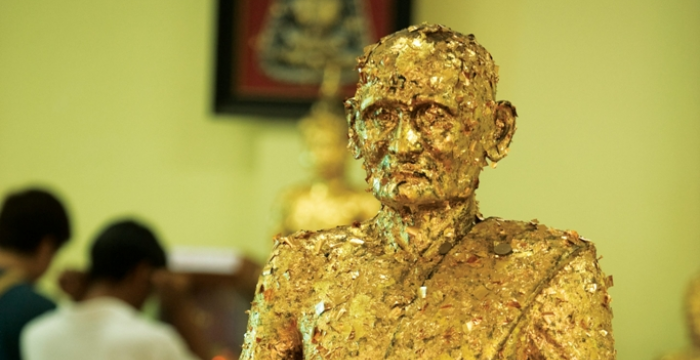 6. Giant siam Tulip Festival at Ban Khao Lon (เทศกาลชมดอกกระเจียว (ยักษ์) บาน ที่บ้านเขาโล้น)
The Festival is held from July to September at the Khao Chet Luk Sub-district Administrative Organisation. Visitors can admire Siam tulips blossoming at the community forest and purchase OTOP products from every sub-district in AmphoeThapkhlo, see the Thai herbs exhibition from the community forest, try Food from the forest, and taste KhanomDok Din. For more details, please call Tel. 06 1794 9692.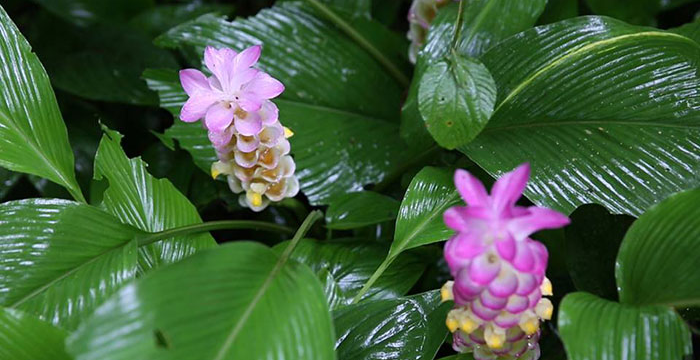 7. Phra Phuttha Ket Mongkhon or Luangpho To Wat Taphan Hin Wat Thewaprasat
(พระพุทธเกตุมงคล หรือหลวงพ่อโตวัดตะพานหิน วัดเทวปราสาท)
Appreciate the beautiful characteristics with good proportion of thelargest Buddha image of Phichit, Phra Phuttha Ket Mongkhon or Luangpho To. The Buddha image in the attitude of giving blessings with a measurement of 20 metres wide across the lap and 30 metres high with a 4-metre high pedestal is made of reinforced concrete that was built in 1965 and finished in 1970. If travelling by train, visitors can easily notice the bright yellow image from a far distances a signal that they have already arrived in Phichit.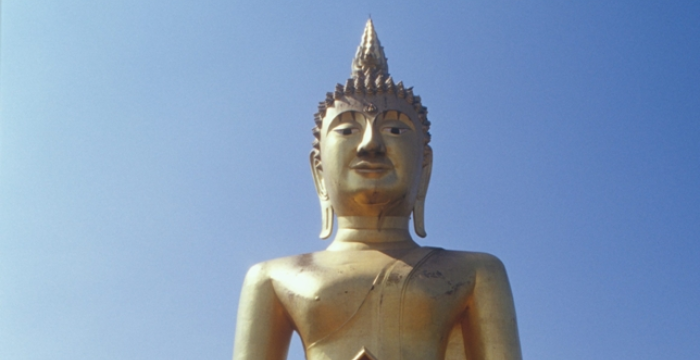 8. PhichitTraditional Long Boat Race. (ประเพณีแข่งเรือยาวชิงถ้วยพระราชทานพระบาทสมเด็จพระเจ้าอยู่หัวพระปรมินทรมหาภูมิพลอดุลยเดช จังหวัดพิจิตร)
The traditional long boat race for the King Rama IX's cup is divided into 3 categories: large long boat, medium long boat and small long boat. It comprises different boat parades, a replica of the royal barge procession, the royal celebration exhibitions and distinctive goods of the Pracharat project, products from every region at inexpensive prices, sepakTakrao competition, free concerts by famous artists, etc. The EVENT annually takes place from the end of August to the beginning of September (the races are held on the first weekend of September for 10 days /10 nights).
For further inquiries, please contact the Provincial Office of Phichit at Tel. 0 5661 2319, 0 5661 1378.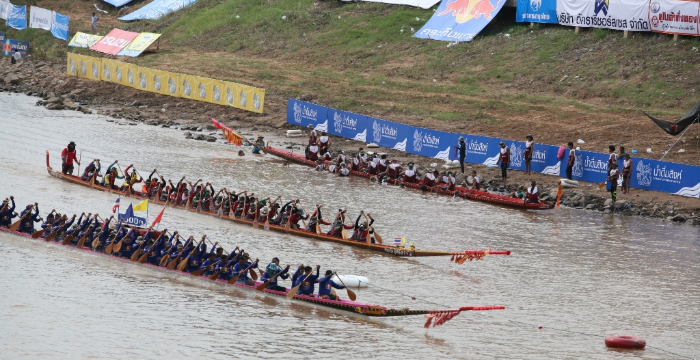 9. Tak Bat Thewo Rohana (Alms Offering Tradition) Festival at Wat Phraphutthabat Khao Sai
(ประเพณีตักบาตรเทโวโรหณะ วัดพระพุทธบาทเขาทราย)
The Festival is annually held in October for two days comprising the following activities:
Day 1:
<li>The procession of the designated Buddha images for 7 days of the week in the morning.
Buddhist religious ceremony in the evening.
Day 2:
It begins with the worshipping ritual including a variety of dance performances followed by the opening ceremony of the Khao Sai Sub-district Municipality. Call Tel. 0 5664 9338 Ext.107 for more information.
10. Bueng Si Fai (บึงสีไฟ)
Is Phichit province's old swamp and the country's third largest water source covering areas in 4 sub-districts; namely, Tambon ThaLuang, Tambon Khlong Khachen, Tambon Rong Chang, and Tambon Mueang Kao. Currently, it serves as a freshwater fish breeding source and a recreational place for the general public. Bueng Si Fai is considered to be the first Landmark of Phichit province.