1. Wat Tilok Aram
Wat Tilok Aram (วัดติโลกอาราม) is one of the proofs that Kwan Phayao or Lake Phayao in the past was an old community. It was found that this ancient Monument is aged over 500 years. In addition, from the stone inscription unearthed in this area, the Temple was built by Phraya Yutthitsathira, a ruler of Phayao town under the command of Phrachao Tilokkarat of the Kingdom of Lanna in Chiang Mai, during 1476-1486, which was assumed the community had already settled here during that time. In 1939, the Department of Fishery built a water gate in Lake Phayao to contain water; consequently, many temples were flooded including Wat Tilok Aram that has been under Kwan Phayao for more than 68 years. Phayao province brought Luangpho Sila to be installed at the same spot in the centre of the Lake for tourists and the general public to pay respect via Boat and sightsee the beautiful scenery. On important Buddhist days; such as, Makha Bucha, Visakha Bucha, and Asalha Bucha, visitors can witness a candlelight procession on the water around Phrathat Chedi Wat Thilok Aram at Lake Phayao, which is considered to be one of this kind of activity in the world.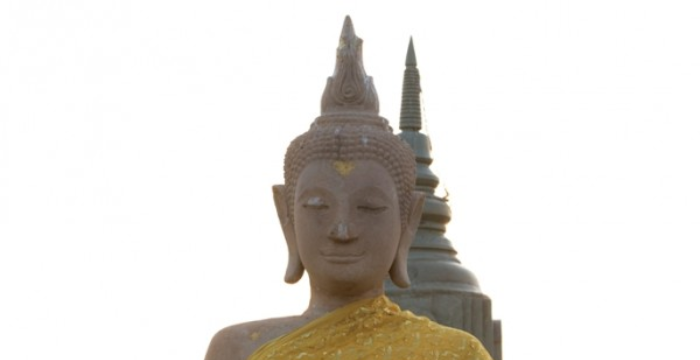 2. Wat Si Khom Kham
Wat Si Khom Kham (วัดศรีโคมคำ) or Wat Phrachao Ton Luang or Wat Thung Iang, situated by Lake Phayao, is a main Temple of the City built around the 15th century. It houses Phrachao Ton Luang, the largest and oldest Buddha image in the Lanna Kingdom with a legend relating to the arrival of Lord Buddha including the Buddhist-related prediction about building Phrachao Ton Luang in the area called Nong Iang. It was assumed that the temple was built in 1524 after the construction around 1491 of the large bronze Buddha image in the attitude of subduing Mara measuring 14 x16 metres wide across the lap, called "Phrachao Ton Luang", in the reign of Phraya Mueang Yi ruling Phayao. It is much revered by the people of Phayao as a sacred Buddha image of the city. The homage paying festival to Phrachao Ton Luang is annually held in the sixth lunar month (May).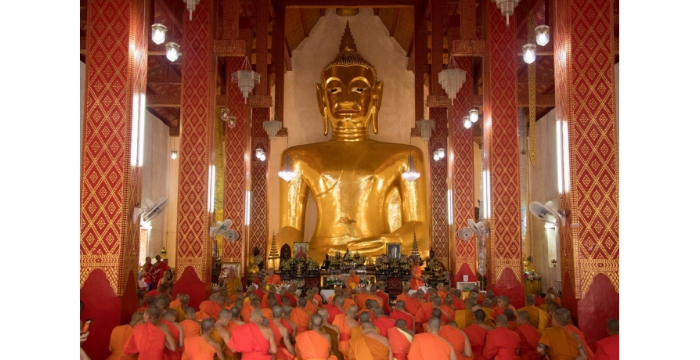 3. Phayao Walking Street
Phayao Walking Street (ถนนคนเดินพะเยา) is ideal for people who love Shopping and looking for souvenirs from the province; for example, Khaep Mu (crispy pork skin), Namphrik Num and Namphrik Ong (chilli pastes) at a reasonable price. The walking street takes place in front of Kwan Phayao on Friday, Saturday and Sunday and at the City Pillar Shrine on regular days.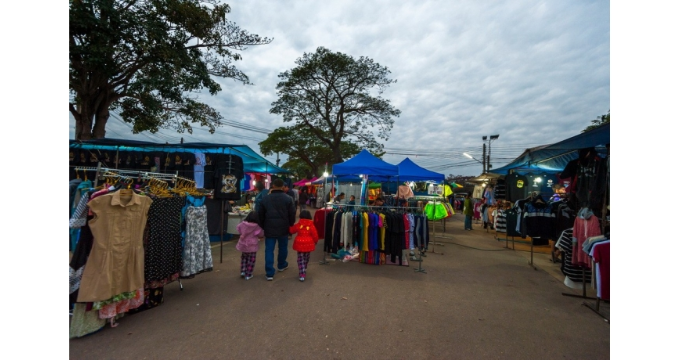 4. Wat Analyo Thipphayaram
Wat Analyo Thipphayaram (วัดอนาลโยทิพยาราม) The myth of the Temple is when Phra Achan Phibun Sumangkhalo, a monk who was at Wat Rattanawanaram had a dream about seeing golden sand flowing down to the temple. The beam of golden sand poured down like a stream and soaked up the temple until it almost became a golden temple. When he glanced over the golden beam, he saw the mountain on the other side of Kwan Phayao. After that, a villager invited him to see a bizarre and important area to build an ecclesiastical residence for locals to making merit. In that area, villagers often saw the light in a round shape floating around above the high mountains. The light was so bright and sometimes was so yellow that when cast on the mountain that made it look like a golden mountain. These incidents were likely to happen on important Buddhist holy days; such as, on the 8th or the full moon days of the waxing moon of the lunar month. Later, the temple was named "Analyo Thipphayaram".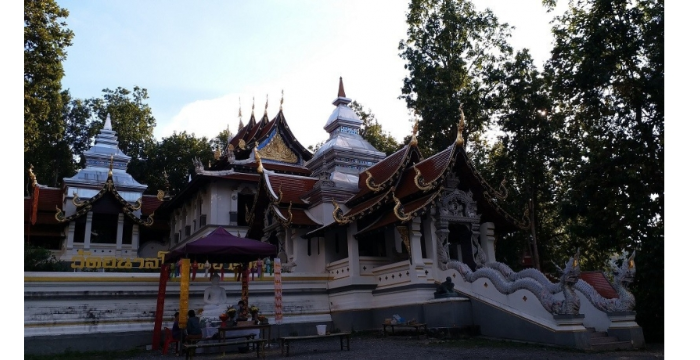 5. Ban Din Kham Pu Chu
Ban Din Kham Pu Chu (บ้านดินคำปู้จู้). Many people want to have an earthen house since they thought living in this kind of house would keep them Cool in summer, and warm in the cold season. It is also inexpensive and suitable for sufficient living. But for the idea of a married couple like Khru Chui-Chonlada and Khru Cho-Sakchai Weyue, it began with the motivation to live on their own; they studied and gathered information about an earthen house and finally found that to build "Ban Din", it not only resulted in a new house, but also changed them to be new persons at the same time when the house was finished.
Ban Din Kham Pu Chu has not only served as a residence of both teachers, it is also a learning centre of the community's Culture about how to build an earthen house, sufficient farming, and art training that is open to any interested persons without fee. Because for them, they recalled about the difficult time they had to struggle to search for knowledge before building an earthen house.
Anyone who is interested in building an earthen house as well as the way of self-independence can learn more details at the facebook page: Ban Din Kham Pu Chu live & learn mud house.
6. Doi Luang national park
Doi Luang National Park (อุทยานแห่งชาติดอยหลวง) is a complex mountainous range stretching along the north to the south directions with Doi Luang as the highest peak with an altitude of 1,694 metres above mean sea level. Interesting attractions include Namtok Pu Kaeng, a 9-tiered limestone waterfall with water all year-round, Namtok Wang Kaeo, Namtok Champa Thong, and Namtok Mae Yaen. Visitors can also enjoy an activity of Trekking to conquer the mountaintop. Doi Luang mountain range has a special feature that looks like a hump and surrounded with high cliffs where it can clearly be seen from the ground below from the east of Kwan Phayao, or the north of Phahon Yothin Road towards Chiang Rai province. On the walking trail, visitors can observe an ancient Monument built by Khruba Siwichai, plant species, wild orchids, birds and butterflies as well as stunning scenery of Kwan Phayao and watch the sunrise in the morning.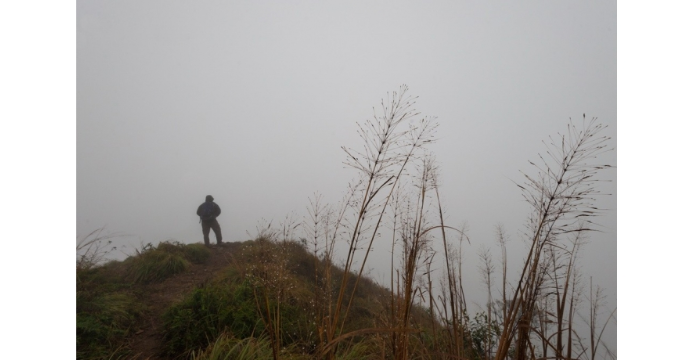 7. Wat Nantaram
Wat Nantaram (วัดนันตาราม) located at Ban Don Chai in the Chiang Kham Sub district Municipality, is a Temple that preserves a Thai Yai art styled wihan or Buddha image hall, which was wholly built with teakwood and beautifully decorated with perforated designs on wood at various elements; for example, gables, window panels and terrace. The temple looks majestic with the carved designs and shingle roofing in tiers perfectly. The interior of the wihan looks so sacred and powerful; when stepping inside, visitors will find a carved-lacquered and gilded golden teakwood principal Buddha image in the attitude of subduing Mara in the Thai Yai style dress installed on a perforated wooden pedestal. The principal image is accompanied by a white stone Buddha figure on one side and golden teakwood replica image of Lord Buddha on the other side, of which both are beautifully dressed in the Thai Yai style as well. In addition, the temple houses a Thai Yai-styled stupa and a museum displaying an antique collection of bank notes, utensils, old styled pattern textiles, as well as ancient drawings about the sermon of Vessantara Jataka in each episode.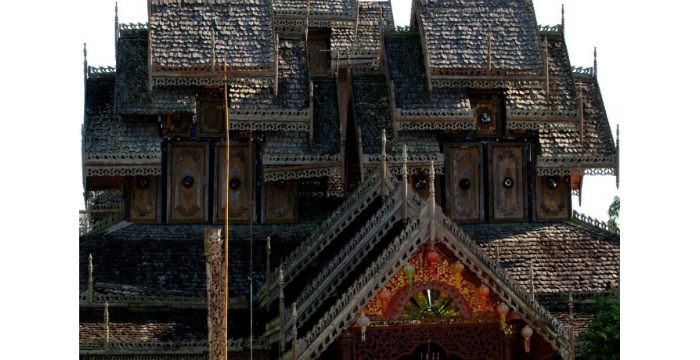 8. Wat Phra Nang Din
Wat Phra Nang Din (วัดพระนั่งดิน), the Unseen Thailand, located in Tambon Wiang, Amphoe Chiang Kham, is a Temple of which the principal Buddha image has no pedestal like others. There was an attempt to build the pedestal supporting the principal image by the locals, but it could not be lifted up. Hence, it was named "Phra Nang Din" (Buddha image seated on the ground). Moreover, the story was told by the old people that villagers had built the Buddha image's base and tried to place it onto the top; there was an incredible incident of three-time lightning strikes on the wihan. Finally, the Buddhist laypeople decided to keep Phra Nang Din seated on the ground until today.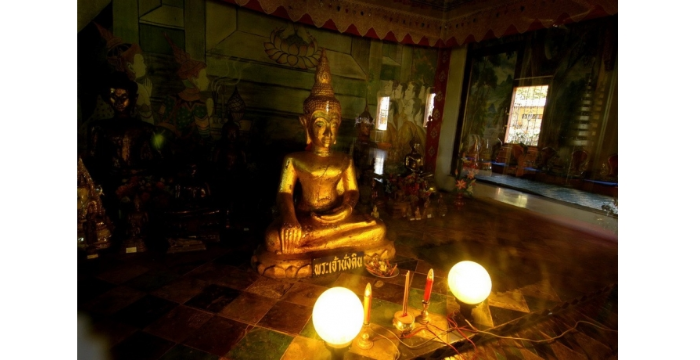 9. Namtok Phu Sang
Namtok Phu Sang (น้ำตกภูซาง) is an approximately 25-metres high small waterfall with water all year-round. The waterfall's highlight is a warm current with about 35 degrees Celsius, having clear water and no sulphur odour. Therefore, it is swimmable during the cold season. The waterfall is situated in Tambon Phu Sang, Amphoe Phu Sang, Phayao province; 200 metres from the Phu Sang national park's headquarters. There was no evidence in the past, but legend told that grandpa (Pu) and grandma (Ya) who were pilgrims came to practice Dhamma on a hill and built a stupa before passing away. The locals called the stupa as "Phrathat Pu Sang" and it was later slightly distorted to be "Phu Sang."
10. Phu Langka Forest Park
Phu Langka Forest Park (วนอุทยานภูลังกา). This beautiful mountain's name was called after the Langka shape stupa located in Amphoe Chiang Kham and Amphoe Pong, Phayao province in the National Reserved Forests of Pa Nam Puei, Pa Nam Yuan and Pa Nam Lao, and Pa Mae Yom, occupying an area of approximately 7,800 rai. Established on 8 May, 2002, the Forest Park features a sloping mountain on the San Pan Nam Range lying on the east to west directions with an altitude of about 900-1,720 metres above mean sea level containing important streams; namely, Nam Mae Kha running past the south direction, Huai Nam Tom and Nam Mae Ru flowing down to the Southwest, Huai Ka-naeng and Huai Pa Yang running down to Nam Mae Lao on the North, and all of these streams will flow into the Yom River.