1. Thale Noi Non-hunting Area (เขตห้ามล่าสัตว์ป่าทะเลน้อย)
has been selected to be the country's significant wetland, which covers area in three provinces: Phatthalung, Songkhla, and nakhon Si Thammarat. The attraction offers the following interesting activities:
Observe a variety of about 287 fowl species including endemic and migratory birds.
Experience the life of water buffalos.
Watch the sunrise at one of the most beautiful sunrise spots in Thailand, Khlong Pak Pra, in the morning at 6 a.m. and observe the way of fishnet lifting of the Villagers.
Hua Lan Hua lieo community is situated in Thale Noi Village. With the Local-like atmosphere, the community offers authentic Food and desserts, community-made products from Krachut or sedge in almost every household; such as, bags, mats, etc. Visitors can also observe the demonstration of their product making.
Watch the Sunset at a beautiful spot at the 80th Birthday Anniversary Celebration 5th December, 2007 Bridge.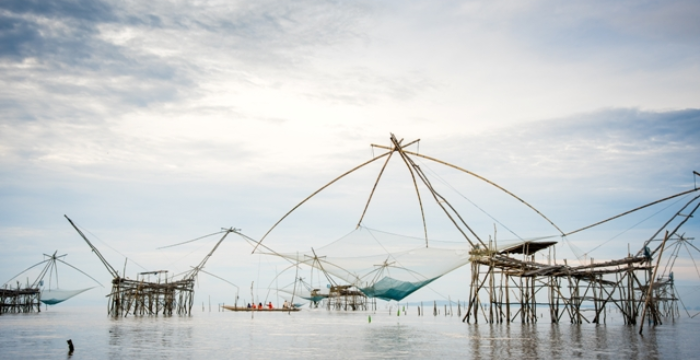 2. Lan Khoi White-water Rafting (ล่องแก่งลานข่อย)
is Rafting in the area of Amphoe Pa Phayom, Phatthalung province. Rafting on Huai Nam Sai started in 2011. It is a very beautiful watercourse and perfect for rafting since the water flows through islets amidst a beautiful natural environment with a distance of 5 kilometres taking about 2-3 hours. It is the only place in the country that visitors can do rafting both in the dry and rainy seasons. Along the route, there will be professional staff members to take care of tourists for safety. If visitors do not prefer Rafting, they can enjoy swimming. Accommodation is also available for staying overnight.
3.Hot Spring Cold Stream (บ่อน้ำร้อน ธารน้ำเย็น)
Situated in the area of Khao Chai Son, the hot spring Locally believed to be a sacred pond has been developed by the Khao Chai Son Sub-district Administrative Organisation to be a tourist attraction providing Accommodation, hot mineral bathroom and hot mineral pond services. 700 metres to the North of the pond isthe site of Tham Phra, a Cave featuring an approximately 1-metre deep cold pond inside with water all-yearround. A reclining Buddha image is enshrined in the cave's upper part including a beautiful mural painting. The hot spring here is water emerging through the holes from the underground that have different structures; the temperature of the water will be higher if there is anytrembling. The hot mineral water has a temperature of about 60 degrees Celsius and can cure some diseases; such as, paralysis and aches and pains syndrome.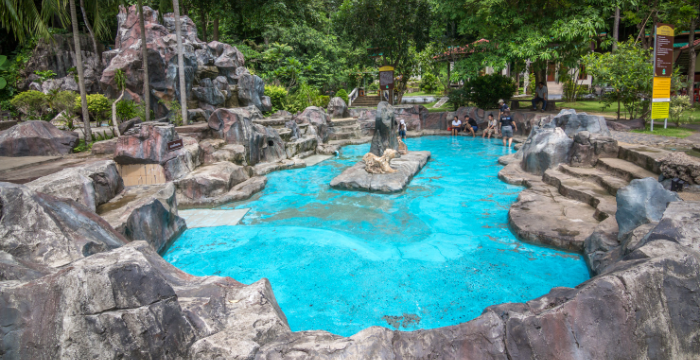 4. Na Po Kae(นาโปแก)
in Amphoe KhuanKhanun is a learning centre of the original way of life of the Phatthalung people. The name "Na Po Kae" was derived from the words Na meaning a Farm and Po Kae is asouthern accent of Pu Kae, which means Pho Kae (grandpa). This place was inspired by King Bhumibol's speech, in which the Local people brought to adapt for job creation, particularly, the sufficiency economy theory that they appliedwith their living to become a learning-based attraction, includingexperiencing the rural lifestyle, farming, original way of rice cultivation, local Food and Massage at specific points for women who suffer from menstruationpain.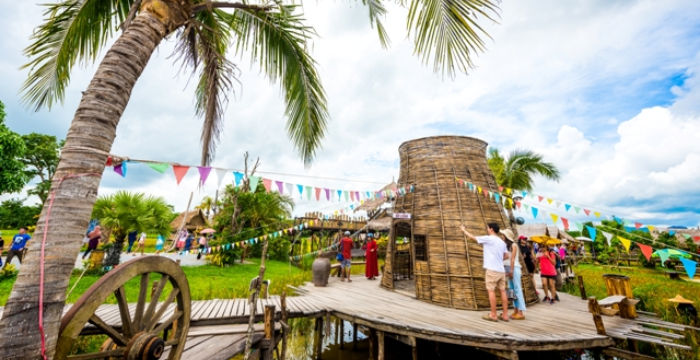 5. Pa Phai Sang Suk Market (ตลาดป่าไผ่สร้างสุข)
Amphoe KhuanKhanun in the Kwanjai Bamboo Garden of Khun Khwanjai was formerly a garden for cultivating, breeding and making charcoal from bamboo with a learning centre. It was open as a recreational attraction in January 2017 with collaboration of the Kwanjai Bamboo Garden and Kin Di Mi Suk Network, Phatthalung, in Order to create it into a market with a brilliant concept "enjoy Food and simple happiness in a modest way". The Market is divided into 5 zones; namely, Pa Phai Sang Suk Market, a relaxation area, children's activities, a learning zone of the Kwanjai Bamboo Garden, and a pleasant bamboo forest that is a green market where people in the communitybring Local food, rare local desserts, fresh vegetables, fruits as well as handmade products for sale at reasonable prices. It is open every Saturday during 9.00 a.m. - 5.00 p.m.
6. Tai Not Market(ตลาดใต้โหนด)
Amphoe KhuanKhanun was created at a residence of Khun KanokphongSongsomphan, a 1996 S.E.A. Write Award winner. After he passed away in 2006, Khun NiyutSongsomphan, his elder brother adapted the house with the aim to be a community learning centre and be a quiet place for reading for children and Villagers as well as a centre for exchanging art knowledge. Later, a Local market project was initiated for people in the community to sell chemical-free products including local Food under the concept of "Good Food Good life". The green market is held in a Local atmosphere offering authentic desserts and Food, cultural performances and entertainment by young people. Open every Sunday during 8.00 a.m. - 3 p.m.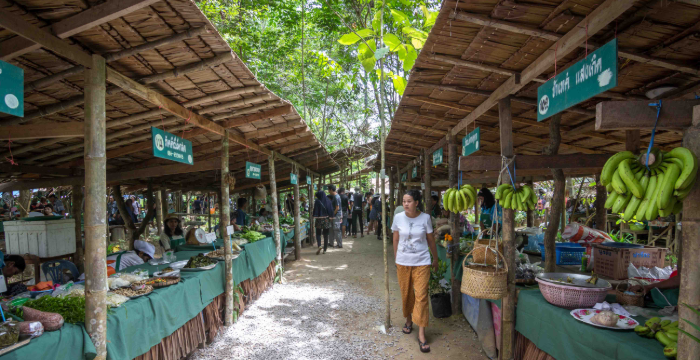 7. Wat Khao Aor (วัดเขาอ้อ)
in Amphoe KhuanKhanun. Before becoming a Temple, it was considered to be a centre of learning, called the ThisaPamok School that was similar toTakkasila in India, presumably founded before 857 by Brahmins from India during the age of "Dravidian Yatra", which is the time that the Brahmins expanded the religious belief from India. This place was famous for supernaturalpowers and ancient medicine, especially, related toWan, an herbal plant; later there wasa Wandipping ritual and manyother forms of black magic until it became well-known nationwide as a place that had inherited the magic and spells for invulnerability until today. At present, the"Follow the path of the Lord Buddha, Follow a trace of the ritual of Khao O House" Festival takes placeannually.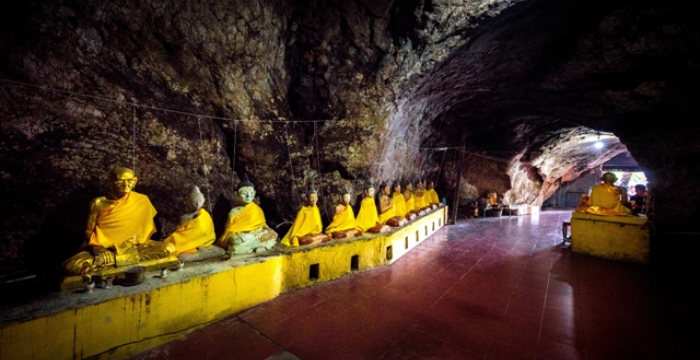 8. Khao Pu-Khao Ya national park (อุทยานแห่งชาติเขาปู่-เขาย่า)
Amphoe Si Banphot, was named after the mountains in the national park area that is well-known among the Phatthalung people. Especially, Khao Puis believed to be a sacred mountain where the spirit of "Ta Pu", a semi-god much revered by the Local people and the general public is located. Situated in the complex BanthatRange, the Park is covered with lush evergreen forest all- yearround, so it is called the "virgin forest". It provides two nature trails that are suitable for studying the nature, herbs, doing research on natural resources, etc.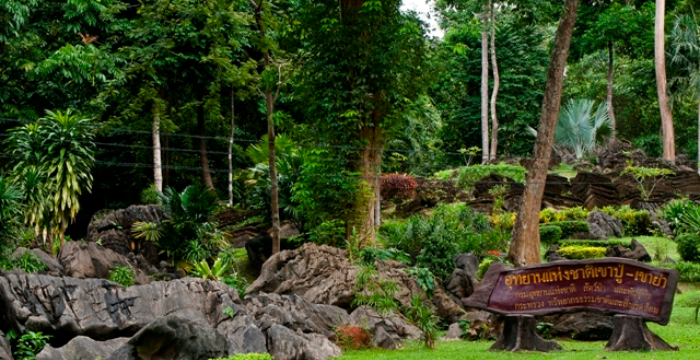 9. ko Si, Ko Ha, Ko Kra (เกาะสี่ เกาะห้า เกาะกระ)
Amphoe Pak Pa-yun is aspectacular limestone archipelago located in the Phatthalung sea as part of Lake Songkhla. It is situated in Tambon ko Mak, 1.6 kilometres to the west. The reason it was called Ko Si Ko Ha is from the angles that when looking from the south and the North, you will see four islands, but if looking from the West, there are five islands. Apart from observing the way of the fisherman's lifestyle, visitors can admire the natural swiftlets' nest Cave.