1. Wat Bot (วัดโบสถ์)
Is an ancient temple in the Ayutthaya period built by the Mons who migrated from Hongsawadi city (Hanthawaddy in Myanmar). Located in the good feng shui river curve of the Chao Phraya River, this nice landscaped temple enshrines Luangpho Luea, an important Buddha image of Pathum Thani, and the country's largest lifelike statue of Somdet Phutthachan (To Phromrangsi).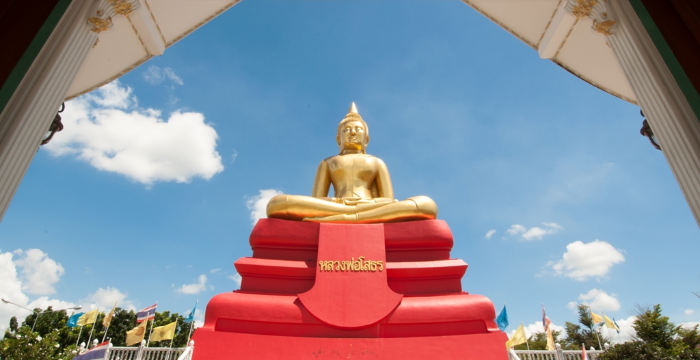 2. Wat Bang Luang (วัดบางหลวง)
Was built in the Ayutthaya period. The old ubosot houses Luangpho Yai, the largest principal Buddha image in Pathum Thani and Luangpho Phet, a Chiang Saen period Buddha image with the special characteristic that is his left hand can be bent. The temple will bring Luangpho Phet to the public for paying homage during the End of Buddhist Lent Festival. It also hosts an annual ceremony of making traditional Thai sweet (Kuan Khao Thip) between 10-11 April.
3. Wat Sanchao Riverside Market (ตลาดริมน้ำวัดศาลเจ้า)
is a centre of numerous food and souvenirs; such as, Kui Chai Che Mon, Kui Chai Thon Pho, traditional recipe of Khanom Bueng (by Che Oi, the original shop), Khao Chae - Kluai Tak - Sala Loi Kaeo Mae Prathiap, Kluai Op Nga-dam Khun Thip, Lung Daeng salty boiled fish, etc. including many agricultural products from the villagers.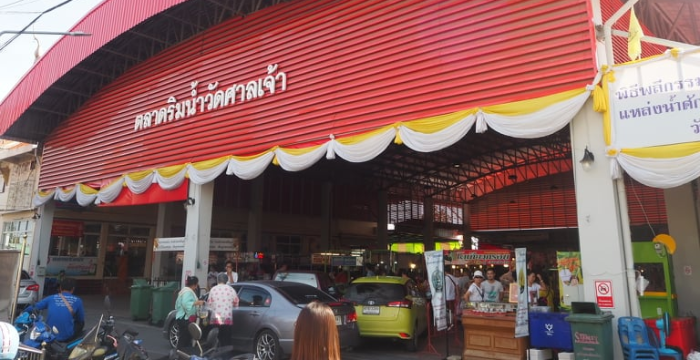 4. The Supreme Artist Hall (หออัครศิลปิน)
was built to celebrate and present the accomplishments of King Rama IX who was adept in various fields of arts. In addition, the works of Princess Sirindhorn, who is acclaimed as a proficient artist in various kinds of art, are presented. The Hall also showcases the biography and achievements of Thai National Artists in different fields.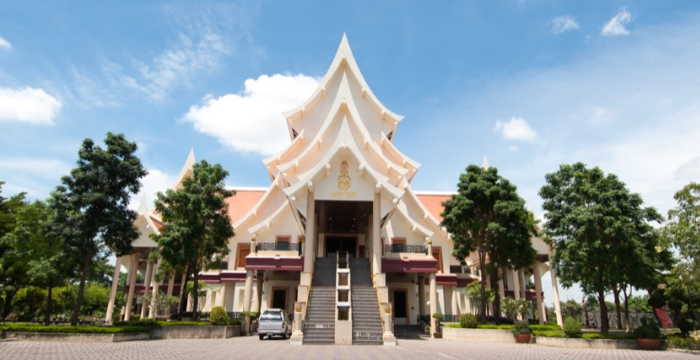 5. The Golden Jubilee Museum of Agriculture (พิพิธภัณฑ์เกษตรเฉลิมพระเกียรติพระบาทสมเด็จพระเจ้าอยู่หัว)
is a museum showcasing King Rama IX's sufficiency economy concept through modern technology. It regularly provides interesting events and information as well as organises farming-related training courses in various topics. Restaurants, coffee shops and a shop selling products from the Royal Projects are available. Particularly, farming products are for sale on every Friday and Saturday evening.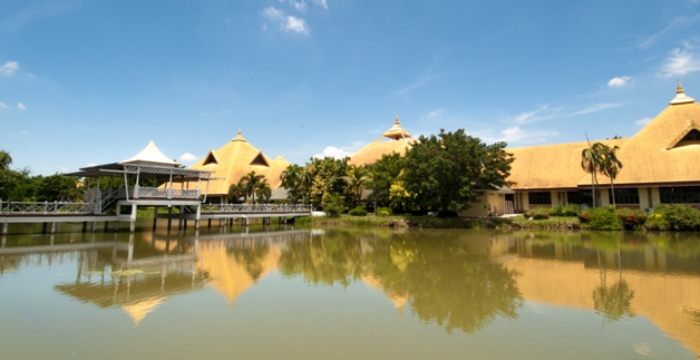 6. Talat Thai (ตลาดไท)
is the most complete and full-cycled farming product middle market that is open 24 hours. The market is divided into different sections by buildings; such as, vegetables, fresh food, seasonal vegetables and fruit area, rice, snack- dried food, flower, miscellaneous goods, etc.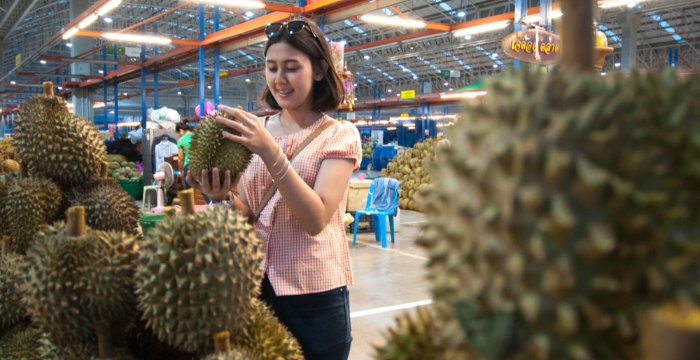 7. Wat Chedi Hoi, Amphoe Lat Lum Kaeo, Pathum Thani (วัดเจดีย์หอย อำเภอลาดหลุมแก้ว จังหวัดปทุมธานี)
is one of the famous temples in Amphoe Lat Lum Kaeo where the underground is filled with tremendous gigantic fossil oyster shells. Geologists said these gigantic oysters are aged about 8 million years. Luangpho Thong Klueng Suntharo, the temple's abbot, brought these shells to build two chedis that look unusual and beautiful.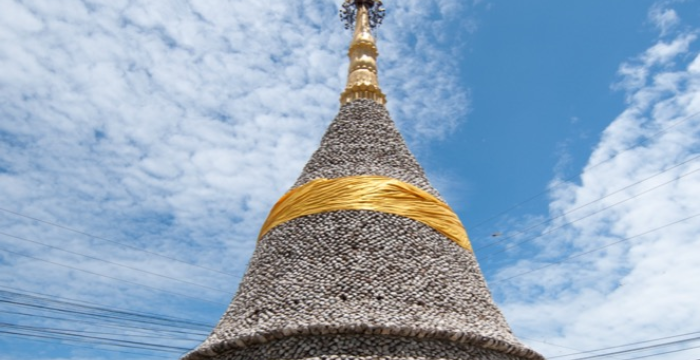 8. Tao Ong Ang Archaeological Site (Follow the Tum Sam Khok legend) (โบราณสถานเตาโอ่งอ่าง (ตามรอยตุ่มสามโคก)
Amphoe Sam Khok, Pathum Thani. "Sam Khok" is called after 3 earth mounds before they were not yet flooded. Today, there is only one mound left. From the archaeological excavation, a ruin of the ancient kiln was found, which is the Tao Ong Ang Archaeological Site located to the north of Wat Sing, Amphoe Sam Khok. This evidence proves that this place was the settlement of a Mon community and a production centre of Sam Khok water jars.
9. The Pine Resort (เดอะไพน์ รีสอร์ท)
Amphoe Sam Khok, Pathum Thani, is an adventure-based tourist attraction offering a special format of adventure activities open for the public and corporations. There are 16 activity bases including both water and land bases and ATVs, fixed target archery and skeet.
10. Tak Bat Phra Roi Tradition (ประเพณีตักบาตรพระร้อย)
is an important event of the Pathum Thani people, which takes place during the End of Buddhist Lent Festival from the 1st-13th day of the waning moon of the 11th lunar month (October). The temples on the Chao Phraya Riverbank will take turn to be a host of the event. The host will pull a rope along the riverside to the north and the south of the temple for 2-3 kilometres in order for locals to completely give offerings to 100 Buddhist monks.