1. Wat Phra Pathom Chedi Ratchaworamahawihan (วัดพระปฐมเจดีย์ราชวรมหาวิหาร)

The Temple houses the country's largest pagoda, Phra Pathom Chedi enshrining the Buddha's relics, which was built in 1853 in the reign of King Rama IV. The highlight of the Temple includes Phra Ruang Rotchanarit, a Buddha image in the standing posture of giving a pardon, installed in the niche of the wihan located to the North in front of Phra Pathom Chedi. At the base of the pagoda is enshrined the royal relics of King Rama VI. The Wat Phra Pathom Chedi museum is a collection of artefacts unearthed in nakhon Pathom, which date back to the Ban Chiang and Dvaravati periods. The pagoda majestically stands out under the electric lights at night.
The Temple is open between 7.00 a.m. – 8.00 p.m. Admission fee: 40 Baht. The Phra Pathom Chedi Festival is held for 9 days during the 12th day of the waxing moon to the 5th day of the waning moon of the 12th lunar month (November).
To get there:
By car - Follow Highway No. 4 (Phetchakasem Road) past Om Noi, Om Yai, Samphran until reaching nakhon Pathom. Alternatively, take Borommaratchachonnani Road past Phutthamonthon, Nakhon Chaisi until reaching Nakhon Pathom.
By train - take a train from the Thon Buri Railway Station (Bangkok Noi) and get off at nakhon Pathom Railway Station. The Trip takes about 1 hour. For further information, please contact the State Railway of Thailand at Tel. 1690, or www.railway.co.th.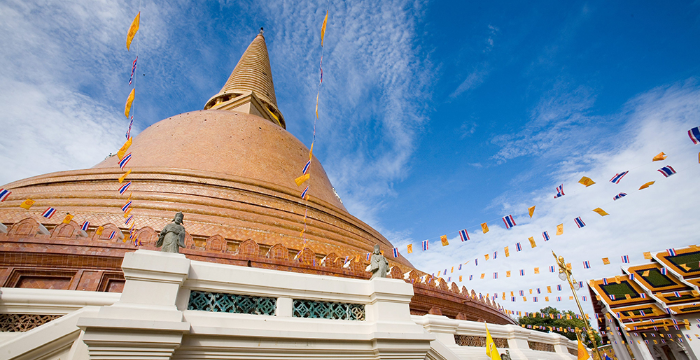 2. Sanam Chan Palace (พระราชวังสนามจันทร์)

Was built under the royal command of King Rama VI. The Palace complex encompasses significant and majestic throne halls; for example, Phra Thinang Phiman Pathom, Phra Thinang Samakkhi Mukkhamat, Phra Tammak Thap Kaeo and the Statue of Yale. It is open daily between 9.00 a.m. 4.00 p.m., except public holidays.
To get there:
By car - From Phetchakasem Road or Borommaratchachonnani Road to the nakhon Chaisi Intersection, go straight for about 8.5 km. to reach the Ban Phaeo Intersection. Continue for about 500 metres and take a bridge to Nakhon Pathom for 3.4 km. Once reaching a traffic light intersection, turn left for 200 metres and turn right for 1.9 km. then make a right turn at the traffic lights and continue for 400 metres to arrive at Sanam Chan Palace.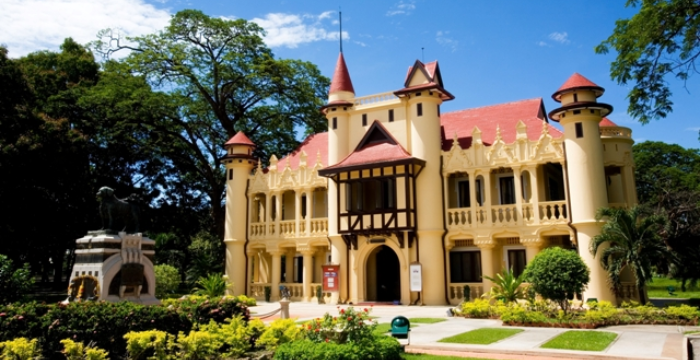 3. Don Wai Floating Market (ตลาดน้ำดอนหวาย)

Is a Shopping centre for Food and souvenirs from many well-known and long established restaurants behind Wat Don Wai. Located by the Tha Chin Riverbank and having existed since the reign of King Rama VI, the Market includes products and Food sold by vendors on Boats; such as, Pet Phalo Nai Nap (pot-stewed duck), sweet and salty carp fish, Thai sweets at the "Lim Heng Ki" shop, etc. The farming product market fair is also open at Wat Don Wai between 8.00 a.m. – 5.00 p.m. on Monday to Friday, and between 7.00 a.m. – 6.30 p.m. on the weekend. Cruising for sightseeing the view along both sides of the Tha Chin River is available; the route starts from Wat Don Wai to the Pho Kaeo Bridge.
To get there: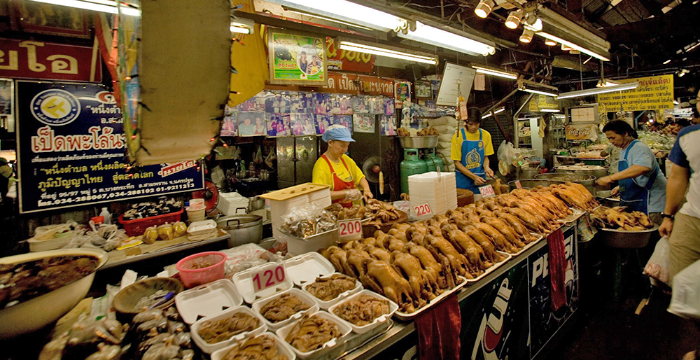 4. Tha Na Old Market (ตลาดเก่าท่านา)

Is an over 100-year-old little market on the Tha Chin Riverside. The Market highlights plenty of fresh Local Food of both main dishes and desserts that are mouthwatering; for example, traditional noodles recipe, noodles and dumpling, a variety of Thai desserts like Bua Loi, Babin, grilled sticky rice with several fillings, sweet pomelo, Khun Pom's bread, Mamon Chang, Noi's Bakery, including Local fruits and vegetables, especially, the famous nakhon Chaisi pomelo of Nakhon Pathom, etc. The area of the market is lined with wooden row houses with beautiful traditional architecture. Open daily between 8.00 a.m. – 6.00 p.m.
To get there:
Bycar - Follow Borommaratchachonnani Road heading for nakhon Pathom province and keep to the right on Highway No. 3310 past Mahidol University then turn left onto Highway No. 4006. Go straight and make a right turn onto Thammasop Road. Take the bridge crossing over the Nakhon Chaisi River and turn right to the Tha Na Market. Alternatively, via Borommaratchachonnani Road, head for nakhon Pathom province merging with Phetchakasem Road, get onto the bridge at Nakhon Pathom and keep right to Amphoe Nakhon Chaisi. Once reaching the Yaek Tha Na Bridge, keep going straight and turn right at the crossing. Continue going straight and turn left to the Tha Na Market.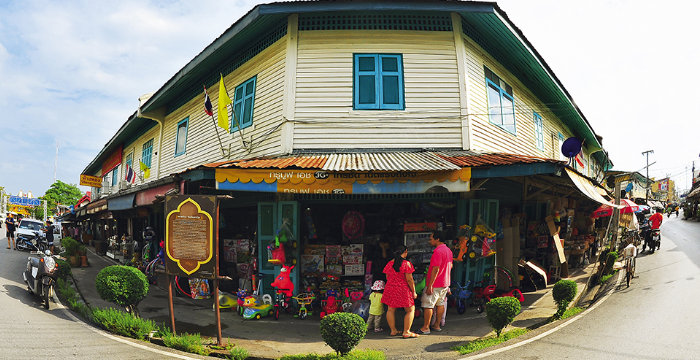 5. Lam Phaya Floating Market (ตลาดน้ำลำพญา)

Located at the front of Wat Lam Phaya on the Tha Chin Riverside, is a centre of fruits and vegetables, agricultural products, wickerwork, woven textiles, dyed textiles and Food sold at reasonable price; such as, Malai Khanom Thai Bang Len, Chai Kuai, Hoi Thot (fried mussels), and Phat Thai from the first original food shop of the Market. A variety of fish can be seen at the front of the Temple. Open on the weekends and public holidays between 8.00 a.m. – 3.00 p.m.
The Market is accessible via many routes:
By car 1. Via Borommaratchachonnani Road, get on the bridge and turn onto Salaya past Mahidol University. Turn left to reach the Phutthamonthon Police Station then turn right and go straight for about 24 kilometres. Wat Lam Phaya will be on the left-hand side.
2. Via the Bang Bua Thong route: Go straight for about 10 kilometres, follow the sign on the left to Amphoe Bang Len and turn left for about 20 kilometres. Make a left turn at the junction (before reaching the bridge crossing the Tha Chin River), and turn left again for about 9 kilometres. The Temple will be on the right-hand side.
6. Khlong Maha SaWat tour (ท่องเที่ยวคลองมหาสวัสดิ์)

Khlong Maha SaWat is a Canal that was built by starting from Khlong Bangkok Noi running through Amphoe Phutthamonthon to exit to the Tha Chin River. The construction began and was finished in the reign of King Rama IV. With a width of 14 metres, it was considered to be the widest Canal in that period. It has preserved the community lifestyle by the Canal for a long time. Today, the people in the communities provide agro tourism services with a Boat tour for sightseeing the orchards along Khlong Maha Sawat, which includes Uncle Chaem's water lily field, Ban Fak Khao, orchid gardens, rice cracker tasting, fruit orchards and paddy fields. The boat tour costs 350 Baht (for a capaCity of 6 persons).
To get there:
By car - Follow Highway No. 4 (Phetchakasem Road) or Highway No. 338 (Borommaratchachonnani Road) to Phutthamonthon Sai 4 on the way to Salaya past Mahidol University. Get onto the Salaya-nakhon Chaisi Road and follow the signpost to Wat Suwannaram that is a point to take a Boat tour.
By bus: From Bangkok, take bus No. 124 from Sanam Luang and get off at the Rattanakosin Sompot Bowonniwet School, Salaya. Then take a taxi or motor taxi to Wat Suwannaram. Alternatively, take bus No. 515 from Victory Monument and get off at Mu Ban Uea A-thon, Salaya. Then take a taxi or motor taxi to Wat Suwannaram.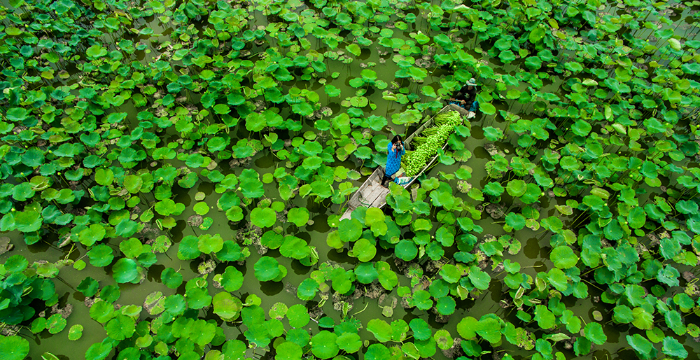 7. Sookjai Farmer's Market (ตลาดสุขใจ)

Is a green market for people who have health and environment concerns. It is a centre of Organic farming products and processed Food provided by Organic farmers who will bring their products for sale on the weekends between 10.00 a.m. – 5.00 p.m. Since this market offers farming products with good quality where farmers can sell to consumers directly, the price of the products is reasonable. The Market has various and seasonal products; for example, non-chemical vegetables and fruits, eggs, duck eggs, cooked Food, Thai sweets, Organic rice, fresh vegetables, fruit juice, etc.
8. Mueang Maya at the Film Archive (เมืองมายาหอภาพยนตร์)

Is a collection of Thai film History, films and film-related materials including printed matter, film distribution, objects and equipment related to film making, rare books and journals. It is open daily. The schedule to see the exhibitions in the buildings: the library is open from Monday-Friday between 9.00 a.m.-5.00 p.m., the museum is open on the weekend and public holidays 3 times a day at 10.00 a.m., 1.00 p.m., and 3.00 p.m., and the theatre is open from Monday – Friday at 5.30 p.m., on Saturday-Sunday at 1.00 p.m. and 3.00 p.m., and public holidays at 1.00 p.m.
9. All-night market at Phra Pathom Chedi (ตลาดโต้รุ่ง องค์พระปฐมเจดีย์)

Is one of the delicious Food centres of nakhon Pathom. It is well-known for a wide range of food offered by wheelbarrow vendors including main dishes, desserts, snacks, ice cream or fruits; such as, Bua Loi Tae Chio, Chim Mu, Cho Hoi Thot, Denchai Ice Cream or also known as "Flying Ice Cream".
Furthermore, once visitors are in town, there is plenty of not-to-be missed Local Food. The downtown area is lined with various restaurants; for example, Tang Haseng (original shop), the town's first Food shop selling roasted pork with rice that has been open for over 70 years with a reputation from the old generation to the present one, or Mae Lek (original shop), a long well-known shop among the Locals selling sticky rice in bamboo tubes. In addition, crispy pork with rice and pomelo is a must-eat.
10. Jesada Technik museum (เจษฎา เทคนิค มิวเซียม)
Located at Mu 2, Tambon Ngio Rai, Amphoe nakhon Chaisi, Nakhon Pathom, displays vintage vehicles including cars, Boats and airplanes. Admission is free. The museum has continuously organised activities outside the museum; such as, to celebrate and honour the royal institution, events for public interests, social services and tourism support.