1. Sirindhorn museum,Amphoe Sahatsakhan (พิพิธภัณฑ์สิรินธร อำเภอสหัสขันธ์), is Southeast Asia's most complete dinosaur museum showcasing the origin of the life and universe, life evolution and dinosaur era to the birth of humans. Visitors can also closely observe the working of researchers through the dinosaur fossil research, study the operation Room and witness the real excavation pit where the fossils of dinosaur bones of almost a complete body of "PhuwiangosaurusSirindhornae", a new dinosaur speciesof the world, were first unearthed in Thailand.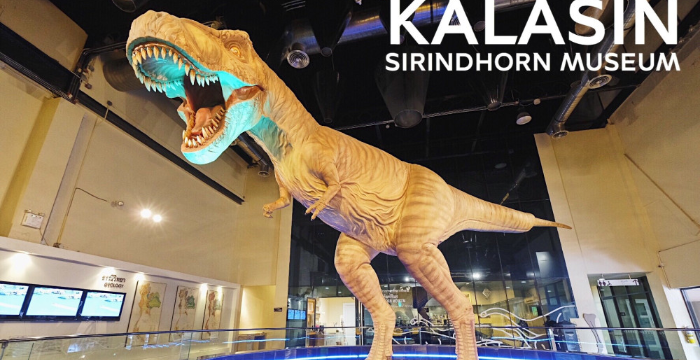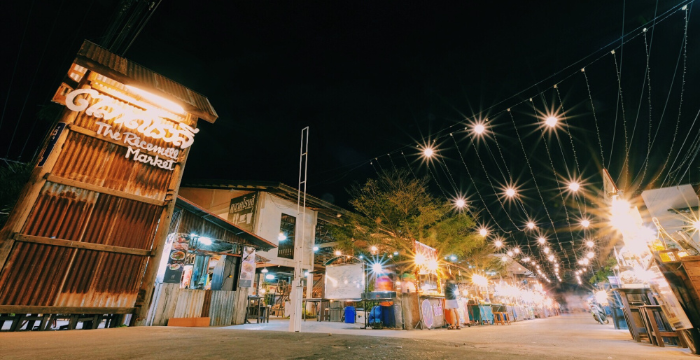 3. Wat Phuttha Nimit (Phu Khao),Amphoe Sahatsakhan (วัดพุทธนิมิต (ภูค่าว) อำเภอสหัสขันธ์) comprises the beautiful architectural buildings and art objects; such as, the old "Phra Phuttha Saiyat" Buddha image or a left-sided reclining Buddha image without radiance, "Ubosot Mai", a wooden ubosot built from the wood taken from the Lam Pao Dam beautifully carved into a three-dimension picture and a low relief picture, "Wihan Sangkha Nimit", a sanctuary that preserves Buddha figures and rare amulets, "Phra Mahathat Chedi Phuttha Nimit", a stupa with the golden top weighing 30 kilogrammes enshrining the Buddha's relics from 5 countries: Thailand, India, Sri Lanka, Nepal, and Myanmar.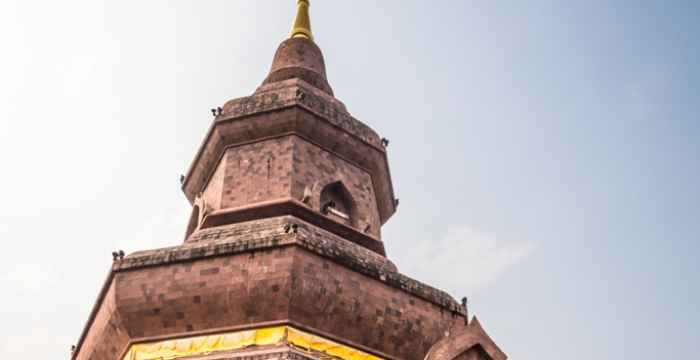 4. Wat Wang Kham, Amphoe Khao Wong (วัดวังคำ อำเภอเขาวง), is a Temple that consists of a wide range of Lan Xang architecture including Sim Thai Mueang Wang, an exquisite Lan Xang ubosot, Phrathat Chao Ku, and a sermon hall housing "Luangpu Wang Kham," a Lan Xang art principal Buddha image with a pulpit built in an original design, according to the founding abbot's observation since he was young.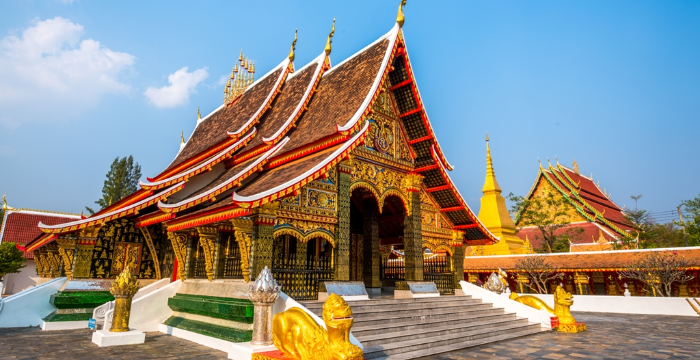 5. Luangpho Ong Dam, Wat Klang, Amphoe Mueang (หลวงพ่อองค์ดำ วัดกลาง อำเภอเมือง), is an important old bronze cast Buddha image of the City with a 51 cm width span across the lap featuring elegant Buddhist characters. The Local people usually take the image on parade to asking for rain wheneverthere is drought.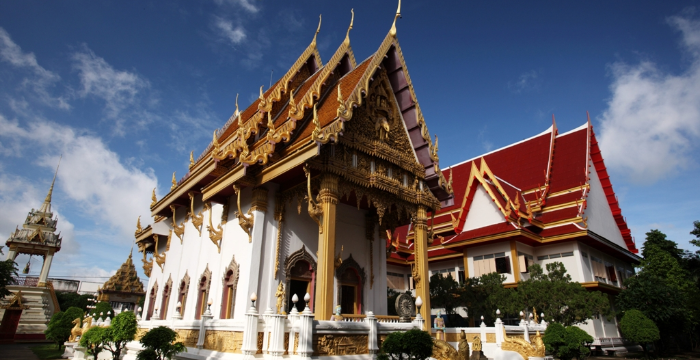 6. Phrathat Yakhu, Amphoe Kamalasai (พระธาตุยาคู อำเภอกมลาไสย), is an ancient octagonal-shaped stupa built from bricks with the construction History of three eras. The lowest base was built in the Dvaravati period while theoctagonal-shaped base in the upper part, which was built over the former one, is in the Ayutthaya style period, and the bell-shaped body and top were built in the Rattanakosin period. The stupa is surrounded by boundary markers carved with bas reliefs of the Buddha's story. Locals believe that it houses the relic of a well-respected monk master.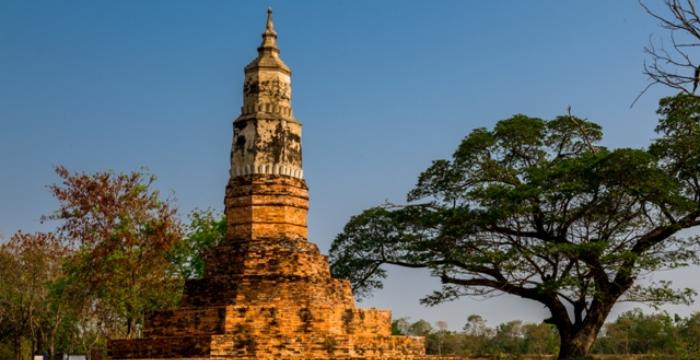 7. Ban Phon Phraewasilk weaving Village, Amphoe Kham Muang (หมู่บ้านทอผ้าไหมแพรวาบ้านโพน อำเภอคำม่วง) is a Phu Thai ethnic Group cultural Village. It is a centre of exquisite Phraewa silk weaving, which is nationally well known as the "Queen of Silk". "Phrae" means Cloth and "Wa" means the long measurement of cloth. All together, it means the woven cloth that is 1 wa long or one arm's length. In the past, weaving wasa way of the Phu Thai people's life;they wove to use as a shawl only.Then, on 29 November, 1987, Queen Sirikit paid a visit tothe people in Amphoe Kham Muang, Kalasin province, and showed an interest inPhraewa silk weaving. After that, it has been elaborate and become well known.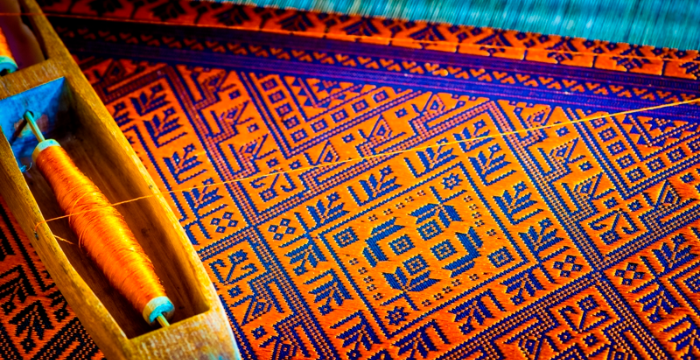 8. Ban Khok kong Phu Thai Cultural Village, Amphoe Kuchi Narai (หมู่บ้านวัฒนธรรมผู้ไทยบ้านโคกโก่ง อำเภอกุฉินารายณ์), a learning centre of the Phu Thai ethnic Group on their Culture and Traditions; for example, Mo Yao ritual making (traditional cure by making a ritual), Phu Thai shirt handicraft, bamboo wickerwork, Khan Mak Beng needlework, and folk musical and cultural performances of the Phu Thai.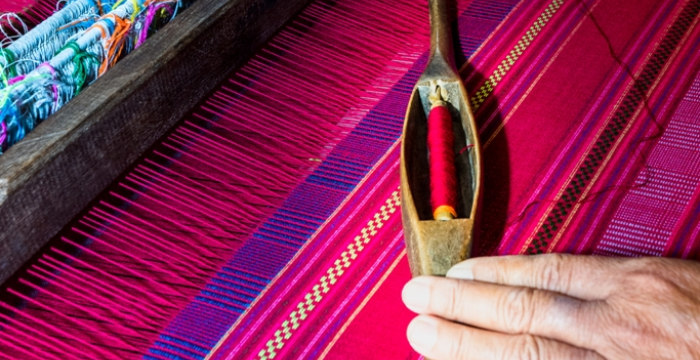 9. Ban Kut Wa Phu Thai Cultural Village, Amphoe Kuchi Narai (หมู่บ้านวัฒนธรรมผู้ไทยบ้านกุดหว้า อำเภอกุฉินารายณ์), a learning centre of Malai Mai Phai (wooden bamboo trees) handicraft work, which is tied with the Bun Khao Sak and Bun Khao Pradap Din Traditions as part of the Hit Sip Song tradition of Isan as well as originating the one and only Bang Fai Talai Lan Festival (Rocket Festival) in Thailand.
10. Dinoroad Community, Amphoe Sahatsakhan (ชุมชนไดโนโรด อำเภอสหัสขันธ์), located close to Sirindhorn museum, is a community joining forces with the people of Amphoe Sahatsakhan, to create Tourism activities; for instance, learning the way of Culture connecting to the country's important dinosaur discovery area like weaving reed mats in a dinosaur pattern, making Khanom Lep Dinosaur dessert, Conga folk dance show, etc. The community is also a Shopping centre of various Locally-made products.