1. LuangphoPhraYai Wat Pho Tharam (หลวงพ่อพระใหญ่ วัดโพธาราม)
Wat Pho Tharam located at Mu 5 Ban ThaKhrai, TambonBueng Kan, houses LuangphoPhraYai, a Buddha image in the attitude of subduing Mara measuring 1.62 metres wide across the lap installed on a square pedestal that was restored in 1994. The Bueng Kan people organise the celebrations of LuangphoPhraYai twice a year, which arethe 3rdlunar month merit tradition (February), called Bun Khao Chi includingthe offeringsof PrasatPhueng (wax castle) and the LuangphoPhraYai bathing tradition held in the week after the Songkran Festival (April).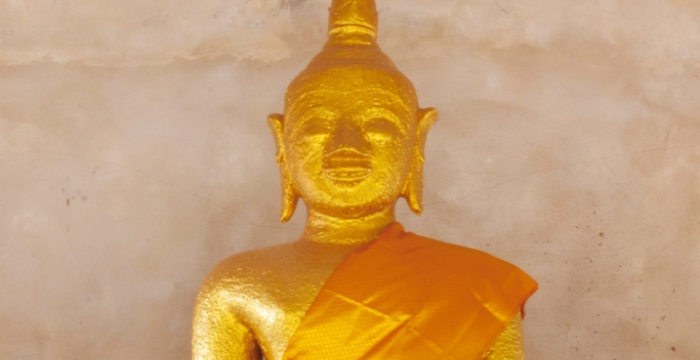 2. KaengAhong Wat AhongSilawat (แก่งอาฮง วัดอาฮงศิลาวาส)
Is situated on the Mekong Riverside, TambonKhai Si, 21 kilometres from Amphoe Mueang Bueng Kan. The beautiful and extensive temple enshrines "PhraPhutthaKhuwananSatsada," the brass cast Buddha image built withthe characteristics similar to the famous PhraPhutthaChinnarat. It is believed that the deepest spot of the Mekong is in the front of the temple, which is called theNavel of the Mekong. Itsdepth is about 98 wa or 196 metres measured by lowering a stone tied with a rope into the river. In theflooding season,the strong current will run in a circle and form ashape of a large cone. When the cone breaks, it sounds like a stream seeping through rocks and then dissipating. When the torrent recurs again, it will reform the shape. This phenomenon will repeat itself all day long. In the dry season, during March – May, islets can be visible.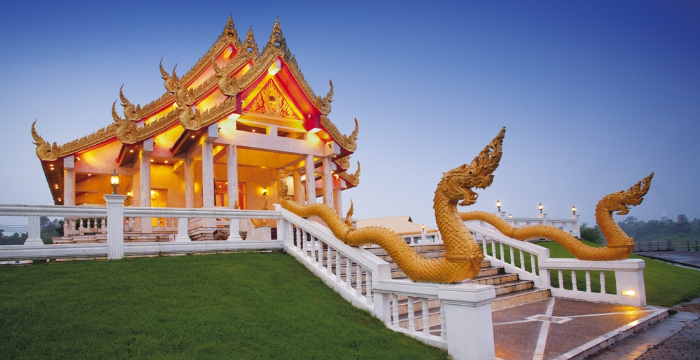 3. Chaomae Song Nang Shrine (ศาลเจ้าแม่สองนาง)
Is located in front of the Bueng Kan Hospital in the market ofAmphoe Mueang Bueng Kan. The local people hold a worshipping ritual to pay respect to Chaomae Song Nang for auspiciousness and pray for her protection to those who work in water-related businesses as well as for prosperity in commerce and a safe journey, especially via water. Flowers, joss sticks, candles, garlands, young coconut and red syrup drink are used for worshipping.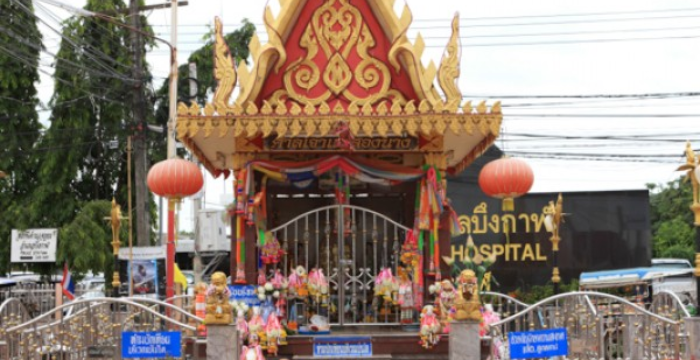 4. Lao Market (ตลาดลาว)
Is a market fair of Amphoe Mueang Bueng Kan held only on Tuesday and Friday. It is named theLao Market because there are lots of vendors crossing from Lao PDR. to sell many goods including vegetables, dried food, and fresh food via thePrapheni Checkpoint (temporary permittedarea).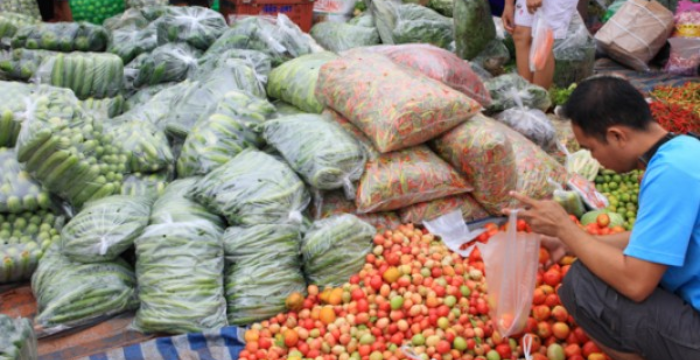 5. Phu Sing Hin Sam Wan (ภูสิงห์ หินสามวาฬ)
Covering an area of about 12,000 rai, Phu Sing is located in the preservation area of National Reserved Forests: Kala Tropical Rain Forest, Phu Sing Forest, and Dong Si Chomphu Forest. Its topography features a sandstone mountain lyingfrom the North to South directions in the area of Amphoe Si Wilai and Amphoe Mueang Bueng Kan with lush forest. The sandstone mountain on Phu Sing was caused by different types of geological changes ofthe Earth's crust, which resulted ina variety of natural beauty including the rock formation, cliffs, caves, a cluster of rocks in various shapes, and rock terraces in a widespread area of Phu Sing.Visitors can watch the sunset and sunrise on the same mountain spot. The highlights ofthe natural attractions areLan ThamPhu Sing, Lan Tham Viewpoint, PhaNamthip scenic point, ThamYai, Hermit Cave Viewpoint, Phu Sing battlefield, Hin Hua Chang (elephant head-shaped stone), Hin Chang (elephant-shaped stone), Hin Rot Fai (train-shaped stone), Sang Roi Bo (hundred rock holes), Phu Sing stonewall, and the eye-catchingone, Hin Sam Wan or Three-whale-shapedstones (stones that look like father, mother and baby whales swimming).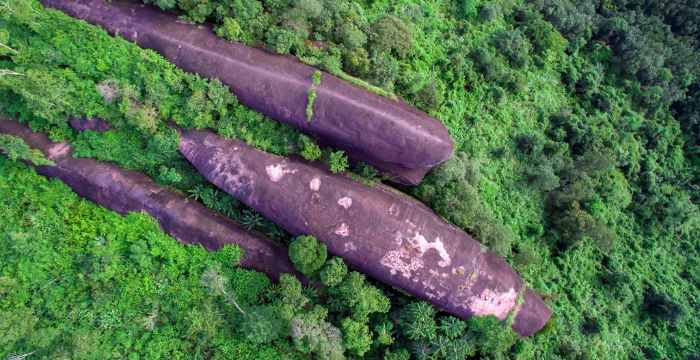 6. Wat SawangArom/Wat Tham Si Thon (วัดสว่างอารมณ์ วัดถ้ำศรีธน)
Covering an area of 40 rai, the temple is situated on a rock terrace of the hill amidst a shady atmosphere with a little stream flowing under a large rock reef. The temple also houses a reclining Buddha image. On the rock reef is the overturned bell-shaped ubosot. If going up to the top, visitors can see a view of Lao PDR. According to legend, the temple's area was a settlement of the Pak Khat peoplewho migrated from Ban Pak Kluai, Pak San district of the Lao PDR.In the past, this area was a jungle and full of a variety of wildlife.Each year, there would be monks on pilgrimage coming here on a regular basis because the place was quiet that was suitable for Dhamma practice. Later, the head monk, Don Inthasaro or Luangpu Don, who is much revered by the Pak Khat villagers, built and developed the temple respectively. It is assumed that the temple's other name, Wat Si Thon,came from the fact that itwas located near Peng Chan Nakhon Rat town, which was ruled by Thao Si Thon.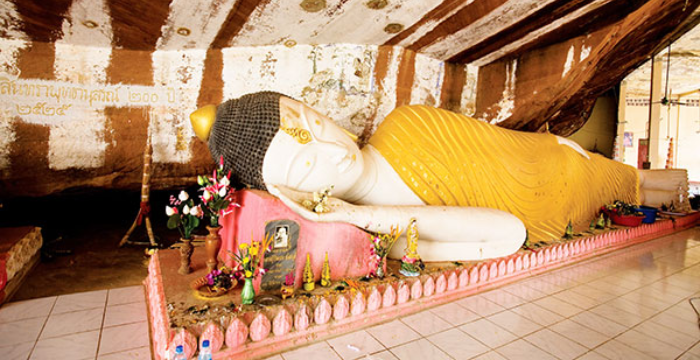 7. PhuThokWatChetiya Khiri Wihan (ภูทอก วัดเจติยาคีรีวิหาร)
PhuThokin Isan dialect means an isolated mountain. Located in Ban Kham Khaen, Tambon Na Sabaeng, this sandstone mountain can be seen from a far distance. It consists of two hills: PhuThokYai and PhuThokNoi. In the past, this area was dense forest and a habitat of many wild animals. Because of its tranquility, this place was established to be a meditation practice site by PhraAchanChuanKunlachettho.
PhuThokNoi is a site of Wat Chetiya Khiri Wihan (Wat PhuThok). The temple is a starting point to reach the top of PhuThokby walking via a wooden bridge that encirclesthe steep mountain. The bridge was built by the faith from monks, novices and villagers. The construction began in 1969 and took five years to complete. The staircase to the top of PhuThoksymbolises the path of virtue that leads a righteous man to leave the world of materialism and achieve the world of enlightenment with theirendeavours and determination. PhuThok is also a meditation practice centre and a place for the community's religious activities. The staircase to the mountaintop has been divided into 7 levels with the highlight on the 5thlevel of PhuThokNoi.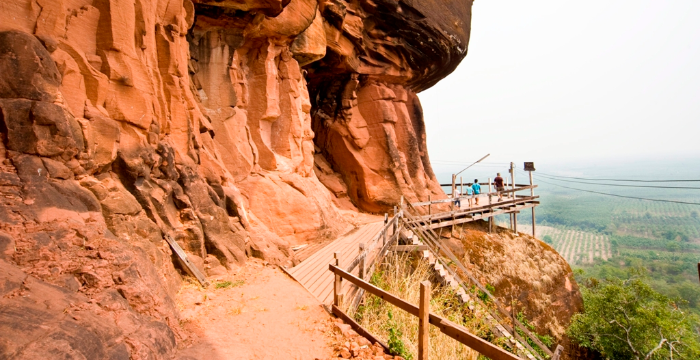 8. Namtok Chet Si (น้ำตกเจ็ดสี)
Situated in the PhuWua Wildlife Sanctuary in the area of Ban Don Siat, Tambon Ban Tong, Amphoe Seka,this waterfall is so splendid, especially during the rainy season. It originates from a stream of Huai Ka-am and ¬runs along a towering sandstone cliff to spread out intoa long line. When the spray of the waterfallreflects the sunlight, it producesa rainbow colour and that is why it is called Namtok Chet Si (the 7-coloured waterfall).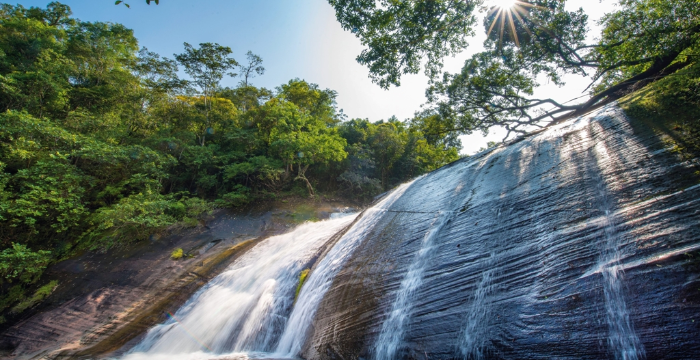 9. NamtokPhuThamPhra (น้ำตกภูถ้ำพระ)
Located in the PhuWua Wildlife Sanctuary in the area of Ban ThamPhra, TambonSok Kam, Amphoe Seka, about 34 kilometres from Amphoe Seka, this waterfall has water only in the rainy season. With its peaceful and shady atmosphere, it is a place for a monastic residence. When walking up to the rock terrace, visitors will find a valley about 200 square metres wide.The waterfall will flow down through an about 100-metre wide and approximately 50-metre high cliff then it will converge and become a basin down below in which tourists can enjoy swimming.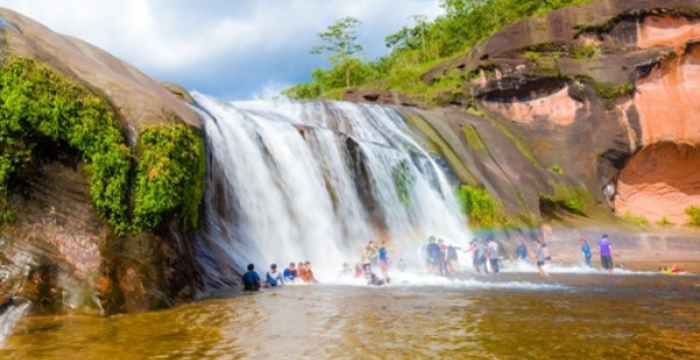 10. BuengKhong Long (บึงโขงหลง)
Is an ecotourism attraction and a large source of fresh water. The narrow and long reservoir covers an area of 8,064 rai with the average water depth of about 0.05-1.0 metres. The watershed of BuengKhong Long came from water from PhuWua and PhuLangka. It used to be a narrow stream running into Lam Huai Hi then flowing into the Songkhram River and finally to the Mekong River. In 1977, King Bhumibol (Rama IX) initiated the project of the reservoir for agriculture in the dry seasonfor the Irrigation Department to implement.The project was completed in 1980 and announced to be the BuengKhong Long Non-hunting Area in 1982. It was registered as the World's Wetland of International Importance No.1098 in 2001.The area covers more than 22 square kilometres and is 13 kilometres long and 2 kilometres wide. The reservoir is a habitat of aquatic animals and plant varieties. More than 100 species of waterfowls are found including the rare freshwatergoby. It is also home to more than 30 kinds of migratory birds.