If you only have 1 day to spend in Bangkok, you probably don't want to waste your valuable time on the road jam-packed with cars. An interesting option that you might consider to beat Bangkok's atrocious traffic, besides the BTS Skytrain and MRT Metro Subway, is taking the Boat service down the Chao Phraya River, which offers a sense of freedom and leisure. It's a great opportunity to get fascinated with new experiences and learn about communities residing alongside the River bank. Definitely an opportunity to discover your next one-in-a-lifetime Travel destinations that you never knew existed. What's more, it is very wallet-friendly.
Begin your journey from Sathorn Pier, which holds numerous Boat services and routes distinguished through the colour of their flags. In this article, we will provide a guide on using the orange flag boat line, which starts from Nonthaburi Pier and ends at Wat Rajsingkorn Pier with a one-way fare of 15 THB for each Trip, no matter the distance.
Our first recommended pier is the Si Phraya Pier (N3). Frequent Travellers will probably be quite familiar with the location. In addition to the creative and design centre TCDC that's located in the historic General Post Office in BangRak district of Bangkok, the Charoen Krung road still retains its classic and stunning architectural style fit for photo enthusiasts to capture the scenery with excitement. What's more, people who want to experience an industrial-chic setting can simply cross the River to Warehouse 30, a World War II era warehouses transformed into an art hub that offers handicrafts along with Cafes for a perfect chill.
Going down the Travel list is the Rachawong Pier (N5) that features an important commercial district such as the Yaowarat Road, Bangkok's Chinatown, for a change of mood. Daytime is better for Shopping at Sampeng sTrip with everything being on a wholesale price. Meanwhile, during night time the road transforms into a vibrant Dining spot in Bangkok, serving delicious Local favourites that foodies can't miss.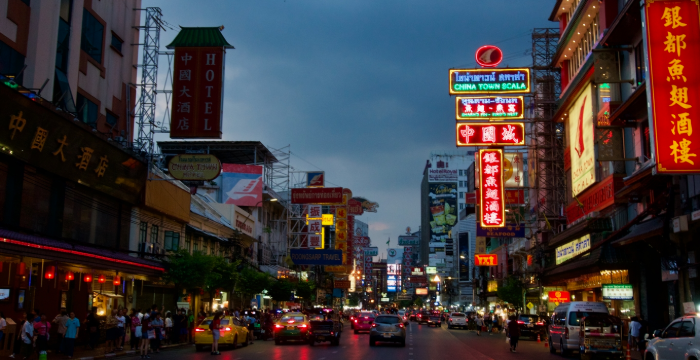 Not far away, is the Memorial Bridge Pier or also known as the Saphan Phut Pier (N6). Tourists who are seeking Local religious experiences can cross the River to pay respect to Luang Pho To at the Wat Kanlayanamit situated at the bank of the Chao Praya River. Moreover, don't forget to visit the Kudi Chin community featuring many attractions, from learning History at Baan museum, to taste the Local favourites Khanom Kudi Chin, to see the Santa Cruz church that is more than 100 years.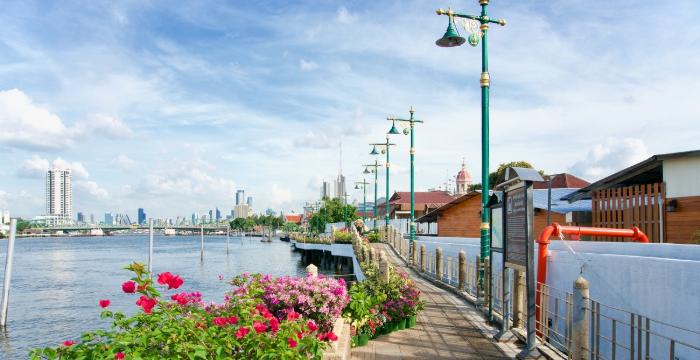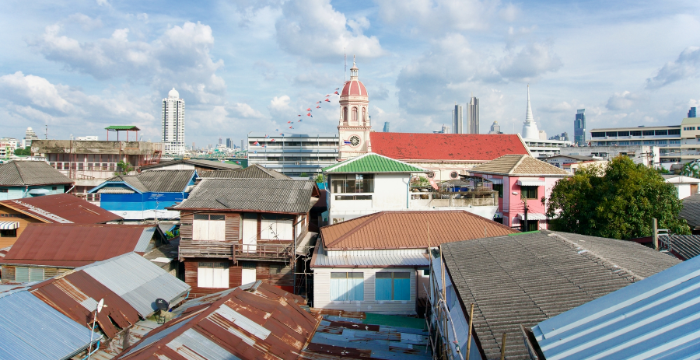 Returning back to the Yodpiman Pier (N6/1), here you can visit the Yodpiman Riverwalk, a community mall that blends traditional and modern Thai together perfectly. It's a nice place to spend with plenty of restaurants for tourists to have a relaxing meal while taking pictures beside the River breeze.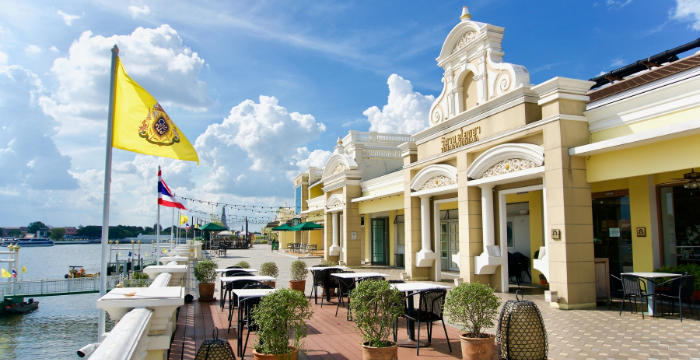 Walking to the next block, you will find yourself entering the Tha Tien Pier (N8). Simply crossing the street from the pier, you will see one of Bangkok's most popular tourists' attractions, the Wat Pho Temple. Besides the beauty of craftsmanship reflected through the unique interiors of the temple, there are also many fun activities and services to enjoy, let's say the relaxing traditional Massage service. Moreover, you can also visit the nearby museum siam, a discovery museum established to preserve the national identity and History of Thailand, which in turn, suitable for solo Travellers, tourists couple or even family Group size Travellers who are interested in learning the History and incredible experiences.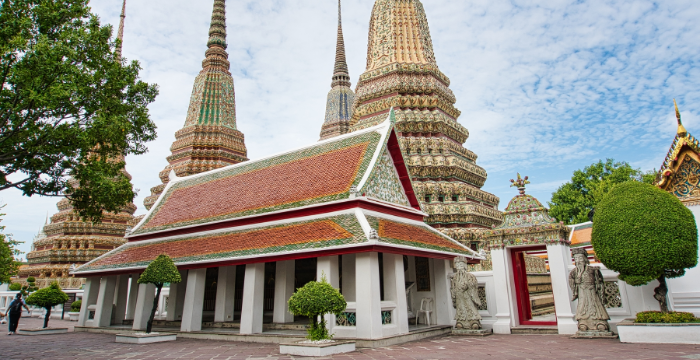 Next to Tha Thien is Than Chang Pier (N9) featuring a famous Landmark that can be seen from far away while heading closer to the pier, the Temple of the Emerald Buddha (Wat Phrakaew). Admission fee is free of charge for Thai tourists (entry fee for foreigners is 500 THB). Don't forget to pray for luck and fortune to the Emerald Buddha (Phra Phuttha Maha Mani Rattana Patimakon) residing inside the Chapel and witness beautiful paintings. Close to the area, there is a spot for taking gorgeous pictures along with the Ministry of Defense building painted in fresh yellow and the Royal Thai Survey Department.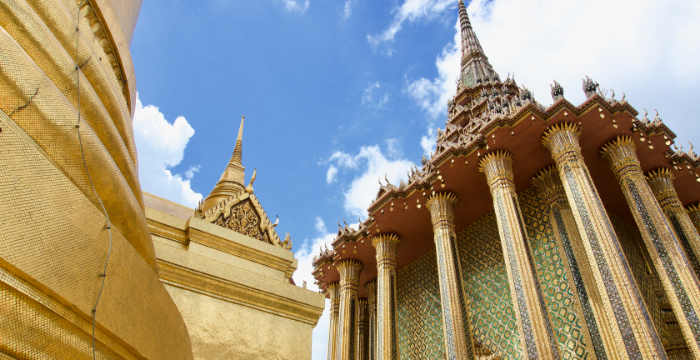 From there, you can continue your chill-out day at the Phra Arthit Pier (N15). Here you can learn History through storytelling and exhibition items at the Pipit Banglamphu museum, a cultural centre that portrays the Bang Lamphu community's traditional lifestyle. Next to the museum is the famous Phra Sumen Fort, which has a Garden area for you to Relax and enjoy the River view. Furthermore, the Phra Arthit Road is a famous road known for a diverse range of Cafes and restaurants to choose. However, if you plan to continue your journey to Khaosan Road, you can use a more convenience shortcut through the Soi Chana Songkram.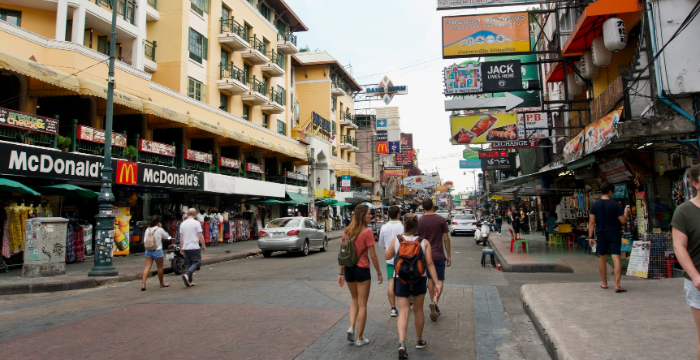 The orange flag Boat operates from Monday to Friday, 05.50 – 19.00 hrs. (Departure every 5 – 20 minutes)
Saturday – Sunday, 06.00 – 19.00 hrs. (Departure every 20 minutes)
Fares: flat fee of 15 THB