---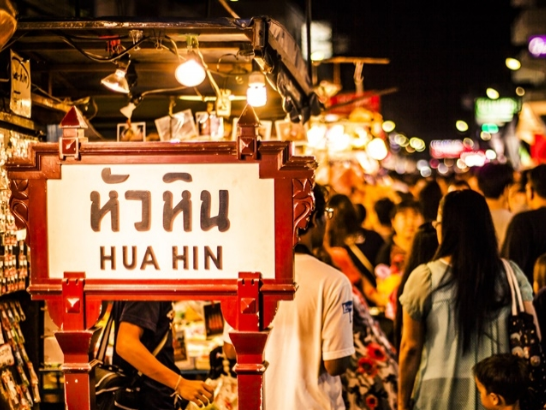 Article
VIBRANT NIGHT IN HUA HIN
The darkness is about to fall in Hua Hin, but the night market glows and turns vibrant. The crowd flocks to the place, roaming for delicacies among th
---
See & Do
Raruek Hua Hin
One of the must-see tourist attractions in Hua Hin is "Raruk Hua Hin" whose name could make you imagine how the atmosphere of this place is like in many ways even before you physically go there.
---
Food
Wilaiwan Hua Hin
Wilaiwan Hua Hin, a lovely European restaurant, located in the heart of Hua Hin. Its distinctiveness is the colour of the shop that is pastel blue creating a dining atmosphere with a variety of Western-style menus in the style of homemade food...
---
---
Stay
Intercontinental Hua Hin Resort
Intercontinental Hua Hin Resort is located on Hua Hin Beach. It is a luxury resort. InterContinental Hua Hin Resort is a 2-hour, 30-minute drive from Bangkok. The rooms are split into 2 separate wings: Beach Wing and BluPort Wing, which are...
---
See & Do
Hua Hin Night Market
It has become a so-called travelling tradition for Hua Hin visitors to enjoy the sea and other outdoor activities by day and roam Hua Hin night market by night. The walking street of Hua Hin night market is closed entirely to traffic and becomes...
---
Stay
Dusit Thani Hua Hin
Dusit Thani Hua Hin is a luxury hotel with full facilities. It's located on the beach close to Klai Kangwon Palace. At night, Guests can enjoy a meal and have a stroll in the night market. There are temples and waterfalls located outside the city,...
---