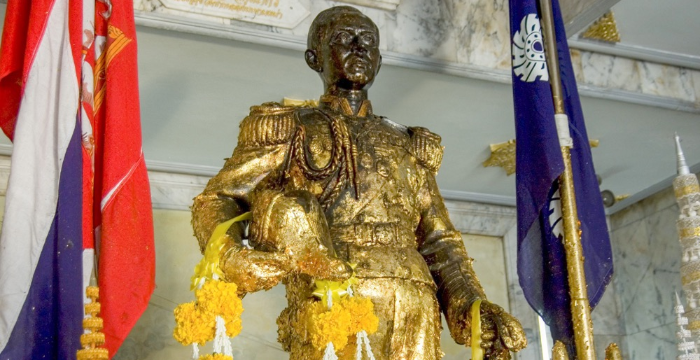 2. Mu ko chumphon(หมู่เกาะชุมพร)
Is a marine attraction comprising an archipelago of more than 40 Islands and occupying an area from ko Chorakhe in AmphoePathio to Ko NgamYai, Ko NgamNoi, Ko Samet, Ko Maphrao, Ko Mattra, Ko Thong Lang, and Ko LangkaChio in Amphoe Mueang and an archipelago in AmphoeSawi, AmphoeThungTako to Ao Thong Khrok in Amphoe Lang Suan. Some of which are diving spots; such as, Ko NgamYai, Ko NgamNoi, Ko Mattra, Ko LangkaChio, Ko Lawa, Ko Talu, etc.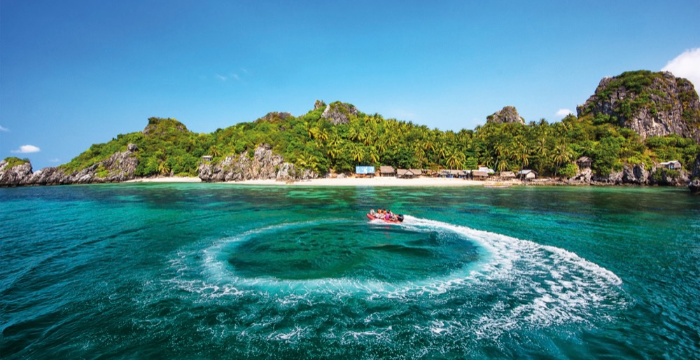 3. Khao Matsi viewpoint (จุดชมวิวเขามัทรี)
Situated on the mountaintop visitors can admire the 360-degree panoramic view. To the left down below are the fishery community of the chumphon Estuary and the Fishing piers. To the right is the vast landscape of Hat Pharadonphap and the chumphon sea. On the mountain viewpointis installed a statue of AvalokitesvaraBodhisattva,Goddess Guanyin in a posture of looking out over the sea.There is also a store selling snacks and bird's nest concession and a coffee shop here.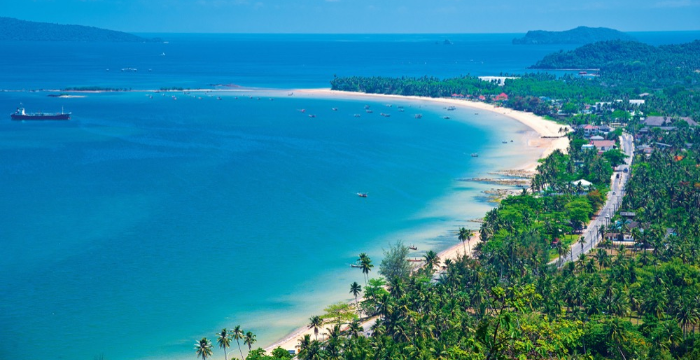 4. Phato Rafting (ล่องแพพะโต๊ะ)
Is a soft Adventure activity that offers Rafting amid the forestland in AmphoePhatothat is a watershed of many rivers meandering along the mountain range. Both Canalsides are surrounded by rainforest and orchards. Hence, the activities at Khlong Pato are held all-year round; it starts from Khlong Ton Nam, a lush forest that is a habitat of rare wildlife; such as, Dusky-leaf monkeysand hornbills. Those animals live freely in the natural forest by the canal. At some parts ofthe riverbanks, we can see durian and mangosteen orchards as well as palm and rubber plantations.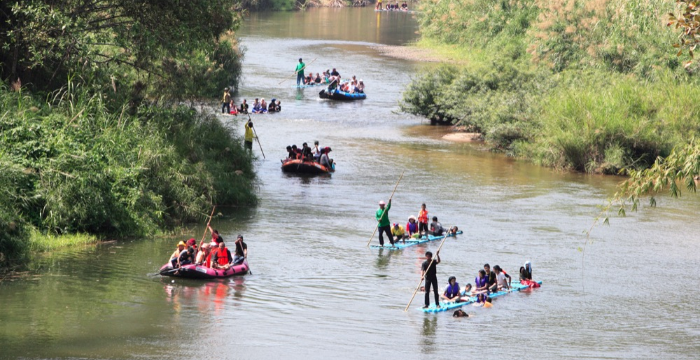 5. Hat ThungWuaLaen (หาดทุ่งวัวแล่น)
Is a fine white sandy Beach stretching endlessly. The beach has a slight slope with clear sea, which is suitable for swimming and popular among tourists. At thesouthern Beach connecting to the mountain is a beach that is full of rocks. Along the shoreline of Hat ThungWuaLaen is well equipped with facilities including Accommodation, restaurants, scuba diving schools and diving equipment rental shops.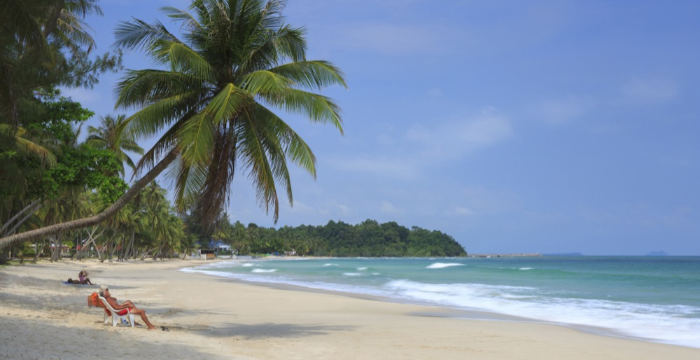 6. Ban Thong Tom Yai (บ้านท้องตมใหญ่)
Is an old community on the horseshoe-shaped coastline. The eye-catching symbols of the Village are a big golden jar by the sea and a statue of a seahorse. Most of the Villagers built their houses jutting out into the sea along the hill. The community's way of life is still attached to the sea. In the evening, a lot of people come for Fishing at the jetty. The community also provides a HomeStay for visitors and preserves seahorses and marine resources by using their Local wisdom, or so called "Sang Ban Pla" or building a home for fish.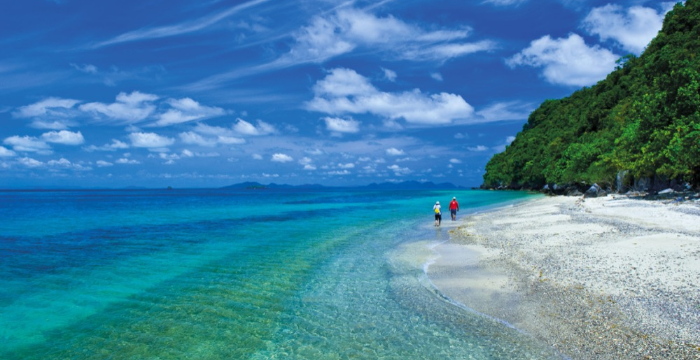 7. ko Phithak (เกาะพิทักษ์)
Is a small Island, 800 metres from the mainland. The Villagers provide a long-tailed Boat service from the pier at Ao Thong Khrok to ko Phithak. In the past, Locals called this Island Ko Phi-Thak (the island of ghost'sgreeting). The story was told that a fisherman came to this island and saw some people waving tohim, but when he reached the island, there was no one living there. Today, the island is surrounded by fishermen Villages. To the east, there is a tiny Beach in the back which features an about 200-metre high viewpoint. On the day that the tide recedes, tourists can walk from the Ao Thong KhrokPier to the Island. In addition, there are some activities for tourists including Snorkelling, kayaking, and squid Fishing. Villagers also organise Ecotourism activities in a HomeStay style.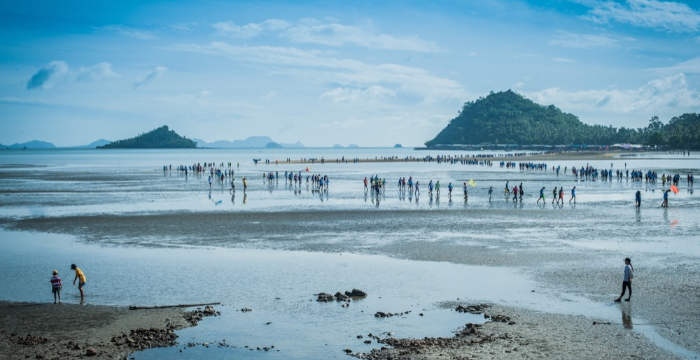 8. ko Thalu (เกาะทะลุ)
Is a small limestone Island, 13 kilometres from the chumphon Estuary. The island consists of numerous large caves with arches overthe sea's surface that can be seen through or swum from one side to the other. It is a diving spot to see coral reefs or sea anemones around the Island. From March to April, there will be a large number of seagulls layingeggs. Tourists can rent a Boat from Hat Pharadonphap to reach the Island. There is no Accommodation on the island. For further inquiries, please contact the Mu ko chumphon national park at Tel. 0 7755 8144-5.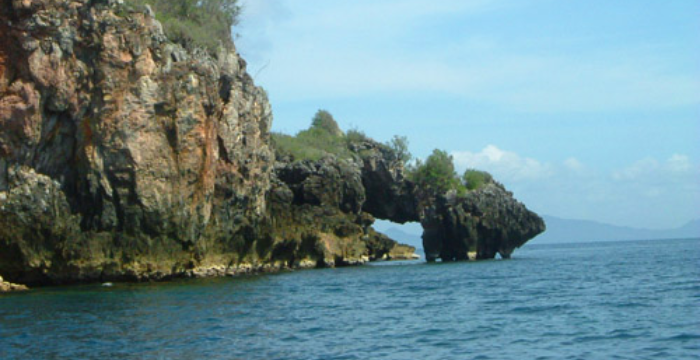 9. Tham Khao PhluHot Spring(บ่อน้ำพุร้อนถ้ำเขาพลู)
Is one of the attractions of chumphon that health lovers should not miss. Situated on a foothill, the spring consists of three ponds with the names in rhyme: Eue Ari, Thanthip, AmaritThara, and PhrueksaChonlathan. The water in each pond is hot mineral water from the underground with a temperature between 55-56 degreesCelsius. The mineral waterprovides benefits of curing some diseases, especially, skin diseases. It also stimulatesblood circulation. A hot mineral bathing service is available ranging from 10-60 Baht per hour.For a public pond service, the fee is 5 Bahtand for a body massage, the fee is 120 Baht per hour.
10. SuanSomNai Dam (Nai Dam Orange Orchard) (สวนส้มนายดำ)
Is well-known for the impeccable taste of chumphon'sChogun breed orange. The orchard can produce fruit all-yearround and has supplies for exports as well. SuanSomNai Dam is acclaimed for its high quality management with modern technology to select good quality oranges. It is also a rest stop for tourists to buy souvenirs of chumphon. You will be surprised with the various bizarrestyles of the toilets that can be actually used here.