1. Singha Park Chiang Rai (Rai Bun Rawd) (สิงห์ปาร์ค เชียงราย) (ไร่บุญรอด)
Covers an area of more than 600 rai (approximately 960,000 square metres) comprising agricultural land and tea plantations with cultivated plant varieties that are suitable with the soil condition. Those plants include fruit trees; such as, jujubes, star fruits, strawberries, tomatoes, lychees, longan, mangoes, and santolas well as horticulture; such as, Oolong tea, lime, and mulberries. On the plains area, well-known field cropsare grown; such as, barley and rice, as well as vegetable plants like broccoli; there is also a Shiitake mushroom Farm, dairy farm, etc. Moreover, there are integrated farming plantations and flower gardens that tourists can take pictures.
Admission fee: 50 Baht per person. Free for children below 4 years old.
The tour takes about 45-50 minutes; first round starts at 9.30 a.m., 12.30 p.m. for the afternoon round a,nd5.00 p.m. for the last round.
For more information, please contact Tel. 0 5373 7359-11.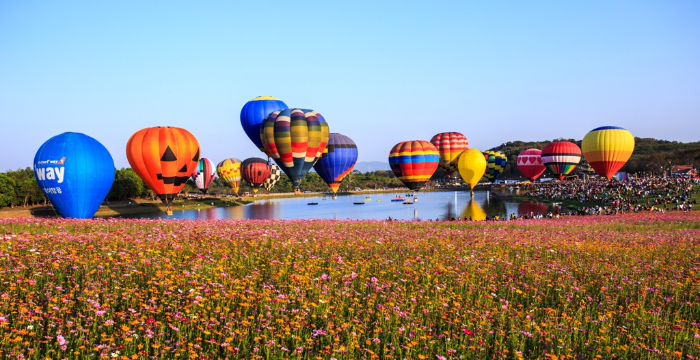 2. Ban KariangRuamMit, (หมู่บ้านกะเหรี่ยงรวมมิตร)

Besides the village of the Karen ethnic Group, the attraction includes the Villages of the Akha and Lahu hill tribes nearby. This Karen village features elephant Trekking forsightseeingthe hill tribe villages.
Highlighted activities:
1. elephant ride and cart ride to sightsee the way of life of the ethnic Groups, scenery and various plant species. Visitors can have an elephant ride to the Huai Mae Sai waterfall.
2. Visita Souvenir shop selling the products of the hill tribes.
3. Stay overnight at the village's HomeStay.
To get there: - By car, from Pho Khun Mengrai Maharat 5-way Junction, head towards Amphoe Mae Chan, after crossing the bridge over the Kok River, turn left to the route to Tambon Mae Yao and continue for about 7 kilometres. When reaching the T-junction, make a left turn and follow the direction sign to Ban Karen RuamMit.
- By public bus, take a red bus (Chiang Rai - Mae Yao route), or charter a Song Thaeo at the Municipal Market.
- By long-tailed Boat, takea Kok River cruise service at the foot of the Mae Fa Luang Bridge.
For more inquiries, please contact the Mae Yao Sub-district Administrative Organisation at Tel. 0 5373 7359-11.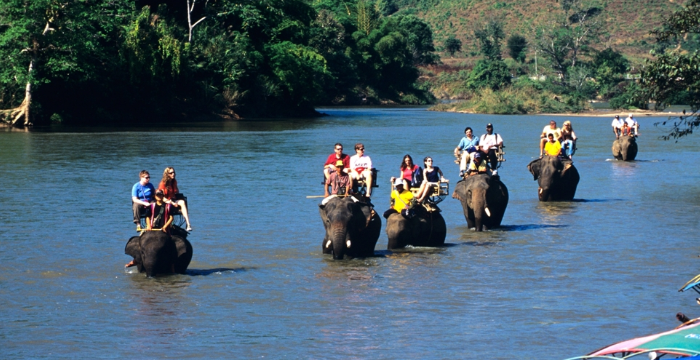 3. Ban Dam museum.(พิพิธภัณฑ์บ้านดำ)

Founded by Achan TawanDuchanee, a national artist in fine art and visual art, who created numerous pieces of paintings and sculpture artworks,the museum is a cluster of houses in the Lanna style.Every house was painted in black,of which the placewas named after (Ban Dam means Black House) and it was a favourite colour of the artist as well. Each house was decorated with exquisite carved wood and animal horns; such as, buffalo's horn and deer's antlers, as well as animal bones like elephant's bones.
For more details, please call Tel. 0 5377 6333.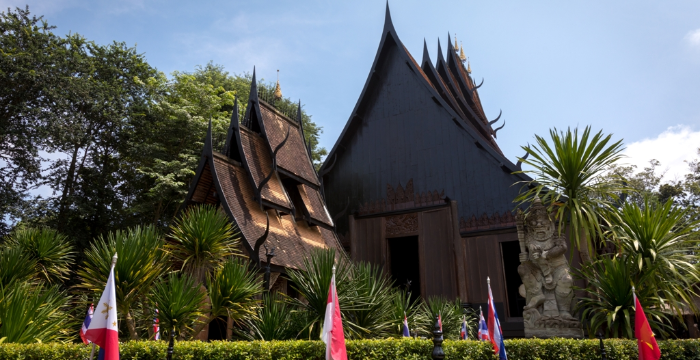 4. Choui Fong tea Plantation(ไร่ชาฉุยฟง)

Is a centre of high quality tea cultivation of the Choui Fong Company Limited, the biggest tea producer in Chiang Rai. With more than 40 years experience in tea cultivation, today the Company is a tea producer, distributor, and exporter. Its main clients include industrial users; such as, Oishi, Mali, Unif, and Lipton. The breathtaking vast landscape of more than a thousand rai featuring lines of tea growing along the curve ofthe mountain ridge and descending like a terrace make it more outstanding than other tea plantations.
For further information, please call Tel. 0 5377 1563.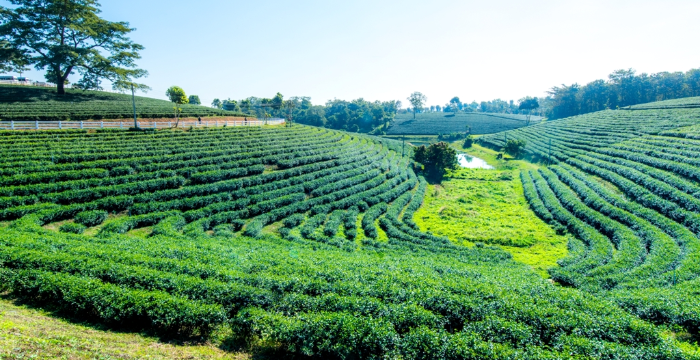 5. Doi Tung Royal villa (พระตำหนักดอยตุง)

Doi Tung Royal villa was constructed with the late Princess Mother's private fund. The exterior was built with concrete and decorated with wood slabs cut from discarded teak trees, which came from forest thinning work by the Forest Industry Organisationto let the remaining teak trees grow stronger for further use. The interior of the Royal villa is panelled with pine wood recycled from crates used for large tools and equipment. The gold teakwood that lines the floor was presented to the late Princess Mother by the Forest Industry Organisation.Therefore, the villa is a good example of existing natural resource utilisationfor maximum benefit.The upper floor of the building accommodates four sections.
For more information of the opening and closing times, please call Tel. 09 0107 3145.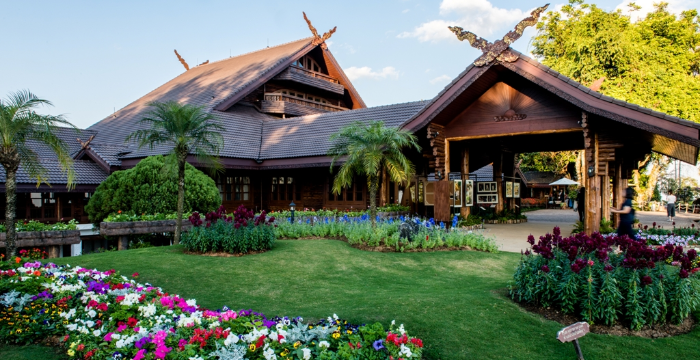 6. Mae Sai-TachileikBorder Trade Area(เขตการค้าชายแดนแม่สาย-ท่าขี้เหล็ก)

Mae Sai Market has been famous as a border market for over ten years;the area is quite bustling since there are crowdsof Burmese people and minority Groups crossingthe border to buy consumer products from Thailand. Visitors could walk across to Tachileik without requiring a border pass, but after the fight between the Myanmar government and minority forces that became a conflict between the two countries, the border was often closed.Althoughnegotiations were held to ease the situation, it was very strict to cross the border because of the minorities and drug issues.As a result, Thai people are required to make a border pass to cross to Tachileik.
For more details, please contact the Mae Sai District Office at Tel. 0 5373 1396, 0 5373 3223.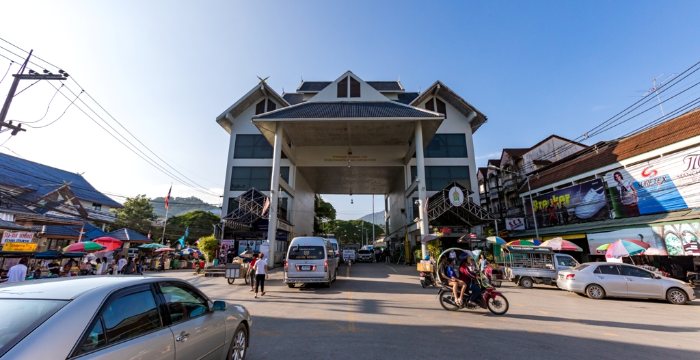 7. Chiang Rai Walking Street(ถนนคนเดินเชียงราย)

Starting fromSaturday, 1 November, 2008, onwards, the nostalgic Kat Chiang Hai Walking Street hasbeen organised in the form of aLanna retrospective atmosphere to revive the Local wisdomand the communities' way of life at Thanalai Road from the Intersection of the Office of Tobaccoto the Intersection of the Savings Bank, a distance of 1,500 metres in central Chiang Rai. Today the area has been extended. The walking street is divided into 3 zones and open from 4.00 p.m. until midnight every Saturday.
For more inquiries, please call Tel. 0 5371 1333.
8. Wat Huai Pla Kang (วัดห้วยปลากั้ง)

The Temple was firstestablished as an ecclesiastical residence. Later,on 19 November 2005,a monk named Phra Achan Phop ChokThitsawangsoarrived at the Temple for Dharma practice. At first, the temple did not look like as it is today; it has gained popularity becausePhra Achan Phop Chok has theability to foretell and most people who have come to see him found the foretelling to come true. He, therefore, has become well-known across the country. The temple's stupa houses the statue of a carved wood Guan Yin on the first floor. In addition, each floor has a designated Buddha image.
For more inquiries, please call Tel. 0 5315 0274.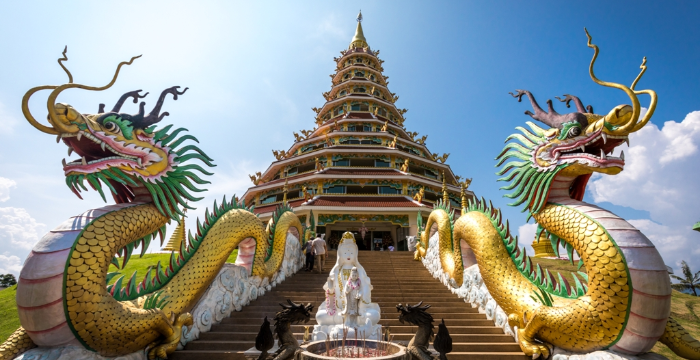 9. Phu Chi Fa(ภูชี้ฟ้า)

As part of the Doi Pha Mon mountain range, a border between Thailand and Lao PDR. in Chiang Rai and Phayao provinces, features a rock cliff standing right on the borderline. In the past, it was an areaofthe Communist Party of Thailand's movement.With its sloping highland topography, the area was a significant stronghold. Both the Local Lao and Thai people called the rock cliff that stands straight up to the sky as Phu Fa. Once the security issue was relieved, a road was built parallel withthe Thailand – Lao PDR. border from Ban Pha Tang, Phu Chi Fa to Amphoe Chiang Kham. Phu Chi Fa, hence, began to gainrecognition since 1991. However, the top of the mountain sticks out from the border; it is hard to identify whether it is in Thailand or Lao PDR. The entrance to the peak is in Thailand. A Thai flag used tobe pitched at the end of the cliff, but the next day, Lao soldiers brought their national flag to pitch side by side. Therefore, for safety reasons, visitors are not permitted to stay overnight on the peak.
For more information, please call 0 5316 0743.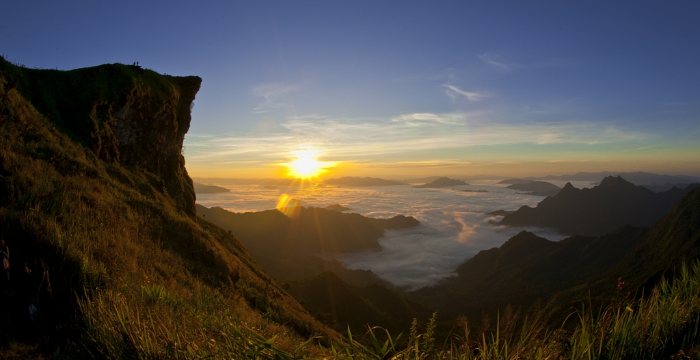 10. Rai Chuen Tawan meditation Centre (ศูนย์วิปัสสนาไร่เชิญตะวัน)

Founded on 29 January, 2009, by Phra Maha Wutthichai Wachira Methi, the country's well-known monk who is also a writer, preacher and social thinker, the Centreis aimed at being an international meditation centre. Located at 217 Ban Mai San Pa Hiang, Tambon Huai Sak, Amphoe Mueang, Chiang Rai, it covers an area of more than 170 rai adjacent to paddy fields on the north with the Huai Sak Reservoir to the south and the east and attached to the community's road on the west.
For more information, please contact Tel. 08 7080 7779.